ARC Review: Mister Moneybags by Vi Keeland and Penelope Ward
I received this book for free from Author in exchange for an honest review. This does not affect my opinion of the book or the content of my review.

This post contains affiliate links you can use to purchase the book. If you buy the book using that link, I will receive a small commission from the sale.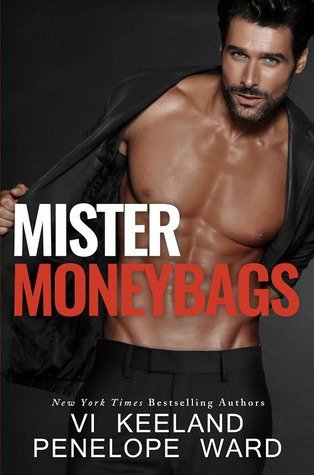 Mister Moneybags

Book Info
Released:
April 10th 2017
Recommended Read!
"Together they have so much chemistry (whether he's Dex or Jay) and I couldn't get enough."
~ Under the Covers
There's a certain feeling you get when you start reading a Ward/Keeland book.  It happens every time.  There's a charm that's always present in their writing and that keeps me coming back for more.  MISTER MONEYBAGS had that charm from the very beginning.  Dex Truitt is simply adorable.  He's a very successful man, and when he meets Bianca in the elevator going up to his office for an interview she has to conduct with him and hears how she talks about him (of course without her knowing who he really is) he makes a split second decision.   To pretend to be someone else and get close to her.  He wasn't planning on that attraction digging deeper into him and then finding himself with a bit of a mess and a lie in his hands.
Yes, he lies and I still found him so endearing and cute!  The first half of this book had me rolling and laughing and just wanting to clutch Dex to my chest and never let him go.  And then the plot thickens (or turns?) and we get into some more serious business.  I was along for the ride for most of this as well, except for that last twist that I felt was a bit over the top, unnecessary and a tad unbelievable.  Just added extra drama to cap off an otherwise super cute read.  I won't lie, it did taint a bit my overall enjoyment of this book.
But as it's the norm with this duo, the characters grab you and take you along the ride with them.  You can't help but enjoy it because you love them so much.  And I'm happy to say it's not all about Dex.  I also quite enjoyed Bianca's character.  Together they have so much chemistry (whether he's Dex or Jay) and I couldn't get enough.
So while I didn't end up totally loving this book, I seriously liked it.  That thing that I can't put my finger on that makes this duo magic is still very much there.  Their ability to turn an over-used romance trope and make it seem fresh is still there.  And I'm certainly waiting for what they come up with next.
What did you think of our review?
Let us know your thoughts in the comment box below!
 ♡ Don't want to miss any of our posts? ♡ 
Follow Under the Covers: Facebook | Twitter | Tsu | GoodReads | Email 
Latest posts by Francesca
(see all)