Review: Vicious by L.J. Shen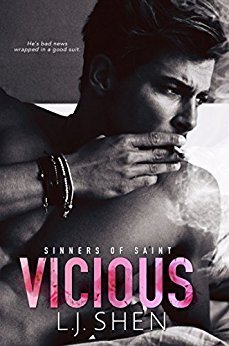 Vicious

Book Info
Released:
December 27, 2016
Series:
Sinners of Saint #1
Pages:
326
"VICIOUS is maddeningly addictive.  I just. couldn't. look. away."
~ Under the Covers
This book is a hard one to rate and review because I was seriously turned off by this hero's jerkish behavior.  So you won't be hearing me talk about book boyfriends here and I foresee that's not what this whole series will be about.  Lets all make it clear that I tend to enjoy jerks in my books.  I often end up loving them in spite of that.  Not so much with this one.
I probably would've looked right past this book had it not been recommended to me by someone I trust.    The train wreck that was described seemed like something I would enjoy and honestly, I love testing my jerk limits.  L.J. Shen doesn't pull any punches.  This dude is ruthless and uncaring… and well… vicious.  The name is so fitting that I honestly wanted to constantly slap him.  A lot of that vicious behavior is towards the heroine from the very first time they meet when they are just teenagers and she comes to live in his mansion when her mom takes on a job as "the help".  This senior year of high school in which they live under the same roof (basically) and go to the same school is rough at best.  She's a bit infatuated with him and he's … a dick.  A possessive dick.  He wants to treat her like trash, but he always wants her to be his.
We get a bit of the backstory of when they met and slowly see those circumstances unfold while we see their present relationship ten years later where they've had no contact until he runs into her working as a waitress in NYC.  This girl always seems to be down on her luck and he just loves stepping on her.
This is such a toxic relationship that somehow turns around in the end.  I really didn't think it could happen, and honestly I didn't quite believe the execution either, but had it been done just slightly differently I might've been more on board with it.  One thing is for certain.  VICIOUS is maddeningly addictive.  I just. couldn't. look. away.  Even as my blood was boiling.
The overall story and plot I think could've been developed better but I think the way the author manages to keep me glued to the pages after I just wanted to tear this guys' throat out says something for her writing style.  However, in the end, although I wanted to love this guy… I never really got there.  This was definitely a fun experiment but I'm not sure if I'll continue the series.  We'll see when the second book comes out how I feel.  We do know who the couple is and I have mixed feelings seeing the sick sister of this heroine getting shit on by one of the Four HotHoles.
What did you think of our review?
Let us know your thoughts in the comment box below!
 ♡ Don't want to miss any of our posts? ♡ 
Follow Under the Covers: Facebook | Twitter | Tsu | GoodReads | Email 
Latest posts by Francesca
(see all)