Review: Immortal in Death by J.D. Robb
I received this book for free from Purchased in exchange for an honest review. This does not affect my opinion of the book or the content of my review.

This post contains affiliate links you can use to purchase the book. If you buy the book using that link, I will receive a small commission from the sale.
Immortal in Death

Book Info
Released:
September 25, 2003
Genre:
Romantic Suspense
Series:
In Death #3
Pages:
345


Immortal in Death is the third book in the In Death series and although it wasn't my favorite out of the three, it was still a solid installment to the series. In this book, Eve Dallas's best friend, the eccentric Mavis Freestone is the prime suspect for the murder of a well-known celebrity. So it's up to Eve and her partner, Delia Peabody to find the real killer in this case while Eve gets set to marry Roarke in a few week's time. Busy lady, but I guess it's all in a day's work for Lieutenant Dallas, huh?
I liked the new twist in this one with Mavis being more involved. I love her character and found that even though she was caught under the red lights, she was still a very enjoyable character to read. I mean, really, Roarke can't be the prime suspect in every book. So I liked this change.
All these books so far have put Eve in a tough position where the suspects are usually someone she cares about, such as Roarke and Mavis. But I feel like in this one, it hit closer to home. There was this vulnerability in Eve that we didn't see so much in the previous books. Her guilt overrides her logical and restless mind until she can't really take it anymore. And furthermore, there are her nightmares that she's been having that unravel the truth about her past. I will admit that there were some moments that were too much for me. Eve Dallas's past is a haunting one. But they also make her who she is as a character. It is because of her past that she is as resilient as she is as a cop.
I also have to note how much I adore Dr. Mira. I loved how she handled Eve when she was summoned in the middle of the night because of her nightmares. Since Psychology is my field of study, I was fascinated by how Mira turned a horrific night into something that Eve could handle, showing her that despite her past, she wasn't to blame and that she has grown to be a different person now.
Then there is Delia Peabody, Eve's partner in crime. I LOVED Peabody. I adored her dry humor and occasional sexual remarks about Casto. I am definitely looking forward to reading more about her. She's climbing up on my list of favourite characters!
And then of course, there is Roarke who is just perfect! Always the gentleman, always there. I love him! Of course, I must speak about that sexy gym scene? That was hawt! That particular scene is probably one of my favourites of Roarke! Again, I love his faith in Eve and the fact that he allows her to be who she is. Even with the ongoing investigations and all the twists and turns, their love still shines. Robb does a great job balancing the romance and the mystery in this one.
As for the investigation, I was a little upset to find out who the killer was. I happened to really like this particular character and hoped to see more of this person in future books. What can I say….sometimes, I like the baddies.
As is tradition….I have to post my Gandy Candy. No In Death review is complete without Roarke.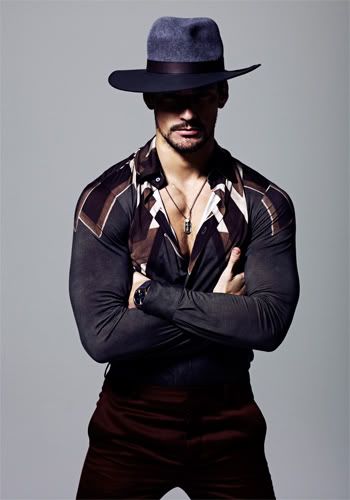 Did you like this review? If so, please tell us your thoughts in the comments below!