Review: Glory in Death by JD Robb
I received this book for free from Purchased in exchange for an honest review. This does not affect my opinion of the book or the content of my review.

This post contains affiliate links you can use to purchase the book. If you buy the book using that link, I will receive a small commission from the sale.
Glory in Death

Book Info
Released:
December 1, 1995
Genre:
Romantic Suspense
Series:
In Death #2
Pages:
296


Opening line: "The dead were her business."
From that first line, I was sucked in. There is something about Robb's writing that just sucks me in completely. I love the way she describes things. I love the way the words flow and I love that there's this sense of detachment or coldness in the overall tone of her writing. It makes the mystery of the story that much more intriguing.
Eve Dallas is one of my favourite heroines. I love her strength and determination in her work. It's admirable. Ironically enough, Eve Dallas lives and breathes death. It's her job and Eve takes her duty seriously. So much so that she forgets to take care of herself.
In Glory in Death, Eve is the primary on another murder case, this time of a well-known woman in law who was caught off-guard with a slice to her throat. Lieutenant Dallas is on the case, doing her job to perfection. But when more deaths occur, Dallas is thinking that maybe the person she initially thought was committing the crimes isn't the right person anymore. This causes her to retrace her steps and review the evidence. The suspense in this book is amazing, all the way to the end of the book. I can't even choose which one I prefer between the first book or this one! Both are great!
And then there's Eve's relationship with Roarke. There are some rough tides between the lovebirds in this one, but in the end, Roarke is still as loyal as can be. I want to marry Roarke! Even when he's angry, he manages to turn me on. There's nothing about this guy that isn't sexy. Simply put, Roarke is a dream. And I want him bad.
I loved that Eve let herself feel in this one. She's so preoccupied with her work life that she doesn't take time for herself. In this one, she does. She spends some quality time with Mavis, her awesome best friend and of course, Roarke, who does the most sweetest things for her. I'm incredibly jealous. Would it be creepy to say I wish I was Eve Dallas?
I can't wait to read the next one! I wonder why it took me so long to read this series. Obviously, I was missing out. And if you haven't read this either, then make sure you pick this one up soon!
This is my Roarke *sigh*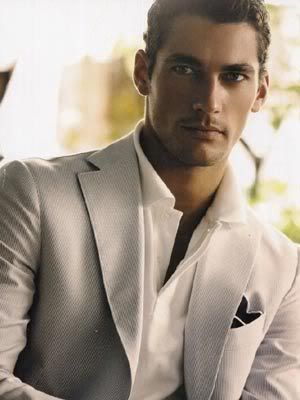 Did you like this review? If so, please tell us your thoughts in the comments below!