Interview and Giveaway with Patricia Briggs
Hi Patricia and welcome back to Under the Covers! We are so excited it's finally time for another Mercy book and that we are able to pick your brain a bit.
NIGHT BROKEN is the eighth installment to the Mercy Thompson series. With so many books and such great attention to detail, how do you make sure that your facts and/or story arcs line up? Do you keep a file, map of post-it notes or notebook to remember certain details?
I have a secret weapon.
Shortly after we started the forums, a group of forum members got together and started building a Canon of Mercy's world. They pour through the books, and extract all the factual information (you know, the stuff I just made up) and organize it. When I can't remember what car Ben drives, or what color Jesse's hair was in the last book, I can go look it up. See, countless hours for them, extreme convenience for me. Did I mention I love these folks?
Also, the moderator who sort of took the lead in doing this work, Elle, has become one of my early readers. She's got an amazingly good head for detail, and has saved me from many embarrassing missteps. I don't need no stinkin' notebook, I've got a freakin' expert here!
In five words, tell us what readers can expect from NIGHT BROKEN?
Never date a volcano god.
Mercy Thompson is one kick ass heroine. Loved by all! What would you say is your favorite thing about Mercy?
I think she's morally courageous, which is a trait I really admire. Also, because of that moral courage, she's an easy character to write. Instead of filtering her actions through multiple layers of self-justification and rationalization, I just have to ask "What would Mercy see as the correct action?"
Jess is becoming more and more involved in this world. Have you ever thought about writing stories from her point of view?
If only there were more hours in the day! I would love to write a Jessie book. And a book about Moira and Tom (from the short story "Seeing Eye" and also Hunting Ground). And another Hurog novel. And I've got a dozen ideas for whole new series banging about in my brain. My assistant showed me a cartoon that said something like, "You want to know what it's like being an author? It's like browsing the internet with two-thousand tabs open all the time!" The sad part is that actually writing a book is a slow process. I'm shooting for a book every nine months or so. There are some authors who can bang out a good book in three months, and I envy them. I'm just not that fast. So I have to select, from this chaotic pool of half-formed ideas, just one to write for the next several months. I don't know that Jessie's story will ever make it to the top of the heap, and certainly not in the next few books.
You have so many loved characters in this series! Have you ever thought about writing any spin-off series? Maybe Jess or Sam or Bran?
You're going to feel like I'm being evasive, but the answer is much the same as the previous questions. Yes, I've considered spin-off books for several of these characters. I'm pretty serious about writing a book about Moira and Tom (the blind witch from Seattle and her werewolf mate). If I were an author who could turn out a book in three months, I'd have doubtless already done so. But, I'm slow, and it's important to keep the established series alive, so there's limited opportunity to start new series. Maybe after I clone myself . . .
Will Mercy and Anna ever meet one time in one of your books?
Never say never, but my inclination is "no". Maybe in a short story, or possibly a scene or two – but for a whole book it would be difficult—too many cooks spoil a broth and too many protagontists give writer's headaches!
Speaking of Anna, what can you tell us a little bit about the next Alpha & Omega book?
I'm always hesitant to give too many spoilers. Some things consider humans to be tasty, and the Grey Lords may not be policing their ranks very carefully. Sometimes things that go bump in the night are not just the neighbor's cat. Oh, and we just spent several days in Scottsdale Arizona, at a giant Arabian horse show, and I'm calling it research. Sleep well, dear reader!
We always want to know more about the authors we love. How does Patricia Briggs unwind after writing the words "THE END" on a novel?
Um, usually by sleeping for twelve hours, going out to lunch, and starting the first round of edits? Oh, you meant after the edits are done, and the novel is really done. I usually take a few days off. I close up my office (which usually needs a good airing-out by this time anyway) and shut down my laptop. Then I spend a few days studiously avoiding work. I usually ride horses, or at the very least go play with them. We plan the next few home and farm projects. We'll head up to visit C.J. Cherryh and Jane Fancher, and hang out with them for a day. Basically, I take a vacation just like anyone else. Quite often I'll find a way of combining a trip I want to take anyway with research that I need to do for a book. For example, the recent trip to Scottsdale was a lot of fun. We spent three fun-filled days there, and I had a ball. But I also took notes, and hundreds of photos. The best part of being an author (particularly of urban fantasy) is that everything is research! 🙂
If you and Mercy went for a girls day out, where would you go and what would you do?
We would start with a manicure and pedicure. Mercy has recently become rather self-conscious about her hands and I have become of mani-pedi's since my lovely assistant Ann (also known as She Who Must Be Obeyed) introduced me to them a couple of years ago. Mercy and I would sit and gossip. I would take notes for the next book as soon as my nails were dry—because a writer never lets an opportunity like that go by. Afterwards we'd grab tacos from a local taco wagon and eat them as we drove to the roller derby and cheer on the ladies. Maybe I could talk my friend Ann into giving us belly dancing lessons. About then I'd be fretting about what my husband and Mercy's husband have been getting up to – If we leave them alone too long they might start talking about world domination or the end of civilization and how to set the ball rolling in ten easy steps. Of course they might just be distracted by the carousel we're putting together . . . it's hard to predict with those two.
Thank you so much for sharing with us today!  And we can't wait to see what you have in store for us next 🙂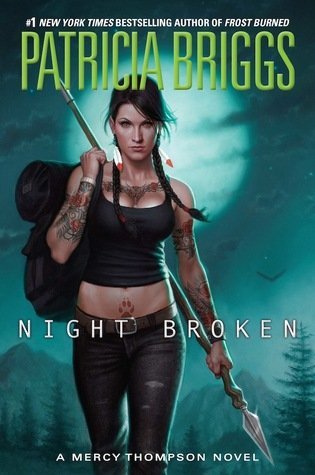 An unexpected phone call heralds a new challenge for Mercy. Her mate Adam's ex-wife is in trouble, on the run from her new boyfriend. Adam isn't the kind of man to turn away a person in need—and Mercy knows it. But with Christy holed up in Adam's house, Mercy can't shake the feeling that something about the situation isn't right.

Soon, her suspicions are confirmed when she learns that Christy has the farthest thing from good intentions. She wants Adam back and she's willing to do whatever it takes to make it happen, including turning Adam's pack against Mercy.

Mercy isn't about to step down without a fight, but there's a more dangerous threat circling. Christy's ex is more than a bad man—in fact, he may not be human at all. As the bodies start piling up, Mercy must put her personal troubles aside to face a creature with the power to tear her whole world apart.
ACE has 3 copies of MOON CALLED up for grabs,
for whoever hasn't started the series yet 🙂
This giveaway is open for US only.
Latest posts by Under the Covers Book Blog
(see all)