ARC Review: Her Naughty Holiday by Tiffany Reisz
I received this book for free from Publisher in exchange for an honest review. This does not affect my opinion of the book or the content of my review.

This post contains affiliate links you can use to purchase the book. If you buy the book using that link, I will receive a small commission from the sale.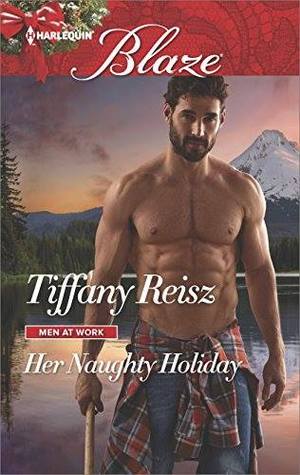 Her Naughty Holiday

Book Info
Released:
October 18th 2016
Series:
Men at Work #2
Pages:
224
Recommended Read!
"I found myself glued to the pages of this book because I loved the characters so much."
~ Under the Covers
In the second installment to Reisz' Men at Work series, HER NAUGHTY HOLIDAY has Clove Greene freaking out about hosting this year's Thanksgiving dinner. With her overly judgmental family, she's finding it difficult to tell them to all shove it and leave her alone, but at thirty years old and still single, she knows she's going to need all the help she can get.
So she asks her young assistant's father, Erick Fields to be her pretend boyfriend for the week while his daughter is visiting her mother in L.A. Erick is completely up for the challenge because he's always liked Clove but never made his move because of his daughter. Now that he knows that she's interested, he's not going to let go.
Once again Tiffany Reisz pens a whip smart book filled with fun banter and sexy times. I loved the holiday touch to this book and her take on the single father trope. She doesn't do anything really different in terms of the plot that we haven't seen before, yet I found myself glued to the pages of this book because I loved the characters so much.
If I had to list a complaint I would say that the author has the tendency to have her characters talk around in circles. I've read every single one of Reisz's books and I know her tricks now. Her flirting involves a lot of answering questions with another question to keep the ball in the air, so to speak. The worst thing is to have a character drop the ball because it would be the end of the banter so she does all that she can to keep it going. That being said, it becomes an almost roundabout way to reach the point where you actually want to get to. It's not a terrible trick to employ because it has worked countless times, but sometimes I do think she relies on this trick a bit too much and if you've read all her books like me, you can probably pick up on it too.
Still, I have been enjoying this series so much that I've read the books back to back. I cannot wait to see what the next book has in store next!
What did you think of our review?
Let us know your thoughts in the comment box below!
 ♡ Don't want to miss any of our posts? ♡ 
Follow Under the Covers: Facebook | Twitter | Tsu | GoodReads | Email