Cover Model Week: Shane Rice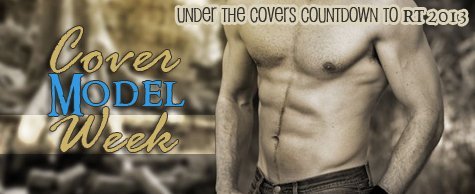 Don't worry, we are just halfway finished.  Still more man candy to share!  Today we have Shane Rice with us.  Another regular cover model at conventions and also a winner of the Mr. Romance title!
~ SHANE RICE ~
Hi Shane, welcome to Under the Cover and our Countdown to RT COVER MODEL WEEK where we aim to bring everyone a little taste of what they can look forward to, or might have to miss, at RT.
But before we talk about that, lets get to know you a little better. Tell us 5 things about yourself that will shock us.
5 things that would shock you:
-I'm pretty shy until you get to know me.
-I bite my nails ALL the time, because I get nervous a lot.
-I try to eat clean and healthy but I cant turn down birthday cake, ice cream, pizza, or beer!
-I'm really bad at house chores, especially laundry.  (I just want my mom to do it)
-I hate taking my shirt off in public.
Tell us about your first break into the world of modelling. Was it easy for you? Were you nervous?
My first cover was the "Devils Mistress".  It was in 2010, and since then Ive been on the cover of 16 books.  It was an all-day shoot, and what I remember most is how cold it was and trying to not shake or get goosebumps for the camera.
What's the best thing about your job? What's the worst?
The best thing about this job is the people you meet and the different locations to shoot at.  The worst thing is getting my nerve up to be "in character" and get half-naked in-front of strangers.  Thats always awkward.  Especially when you first meet someone your supposed to shoot with.  You shake hands, introduce yourself, and 10 min later are pretending to be intimate…
What has been the oddest thing you have had to wear during a photo shoot?
The weirdest thing Ive ever had to wear was for the book "Galaxy Man".  I was painted completely green, ripped clothes, and wore a woman's wig.  My agent and I couldn't stop laughing the whole time.
Do you have a routine to prepare yourself for a shoot?
Depending on what kind of a shoot I get booked for, will depend on how much I have to prepare for it.  I usually tell my agent I need at least month of prep time before booking me so I can get in better shape and clean the garbage out of my diet.  It makes me feel more comfortable about myself.
What are some of your interests outside of modeling?
My normal day is spent working at the gym I manage, and on the weekends I tend bar at a local nightclub.  When Im not working or working out, I play basketball, football, and softball in the local mens leagues, but my favorite pastime is just spending time on my boat, with my friends in the sun.
If you had to describe yourself as a flavor, what would it be?
If I were a flavor?  Hmmm, it would have to be vanilla ice cream.  I think because I fit in with everyone and Im not very extreme about anything.  Whats great about vanilla is you can put whatever topping you want on it because everything goes with vanilla.  Sure vanilla might not be every persons favorite, but NOBODY hates it!
If you came with a warning label, what would it say?
If I had a warning label it would read:  CAUTION, immature kid at heart. Do not tamper with, unless you are looking for fun.
Quickfire Round!
Favorite music: anything that I can dance or sing too!
Favorite team: Lakers
Blonde or brunette? I dont care about hair color.
Mountains or beach? And ALWAYS the BEACH!!!!
Find Shane
Twitter
Facebook
And yes you might find him at RT

Here's what we're going to do during Cover Model Week. We will pick a winner next week and lucky maiden will get to choose a book they want with one of the cover models we've featured on the cover 🙂 This is open internationally!
Latest posts by Under the Covers Book Blog
(see all)