A message from Eden Bradley aka Eve Berlin, R.G. Alexander and Robin L. Rotham, members of the Smutketeers!
Thanks so much for having us here today to share our latest book news with you! Here's what's happening with us:

First up is Eden Bradley/Eve Berlin—her'Edge' books have all just been reissued with gorgeous new covers, and are in stores now and available on Amazon and B&N! A little kinky romance to curl up with on a chilly fall day…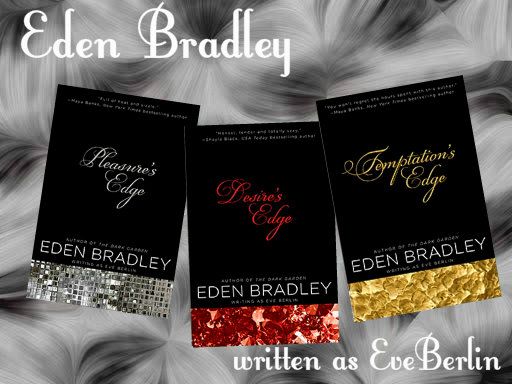 ~PLEASURE'S EDGE~
A sensual new novel of losing control-and finding the ultimate pleasure.

For beautiful erotica author Dylan Ivory, being in control is everything. Then she meets the man who is everything she is not…and everything she wants.

Alec Walker writes dark psychological thrillers-and he lives for thrills. His tastes extend into the bedroom as well, where he lets no rules bind his desires. The only thing he fears is true love…

While researching a book, Dylan interviews Alec-and longs to taste the temptation he offers. But he's a self-proclaimed dominant and she refuses to surrender control. Slowly, Alec shows her that by letting go and submitting to his every desire she can experience the ultimate pleasure. But to keep the woman who for the first time brings him to his knees, can Alec take the ultimate risk and surrender his heart?
**Winner of the 2011 Holt Medallion Award!**
One woman discovers the freedom of giving in to desire…
Sexual dominant Dante De Matteo knew Kara Crawford back in high school, but he never imagined her darkest fantasies would align so perfectly with his. When Dante lands a job at Kara's law firm, intense desire draws them closer while deep-rooted fears threaten to pull them apart- unless they can embrace both the pain and pleasure of love. 
What happens when you let yourself fall over the edge…and into temptation?

 
Mischa Kennon isn't one to take it lying down, at least not until she meets sexy Connor Galloway, a green-eyed Irishman with an air of authority she finds hard to resist. While performing duties as maid of honor to her best friend, Mischa indulges in a casual relationship with Connor. She's surprised by the thrill of his dominance, and lusts for more feisty battles before surrender.
It's all fun and games in the BDSM Pleasure Dome Club, until Mischa realizes Connor could master her heart. If she gives in to desire, will it be too much to handle, or will it open her to a kind of love she never thought possible?
EXCERPT from PLEASURE'S EDGE
(Warning-a li'l X-rated!)
She was still shivering when he pulled back and moved her, laying her face down on his lap.
Her body went tense all over.
"Shh. It's time, Dylan. This is why we're here. You're ready."
She was struggling to sit up, but he held her more firmly.
"Are you telling me 'red'? Are you safe-wording out of the scene? If you are, I will let you up and we'll get you dressed and leave here. Is that what you want?"
He could barely stand to do it, to hold her down. Spank her. It would only make his straining cock harder, make it more difficult to keep himself under control. No woman had challenged his self control the way Dylan did. But he could deal with it. He simply would. He wanted to touch her more than anything in the world at this moment.
He could feel the slightest give in her body. It was enough. He pulled the sheer mesh of her panties into the sweet line between her cheeks, baring them to his hands. He smoothed his palms over the silken flesh, just stroking her skin. Eventually, she went loose in his lap. Perfect. As perfect as the tight curve of her bare ass.
He began to tap with his fingertips, just hard enough that he knew she could feel it. He listened to her breathing for any sign of panic, but she was fine so far. He slapped a little harder, the flat of his palm making a small smacking sound. Her breathing didn't change, but her flesh grew warm and showed the slightest tinge of pink.
"Are you all right, Dylan?"
She was still loose and warm, and he knew she was slipping into the edge of subspace, had perhaps already reached it when he was working her with his fingers, before she even came.
His cock twitched, swelled.
Don't think about that now. Concentrate.
He smacked her harder, his other hand still holding the back of her neck firmly. He knew she was feeling some pain. He also knew the desire in her body could convert it to pleasure if he handled her correctly.
Pausing to stroke her pinking skin, he smiled to himself at the lovely blush there. Drawing his fingertips over her buttocks, he pinched at the undersides. She squirmed, but her breath was still even. There wasn't an ounce of tension in her muscles. He knew if he could see her face her pupils would be dilated, her cheeks flushed.
"Dylan, are you with me?"
"I'm going to really spank you now."
A soft moan, then she said, "Yes…"
Next we have R.G. Alexander's long-awaited sequel in her 'Wicked' series, WICKED RELEASE, out now! Get ready for some dirty…

Something magic this way comes…

Wicked ³, Book 1

Callie has always known the Abbotts were different. Witches, though they call themselves "Magians". They are her second family. Harrison Abbott has been her best friend since they were children. Tucker Abbott, her life-long crush. And their brother, Tyghe? A magical pain in her backside.

When the Abbotts need her human perspective to solve a mystery, she doesn't hesitate. Especially since it means getting everything she ever wanted. A chance to be one of them, to have magic, even if it's only temporary.

Someone is attacking young women at Triune, a ritual that helps Magians find their perfect threesome—the match that will complete their magic and their hearts. Callie expected to be dazzled by her first glimpse into the Magian world, but the bone-melting desire between her and the Abbott brothers isn't part of the plan.

Nor is the decades-old secret that makes her the target of a killer…
EXCERPT from WICKED RELEASE:
Excerpt #2 sexy
There were books piled in corners and on the floor along the wall, but this was no library. It was a den of temptation and decadence, complete with a reflective wall beside the sumptuous bed. A wall that she sensed was more than it seemed.
But it was the art—sketches and paintings resting on easels and hanging on the walls—that ensnared her. They were all of one woman. In abstract. From behind and in profile. Nude and barely clothed. The details were exquisite, as if the artist had spent hours perfecting each one. The subject had long, dark hair and caramel eyes. She also had a distinctive birthmark on her hip.
Her. Every drawing was of her.
She might be disturbed if it weren't so flattering. If it weren't Lorie who had painted them. "How?"
Lorie came up behind her, his hands warm on her waist. "I told you, Sarah. I dreamt of you for years. I would wake in the night and have to recreate you, have to hold you in my mind. I suppose this is more your room than mine."
Con stretched out on the couch that was twice as wide as he was and sighed. "Let's compromise and call it our room. I know I feel right at home here."
Sarah smiled at Con's words, but the moment she turned in Lorie's embrace, she was lost. The way he was looking at her. The longing and hunger in his expression. Magic pulsed between them, beating with a single heartbeat. Connected.
"Will you stand there staring at each other all night, or am I going to have to move this along?" Con placed several pillows behind his head and watched them, answering his own question. "Sarah, I believe you and Lori have some catching up to do. I'm nothing if not a fair and honorable man. Be a love and take your clothes off, will you? And then go wait for him on the bed."
A startled glance in his direction told her this was not another attempt at humor. It was almost worded as a request, but its tone held a hint of command. She had the strangest reaction to it.
Excitement.
She walked slowly over to the edge of the bed and began to remove her shoes and jeans, watching the two men as they watched her.
The desire in both their gazes sent a heady rush through her system. Con may be directing her actions, but their looks said she had all the power. She controlled them with each button she released. They were her captives. It was a heady sensation.
By the time she'd removed her last piece of clothing and climbed on all fours onto the bed, she was shaking with need. Lorie was so still and silent she might have worried he'd changed his mind, if not for the pulse beating a passionate drumbeat in his neck. If not for his clenched jaw and stained cheeks. Or those eyes, brilliant in their longing.
"I'm here," she whispered breathlessly. "What now?"
Con's fists were clenched behind his head. She could see the white of his knuckles. "Now if Lorie doesn't join you, I will." Lorie didn't need to be told twice. He stripped in record time and stood in front of her, steps away from her mouth to let her look her fill.
Had she called him an angel? His face was perfect, almost innocent in its beauty. His body made her ache. A fallen angel, then. A man sculpted to indulge in a woman's every sinful thought. A man she had to sample.
She leaned forward and licked her lips, eager to take him into her mouth, when Con's voice stopped her. "Not yet, Sarah. Turn your hips toward me. That's right. Good girl. Now spread your legs. More. That is nice. Okay, now you can taste him. But don't let him come. Not until I say. Not until he's inside you."
Lorie was watching her carefully, trying to hold himself back and gauge her reaction at the same time. "You can say no anytime, sweet Sarah. You'll never be forced."
Perhaps this should disturb her, these strong men controlling her actions. Guiding her. But it was having the opposite effect. With them, it seemed, she had no shame. She smiled. "Is it wrong that I enjoy it? That I have no desire to say no?"
His blue eyes darkened and his teeth clenched. "No, sweet. It's right. It's perfect. You were made for us. Nothing we do with each other, nothing we feel is wrong." He slid his fingers through her hair and tugged lightly. "And since you have no objections, I think Con gave you a command."
Yes. Yes, he had. She leaned forward, feeling Lorie's fists clench in her hair when she opened her damp lips over the tip of his shaft. Her magic rose up from a well deep inside her, green and gold mingling with his soft lavender as she took him in her mouth.
Shameless. Wild. Heavenly. The words were not enough to describe her body's reaction to this act. To his taste. He was better than any dessert. Salty and hot and delicious on her tongue, she opened her mouth to take more of his width. To take all of him.
Her thighs were damp with arousal. Arousal she knew Con could see from across the room. And she wanted him to see. Wanted him to lick his lips as he imagined her taste on his tongue. She spread her legs farther apart and rocked her hips in time to her mouth's rhythm.
A groan from the couch told her he was still watching. That he wanted to join them.
"Con, don't you dare fucking move." Lorie's growl made her shiver.
"I need this. Need her. Oh, hell, Sarah. How are you—? What are you doing?"
She'd reached up with one hand to cup the tight sac at the base of his shaft, caressing it as she slid her mouth down until her lips nearly touched her fingers. She swallowed.
Con's pained moans echoed in her ears. "She's a natural. I knew she'd be a natural. Knew her mouth was made for us."
Lorie's hips jerked against her, his hands guiding her head almost helplessly against his cock. "I'm not sure I can hang on, Sarah. This feels too damn good. Oh, God, what your mouth can do should be a crime. Don't stop. That's it. I just. Need. A few more—"
"Stop. Now."
It was instinctive. She was so attuned to them that she pulled away without hesitation, though she wanted more. She wanted to taste Lorie's completion on her tongue. To know she could do that to him. Affect him so swiftly.
"I hate you, Con," Lorie snarled.
Con snorted. "No you don't." He paused. "Okay, maybe you do now, but you'll thank me later." His tone softened. "How're you doing, baby? Still with us?"
She nodded, feeling dazed. "I think so." Her body was screaming for release, screaming for someone to give her what she needed. Each second that passed wound her insides tighter and tighter, until she was sure she would snap. She was tempted to grant herself temporary relief, but they were watching. And Con hadn't given her permission to stop playing his game.
"Are you ready for more?"
Last, but definitely not least, is the newest Smutketeer Robin L. Rotham's Halloween tale, FRANKENDOM! This erotic twist (and we do mean twisted!) on the Frankenstein story is one HOT read—and not for the faint of heart!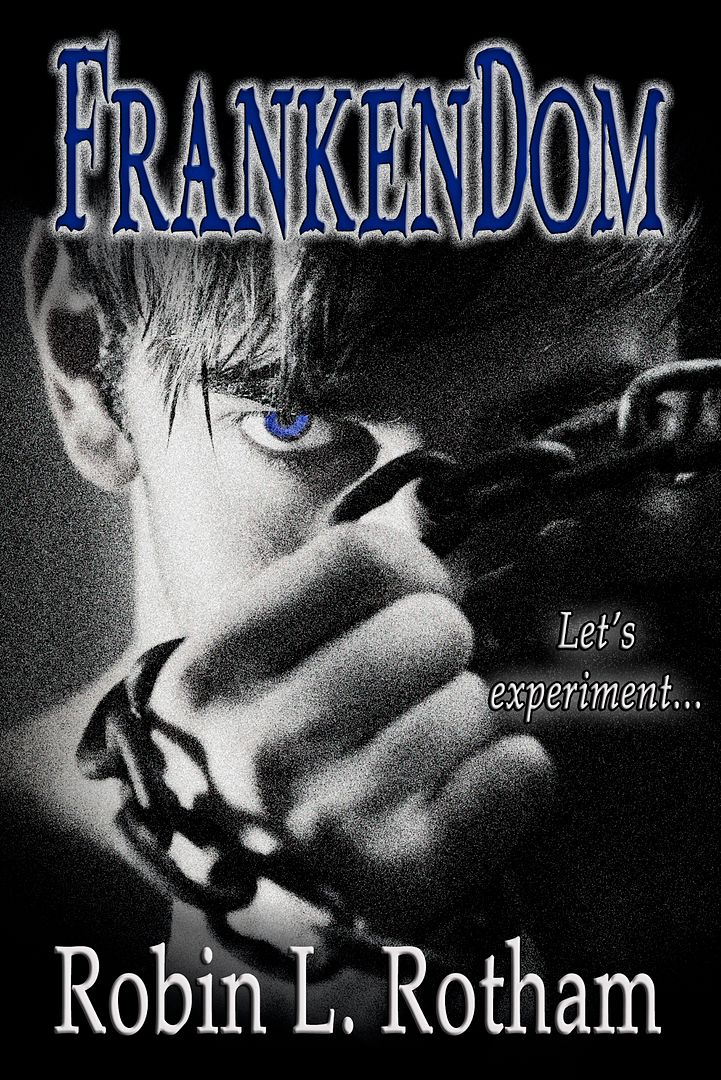 FrankenDom (RELEASES 10/29)
By Robin L. Rotham
A scientist with an obsession. A protégée with an agenda. And a surgeon with needs too long denied…
Vascular surgeon Dr. Rachel McBride knows she'd be insane to pass up a prestigious fellowship for the chance to work on Julian Kilmartin's cutting-edge research project. The reclusive neurologist has been the object of her submissive daydreams since residency, and time and distance have only strengthened the dark compulsion.
To complicate matters, a former lover who was all too aware of her attraction to Julian is also on the team. Charmingly obnoxious Dr. Colin Carter was Julian's protégée back in the day, and nothing appears to have changed…or has it? There's an earnestness to Colin now, an urgency she's never seen in him—and he claims her desire for Julian was reciprocated but deliberately left unfulfilled.
When she takes the chance and travels to eastern Europe, Rachel discovers that research is only part of her job description—and submission is only the beginning of the sexual excesses Julian and Colin will demand from her.
But when the unthinkable nature of Julian's research project is finally revealed, Rachel is ready to run from the men she thought she knew. Securing her cooperation will take a touch of coercion, a bit of bondage, and all the erotic torture two deliciously deviant doctors can apply.
Reader Advisory:

 

You should assume any Robin L. Rotham book contains BDSM elements, anal play, and every possible ménage à trois permutation plus occasional spares. Additionally, FrankenDom contains mad scientists, real dungeons, whips, chains, spanking, a variety of taboo fantasies, mild puppy play, electrical devices in uncomfortable places, humor, and an intimidating ratio of sadists to masochists.
Taking a deep breath, I slipped into the dim corridor, leaving my door slightly ajar in case I needed to beat a hasty retreat. Adrenaline made my hands shake and my heart pound in my throat. Where in the hell was I going? To my right, seemingly an eternity away, was the tower with the elevator I'd come up in. Across from my room was a closed door. To my left, two more closed doors on the same side as mine before the corridor made an abrupt right turn I couldn't see around. What was down there?
Decision made, I alternately crept and made panicked leaps down the corridor, flattening myself inside door frames when I heard any sort of noise—as if my protruding boobs wouldn't give me away.
Or my noisy stomach. I gave it a reproving pat and whispered, "Hush, you."
From my vantage point in the final door frame on the left, I craned my neck to peer down the adjoining corridor but saw nothing. I heard something, though—several somethings that sent ice water trickling down my spine.
I listened as if my life depended on it.
Which it very well might, if what I heard was any indication—guttural male cries, low-pitched chuckles, and the murmur of male voices. They were all muted by an electronic hum that made the door under my right hand vibrate slightly. And there was a persistent crackling and snapping that sounded like radio static.
Or something more sinister.
Every muscle in my body tensed for flight. It took a several deep breaths and a searing lecture on the evils of cowardice from my inner bad girl before I was calm enough to forge ahead.
Another glance back the way I'd come and then I darted onto uncharted carpet. It was a relatively short corridor with only two doors, one on my left, which I flattened myself into right away, and one in the terminal wall.
Terminal. I swallowed hard at the irony. Unlike all the other doors, which were traditional six-panel models painted pristine white, this one was round on top, made of lightly stained wood planks and held together by heavy black hardware—two flat metal pieces that formed a reinforcing X were riveted to the door just below the curve, and two more pieces anchored it across the top and bottom. The handle was nothing more than a thick leather strap doubled over and bolted to the wood.
The primitive door was open. Not much, only enough to see a sliver of darkness and almost continuous flashes of watery light—but it was open.
I bit my knuckle. Nothing said Go away! like a big black X on the door.
But it was open. An open door was an invitation…right?
The temptation to creep closer and try to seesomething clashed fiercely with the desire to scurry back to my room and reassess my priorities.
The sounds were more distinct now, and I swallowed hard when I recognized the distinctive buzz and snap of some kind of powerful electrical device discharging. It was a relief to realize the human sounds seemed unrelated to the snaps and flashes of light. During one of my ER rotations, I'd seen an electrical burn from electro-stimulation gone wrong and I never wanted to see it again, much less experience it for myself.
But those throaty masculine chuckles and amused murmurs were definitely a reaction to
pained grunts and groans. Someone was being tortured in there. And someone else was enjoying it.
A sharp yelp made me gasp, and I slapped one trembling hand over my mouth while the other flattened on my stomach. That could be mein there, being tortured for someone else's amusement.
Okay, maybe I should have taken this a little slower. My heart was about to batter its way right out of my ribcage, and I couldn't tell if it was from excitement or terror.
Time to get my ass back to my room. I didn't have to travel the entire road to self-discovery in a single day.
Before I could flee, a loud, stuttering groan rang out, followed by, "Jesus, please, Sir! Ah! Motherfucker…fuckfuckFUUUUCK!"
My eyes widened. That was Colin.
"Oh my God," I whispered against my bloodless fingers. They were torturing Colin? He was a bottom?
I took a shaky step toward the door, and then another. What was happening to him?
Was it something that would happen to me if I stuck around?
Did I want to find out?
A heartbeat later, the choice was no longer mine. My wrists were seized from behind and I was hauled against a hard masculine body with my arms crossed over my chest. I was too breathless with terror to even squeak when he put his mouth against my ear.
"Gotcha, Dr. McBride!"
For more information on these authors visit their group
website at
Smutketeers.com
a Rafflecopter giveaway
Latest posts by Under the Covers Book Blog
(see all)