ARC Review: Unconditionally by Erin Lyon
I received this book for free from Publisher in exchange for an honest review. This does not affect my opinion of the book or the content of my review.

This post contains affiliate links you can use to purchase the book. If you buy the book using that link, I will receive a small commission from the sale.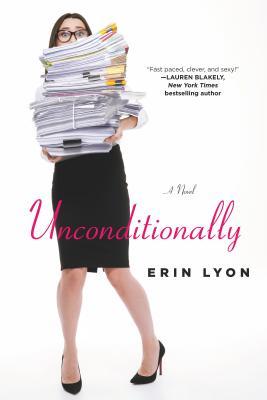 Unconditionally

Book Info
Released:
January 9th 2018
Series:
Contract Killers #2
"…although I liked the characters in this I thought the romance was weak and I am still looking for a plot."
~ Under the Covers
In the Contract Killers series, the world is much the same as today, but with one big difference: there is no such thing as marriage, instead people 'sign' with someone. This is basically the same as marriage only, like most contracts there is an end date; 7 years. After 7 years is up you can either part ways or re-up the contact for another 7 years.
Unconditionally is the second (maybe the last?) book in the Contract Killers series and starts just where we left off in the first book. So, if you haven't read I Love You Subject to the Following Terms and Conditions you will need to pick that up first. We dive straight back into Kate's world, where she is in the middle of a love square as well as keeping up with her crazy clients in her job as a signing attorney.
There were elements of Unconditionally I really liked, such as her antics as an attorney in signing law and the hilarious scraps that her clients find themselves in. I also thought Kate was a good heroine, she was smart and funny and seemed like just the kind of gal you would want as a friend. But these aspects of the book were outweighed by what I didn't like.
This book read more like a list of events that had happened to Kate rather than as an interesting and engaging story. It  meandered through a few weeks of her life with seemingly no direction. We see Kate go to work. Kate goes home. Kate sees her friends. Kate pines after Adam – the forerunner in the love square. The whole book continues like this until Kate finally couples up with someone – I won't say who – in the last 2% of the book. It was so abrupt, I thought that once again it was going to end with no clear conclusion regarding Kate's love life. Then BAM it all sorts itself out with such a quick 180 from one of the characters (I don't want to give spoilers!) that I was in danger of whiplash. This wasn't story telling at its best.
I am not sure if this series is continuing or if it is duet, Kate's story has concluded (I guess?) unless we are going for a meander into coupledom with her and her man. I won't be in a rush to read anything further in this series; although I liked the characters in this I thought the romance was weak and I am still looking for a plot.
What did you think of our review?
Let us know your thoughts in the comment box below!
 ♡ Don't want to miss any of our posts? ♡