Super Book Blast: Lust After Death by Daisy Harris
Author Override is the place where authors take the reins and take you on a journey into their world. Some may allow you into their private writing dens. Others may take you along with them on research trips or interviews. Whatever the case may be, sit back, relax and enjoy the ride because here you'll get an in-depth look into an author's musings.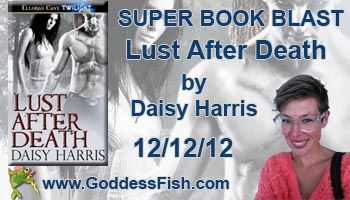 Lust After Death
(Love-Bots, Book 1)
by Daisy Harris
~~~~~~~~~~~~~
In the Pacific Northwest, where life hurries to keep pace with technology, a re-animated bride
named Josie struggles to escape her creator and to find her identity in the half-erased circuitry
of her mind and body.
Assassin Bane Connor just wants to get the girl to the Zombie Underground and receive his
payoff-a mental reset that will erase his memories as well as his guilt. But an attack by a rival
faction derails his rescue, and the wide-eyed female whose circuitry requires a husband tears at
his hardened heart and ignites desire like he's never known.
EXCERPT
She picked up a bar of soap and her eyes widened. Normally Bane hated how newbies
wondered at every damn thing—but this girl didn't look stupid. She looked kind, excited, happy.
The bar slipped out of her hands into the water and Bane watched as she dove head-first to
find it. His hand left his dick to grab at the metal. He worried she might not know enough not to
breathe under there.Her head popped up again and she flipped her ebony mane from her face. A grin split her face.
Damp curls of hair framed her cheeks, tangled at her shoulders, licked at her collarbone. She
giggled and rolled the soap in her hands. Her eyelids fluttered as she smoothed the cream over
her arms and up the long column of her neck.Bane's fingers traced over his lips as he watched her soap her body. He held his breath, silently
urging her hand lower.
She obliged, skimming over the curve of her breasts before sliding her touch down her belly.
Her palm dipped below the water and he lost sight of it, but her eyes fell to half-mast and her
lips parted. When her arm reached farther, the girl's eyes pressed tight as her mouth made a
shape like an O.
Fuck! His legs swung out from under him and his fingertips barely caught on the thin ledge.
Bane hung there for a moment, wondering whether to drop to the ground or pull back up.
Despite his better judgment, he wedged his toe into a crack in the concrete wall and angled his
body to push his torso higher until he once again peered like a letch through her window.
He shouted, finding her face right up to the glass. Her mahogany stare met his—surprised,
curious, but not frightened. One corner of her mouth curled up into a lopsided, cherubic smile.
She reached out a hand to the window and traced his face. When her fingertips covered his lips,
her other hand reached up, stroking her own mouth.
Bane lost his grip, and with a winding thud, fell flat on his ass.
BUY NOW
About the Author:
Birkenstock-wearing glamour girl and mother of two by immaculate conception, Daisy Harris
still isn't sure if she writes erotica. Her romances start out innocently enough. However, her
characters behave like complete sluts. Much to Miss Harris's dismay the sex tends to get
completely out of hand.She writes about fantastical creatures and about young men getting their freak on, and she's
never missed an episode of The Walking Dead.
FOLLOW THE BLAST FOR MORE CHANCES TO WIN
1. 
BadBarbsPlace
2. 
The Menagerie Authors
3. 
It's Raining Books
4. 
Melissa Kendall Author
5. 
JM Stewart
6. 
Under The Covers Book Blog
7. 
Wake Up Your Wild Side
8. 
Brewing Up Serious Passion
9. 
My Odd Little World
10.
Erzabet's Enchantments
11.
Jinni James
12.
Joan Chandler – Let Romance Light Your Way
13.
Delighted Reader Book Reviews
14.
Deal Sharing Aunt
15.
Beyond Romance
16.
Dawn's Reading Nook
17.
From Me to You … Video, Photography, and Book Reviews
18.
Sexy Adventures, Passionate Tales
19.
Harlie's Book Blog
20.
Night Owl Reviews
21.
Louisa Bacio — Love Knows No Bounds
22.
Wickedly Wanton Tales
23.
The Muse Unleashed
24.
United By Books
25.
My Reading Obsession
26.
The Bunny's Review
27.
You Gotta Read Reviews – Guest
28.
Erotic Interludes
29.
Of Kink, Romance, and Writing
30.
Sexy Lady
31.
The Paranormal G-Spot
32.
Crazy Four Books
33.
Adventure into Romance
34.
Wicked Readings By Tawania
35.
Zombiegirl Shambling
36.
Desiree Holt Tells All
37.
Books and Other Spells
38.
Author Raine Delight
39.
Andi's Book Reviews
40.
Christine Young Romance Writer
41.
Literary Writings
42. 
bookswagger

Daisy will be awarding a $20 gift certificate to Amazon or Barnes & Noble and a Walking Dead T-Shirt to a randomly drawn commenter during the tour (US & Canada Only).  Remember this is a one day only event, so be sure to comment on as many blogs from the list above as you can to increase your chances to win.

Latest posts by Under the Covers Book Blog
(see all)