Samhain Nights: CATHRYN CADE

Our Samhain Nights is almost coming to an end, but we have a couple more amazing authors to introduce you to.  Today we have author Cathryn Cade with us, lets welcome her to UTC!
ROLLING IN THE DEEP is the second book in the Hawaiian Heroes series. Please tell us a bit about this book! We wanna know more about it!
Rolling in the Deep really sprang from Adele's gorgeous song of the same title. I love the way she sings the pain and disbelief of a woman who's found her perfect man, only to have him walk away when they could have had it all.
Claire Hunter meets Daniel Ho'omalu when she flies to Hawaii to be in the wedding of the hero and heroine of Walking in Fire, his brother David and her BFF, Melia.
Claire is open about her sexuality, and she lets Daniel know she wants him. He's a big, tough Hawaiian who thinks he's too much for this young haole visitor, so he does his best to scare her away. But of course he can't resist hanging around her, teasing and provoking.
Then, when danger threatens in the form of a wealthy crime family from L.A., who want to bring their new designer drug onto the islands, Daniel knows he may have to give his life to protect her and his island, so he pushes her away, as in the song.
This story was delicious to write, because Claire is the opposite of me in my twenties–I was so shy! She gets to say all the things most of us didn't when we were single and looking for romance. And Daniel is such a big, angsty tough guy who really just needs a woman who can see through to his tender heart.
Be sure to visit Samhain Publishing and my website for excerpts from the story! Links below.
Since it is summer, we want to ask you if you were spending the day somewhere in Hawaii, where would you go and what would you do? 
Such a great question! I would spend the day with my DH on the south Kona coast, snorkeling at Honaunau Bay, swimming with the dolphins and turtles and enjoying the rich panoply of tropical fish on the reef (and trying not to sunburn the backs of my legs!). We'd break for a picnic lunch on the sun-warmed lava rocks rimming the bay, and then wander through the incredibly atmospheric Place of Refuge National Park right on the south edge of the bay. Later we'd drive back to Kona, shower and dress, and go into Kona-Kailua Old Town for dinner, fresh mai tais and live music on the waterfront as we watch the glorious sunset. Sigh … my favorite Hawaiian day.
Please tell us about WALKING IN FIRE, the first book in the Hawaiian heroes series. 
So glad you asked! As you can tell, I totally am in love with Hawaii. Two years ago when we first visited the Big Island, my husband told me I should write a book set there.
Little did he know I was already plotting the story of a young, single tourist from the mainland, who would of course meet a handsome Hawaiian and fall in love–while having a death-defying adventure. When I observed the Hawaiian spirit of aloha, and how much they love their islands, I wished for them that they could protect their islands from harm.
What if there existed a very special ohana, family who had been tasked by Pele herself with protecting her volcanoes while she sleeps? David Ho'omalu's powers come from the volcanoes themselves, and my favorite scene is when Claire unexpectedly discovers his abilities. She is a little freaked, to say the least! I've included a short excerpt from the scene to pique your interest.
This book has been gathering fabulous reviews, including a Top Pick from Night Owl Reviews and a nod from Library Journal. Readers tell me it's like a mini-vacation to Hawaii, with hot, sexy adventure.
Who is your favorite author and what is it about their work that resonates with you? 
There are so, so many great romance writers today, and I'm lucky enough to have friends whose work I look forward to. My top 3 auto-buys, though, are Jayne Ann Krentz, Karen Robards and Linda Howard. They write strong women dealing with alpha males, with passion, humor and danger in the mix. I do my novice best to live up to their great example, and in my fondest daydreams readers compare me to them. A lot to live up to, but a girl's gotta have a dream, right?
Of ANY book character, who would you want to have a date with? 
Definitely one of the Ho'omalu men,David, Daniel or their uncle Hilo, who is single, and a very laid back, funny man. I would ask him so many questions about what it's like to be Hawaiian, to be part of the islands and their history. I'd have them teach me more phrases in Pidgin, which I adore. I'd also have the guys perform a special hula just for me, as they do in the books. And if you want to know what I'm talking about, visit this link. This group of Hawaiian men have won the Merrie Monarch Hula Festival in Hilo, Hawaii many times and they are no ka oi, the best. http://www.youtube.com/watch?v=l_pNMveyMeg&feature=related
What is your favorite thing about being a Samhain author? 
Ooh, do I have to pick just one? I've been with Samhain since 2008. I love that they took a chance on an unknown author, that I've gotten such great editors to work with, that my books have gorgeous, sexy covers and that the quality of proof-reading and printing is so rigorous. I truly feel that Samhain is one of the highest quality digital first publishers in business, and the product they put out can compete with any print first publisher. And they do it all with genre-rocking stories that are totally out of the box.
It's a warm summer's night and you are free to do anything you want! What would you do and who would you spend it with? 
I'm lucky enough to be married to my own hero. He's been there with me to raise two sons, and share our lives together come what may. So of course I'd be with him. Hmm, we're moving back home to Montana in just a few weeks, and since he looks truly fine in a pair of Levi's and cowboy boots, I'm going to go with dancing at a country-western bar, and then driving home along the quiet roads under that starry Big Sky. What happens next is our secret.
Thanks for spending a little time out of your busy day with me. I hope you'll take a moment and let me know if you've visited Hawaii, or what your very own fantasy vacation would be! I'll be giving away FREE e-copies of Walking in Fire to commenters here.
Here's an excerpt from Hawaiian Heroes I; Walking in Fire
' "You are so full of it." Forgetting her self-consciousness, Melia marched over to the bed, grabbed the sheet and pulled it up over her side of the bed. She lay down on top of the sheet so he was on the other side of it, at least, and pulled the light quilt up over them. "Any body parts straying onto my side of this bed better be scratch and bite-proof."
Behind her, he turned off the lamp. Lying in the darkness with him so near, she could feel the heat radiating from his big body. Melia dug her fingers into the soft sheets, resisting the urge to wriggle back toward him.
"Ah, wahine," he said, his voice a soft rumble in the darkness. "One time soon, you'll bite and scratch me. But it won't be to get rid of me. E huahua'i."
"What does that mean?" she asked grumpily.
"It means that when we come together, our pleasures will flow like the hot lava from Pele's volcano."
Outside, the storm broke over the house, the thunder rumbling, wind howling. Melia quivered, her body responding as the storm echoed the tumble of erotic images his words unleashed in her imagination.
"In your dreams," she muttered. Melia paha.
But instead, Malu invaded her dreams, as he had since that first night. It was the same dream as this afternoon, as if it hadn't been interrupted by waking.
And this time she went to him, as helpless to resist him as if she were bewitched. He stood framed by the mountain, glowing with that red-gold light. He wore a crown of leaves, but they were red with fire. So was the brief kapa cloth around his hips. Geckoes scampered around him like living sparks on the ground.
As she gazed at him in awe, he turned and held out his hand to her. His dark gaze, the sensuality in the slow smile he gave her were so compelling, her body reacted helplessly.
So aroused that she was breathing in ragged pants, Melia climbed the path to him. The geckoes scampered back, making way. Slowly, she reached out her hand, wanting desperately to lay it in his. But the heat that surrounded him became too much.
She hesitated, yearning to let his heat envelop her but afraid of the results. Would his passion burn her up, leaving her empty?
Melia woke with a gasp. She lay on her back in the bed, her heart pounding, desire twisting inside her. The dream had been so real.
Rain beat on the roof overhead, trickled down the gutters and splattered on the windowsills. But only on one side was she cool. Her other side was hot, uncomfortably so, as if she were too near a fire. And the heat was emanating from the man sleeping at her side.
Melia turned her head and stared. Her breath froze in her throat; her heart skipped a beat and then began to pound even faster. Was she still dreaming?
Malu still lay on his side, facing her. His eyes were closed, his face peaceful in slumber, his big body relaxed. And she could see all this clearly, because he was glowing.
She closed her eyes, squeezing them tightly shut, willing it to be her imagination, a trick of the storm, of the Hawaiian night. But when she opened them again, it was the same. The night was dark, the rain blotting out any moonlight that might have strayed in the windows. The only light was the red-gold glow that shimmered not around, not over, but from Malu.
Slowly, clumsy with fear, Melia pushed back the blanket and began to inch away from him. She made it to the very edge of the bed, had one foot on the floor when his eyes opened, and he looked at her. It was like gazing into the heart of dark fire.
"Damn," he rumbled, his deep voice husky with sleep. "Didn't mean to do that yet."'
Hope you enjoyed this peek at the story!
Visit my website and my page at Samhain publishing for more excerpts, reviews and links to buy the book in any ebook format.
Aloha,
Cathryn
.. red hot romance!
http://www.cathryncade.com
http://twitter.com/CathrynCade
http://cathryncadesblog.blogspot.com/
http://www.facebook.com/cathryncade.author
http://store.samhainpublishing.com/cathryn-cade-pa-351.html
http://about.me/cathryncadeauthor

Cathryn has 5 e-copies of Walking in Fire to giveaway!!!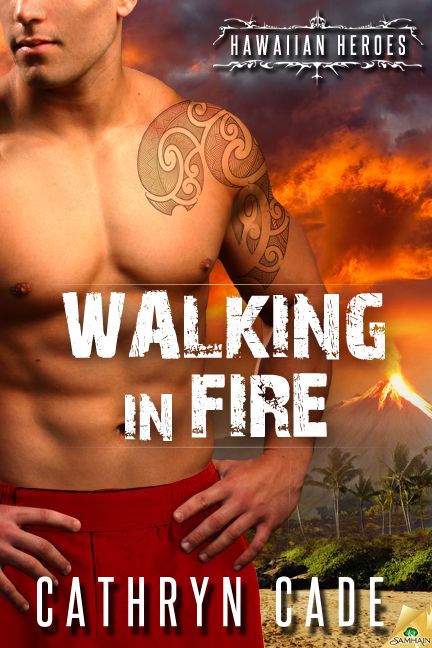 Born to defend his people, he will sacrifice everything—for her.

Hawaiian Heroes, Book 1

Nawea Bay, a remote Hawaiian paradise, is just the haven Melia Carson needs to escape the chill of heartache. Instead, she finds herself swept up in a tropical heat wave, fueled by her unexpected attraction to a handsome native she meets on a snorkel tour.

He's big, powerful, hot enough to melt her defenses—and he's not all he seems. How else could he survive an injury that should have killed him…and why does she dream of him garbed in ancient native dress and wreathed in flames?

David "Malu" Ho'omalu is on the Big Island to find and destroy a cache of dangerous designer drugs before they can be sold to his people. Fending off amorous female tourists is part of the job, but one look in Melia's blue eyes, and his instincts scream that she is his.

As Melia surrenders to the desire burning between them, she discovers more than a fiery heritage that defies modern logic. She discovers a man who would descend into the molten heart of the volcano to protect his island. And her…if she can find the strength to trust her heart to him.

Product Warnings
Hot, hot Hawaiian hero with volcanic passion on his mind. Better pack a heat-proof bikini for this island paradise.
To enter, please:
1. Be a follower
2. Answer Cathryn's question in the comments!  Be sure to enter an email address so we can contact you if you win.
Latest posts by Under the Covers Book Blog
(see all)