#Rollbackweek Review: Hot in Here by Sophie Renwick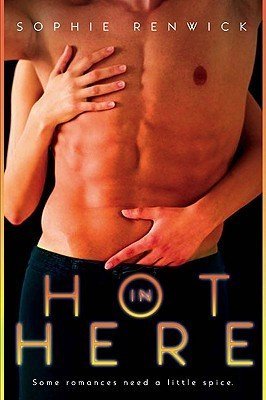 Hot in Here

Book Info
Released:
June 2nd 2009
"That peach bellini scene will forever change how I see fruity drinks."
~ Under the Covers
The other day I was in the mood for a Contemporary Romance that was a little bit more on the sexy side. Think something like Toni Blake's Destiny series and Marie Harte's McCauley Brothers. So I went to Goodreads and searched for similar titles. I came across HOT IN HERE, a title that's been on my TBR pile for years now and by reading the blurb, I realized that this was exactly the type of book I was in the mood for. Hot chef. Dirty talk. Ssssssmokin' hot sex? Hell yeah!
I should say upfront that this book is more Erotic Romance with the amount of sex in this book. But obviously, that's nothing I would complain about. Bryce Ryder is a celebrity chef and a bad boy womanizer. He goes through women so quickly that his reputation is starting to take a hit. So he has a consultation with one of his oldest friends, Jenna McCabe.
Jenna has everything she wants in her life. A good career, wonderful friends and family, but one thing has always managed to escape her grasp – Bryce Ryder. So in an effort to make a move for what she's always dreamed of, Jenna takes a more aggressive approached and so far, it's getting the results she wants. Bryce has finally taken notice of her. But instead of allowing herself to fall deeper in love with him, Jenna decides she wants to play the game. She's going to string Bryce along until she has him begging.
Bryce comes off as a bit of a douche in the beginning of the book. And I think that's entirely intentional with the author. She needed to make him a jackass so that there was a reason for Jenna to be there. However, that soon changes and I actually found myself liking Bryce way more than Jenna as the book went on. My issue with Jenna is the fact that she's trying a play a game that is way out of her league. She wants to string Bryce along but we all know that it's just bullshit. Everyone seems to be warning her off the idea, but she completely ignores it and continues on, aggravating Bryce- not to mention herself- with her hot and cold act. This makes tremendous leaps backwards after the awesome sex that these two have so that was a little disappointing – and annoying – because I think it would've been a stronger book if Jenna didn't try to play games.
Speaking of hot sex though…If you are looking for a book that delivers on that front, look no further. This book has some of the best sex I've read in a long time. That peach bellini scene will forever change how I see fruity drinks. And there are so many other dirty scenes that will make the pages between your fingers burn. The sex scenes are definitely the best thing about this book. I have a feeling that at least one of these scenes will be featured in my top fave sex scenes of the year but of course, we'll have to see if that's the case ;P
What did you think of our review?
Let us know your thoughts in the comment box below!
 ♡ Don't want to miss any of our posts? ♡ 
Follow Under the Covers: Facebook | Twitter | Tsu | GoodReads | Email