Review: Painted Faces by L.H. Cosway
I received this book for free from Purchased in exchange for an honest review. This does not affect my opinion of the book or the content of my review.

This post contains affiliate links you can use to purchase the book. If you buy the book using that link, I will receive a small commission from the sale.
Painted Faces

Book Info
Released:
Dec 16, 2012
Genre:
Contemporary Romance
Pages:
356


"PAINTED FACES is a unique tale of love that will captivate you from the start!" ~Under the Covers
Warning: Please leave your inhibitions at the door, pick up this book with an open mind and an open heart, and grab a glass of wine to keep you company for the ride.

PAINTED FACES is a unique tale of love that will captivate you from the start! Unconventional to say the least, it's the story of a beautiful, model gorgeous guy from New Zealand who moves to Dublin to restart his life. Nicholas has lead a troubled life. He has many skeletons dancing in his closet, but one skeleton he likes to take out, put a dress, heels and make up on it and sing his troubles away. He calls her Vivica Blue.  It isn't easy being a straight man and a drag queen but Nicholas pulls it off with style. But when he meets Freda will he be able to stop stop his past demons overtaking him or finally accept the love he deserves.

Describe Painted Faces in three words
Francesca: Mindblowing. F*ckg'some (yeah I made that one up, because it deserves having words made up about it).  MINE!
Suzanne:   Unexpectedly mindblowingly awesome- annnnnd frack you Fran you stole my man *grumbles*
The hero, Nicholas was quite unusual, did you love him or did he make you clasp your stilettos with shock and horror?
Francesca: *makes grabby hands*…Again….MINE!!!!!  Yes, I mean that quite literally and I'm very possessive of my harem.  Nicholas was one of the best heroes I've read in a while.  He's not perfect by any means, and not cookie cutter.  But he's real and has issues that he deals with the best way he can.  He makes no excuses for HOW he deals with them and he accepts himself as is.  He is also one of the most honest and direct heroes I've EVER read.  It was a shock at first but I actually came to like that about him.  What you see is what you get.  He doesn't hold back.  He loves intensely, he's crazy alpha, he takes care of a woman.  He made my insides melt and my body quiver.  And with regards to the fact that he dresses like a girl as his profession…honey, I'd do him in a dress and high heels if that's what he wants!  He is actually so droolworthy damaged.  Yes, Nicholas becomes Vivica and he dresses like a woman. But outside of his show, which is art for him, he was all man and extremely delicious. ALL MAN and ALL HOT and…again, because I feel the need to get this point across…..ALL MINE!  I wants him!
Suzanne: *shakes fist* Damn you Fran and your man stealing ways! I also loved Nicholas aka Vivica Blue, putting aside the fact that he is a beautiful beautiful man he was also deliciously fucked up, the kind of guy you are just dying to get under his skin and heal all his hurts but knowing you will probably never get past the wickedly seductive mask he shows to the world. Seeing him with Freda also made me fall in love with him a little bit more, I am not sure I agree with Fran that he was all alpha male, but he was protective and whenever he came to her defense I more or less melted into a puddle of goo at his feet. So, although he may like to dress up as a woman and sing, it all added to his appeal, I would definitely have him, dress, heels and everything, he was secure enough in that aspect of himself that dressing as a woman wasn't an issue and didn't really take away any of his masculinity, for him it was a mixture of art and therapy and L.H. Cosway is now directly responsible for my fetish for guys in heels!
Freda, TSTL or are you grabbing the vodka bottle and planning on adding a new BFF?
Francesca: *Grabs the shot glasses and gets ready for a night of crazy karaoke with Freda and Suzanne*  Freda is the type of heroine that I want nothing more than to have as a friend, hang out with, carry in my pocket to take out and get me in a better mood.  She's very real as well, with body image and confidence issues at times, but still confident enough to not care about others opinions and just value herself.  But I also loved that she has acceptance for others.  She never tried to change Nicholas, just love him for who he is.
Suzanne: Freda is definitely going to be my new BFF! There is nothing I love more than a heroine with confidence and body issues being noticed by the gorgeous man everyone wants to get their hands on. Not that Freda was some sniveling fat girl cringing in the corner, she was hilarious, with a cheeky mouth who didn't always think before she spoke but she did accept Nicholas as he was, rather then being disgusted by Vivica she supported and encouraged him. Freda is one of the best heroines I have read in a while, it would have been so easy for Nicholas being unique as he is to completely overshadow the heroine, but for me that didn't happen when I think of PAINTED FACES it won't just be the fantastic hero I remember, it will be the heroine as well. 
How did you find the romance, did it trip over its 6 inch heels and land flat or did sail elegantly on?
Francesca: An unconventional couple but a perfect love story.  The romance was all there and the focus of the story.  It's about two individuals with their own set of issues coming together and complementing each other.  Not about changing the other person.  There's a lot of chemistry, plenty of humor, but the romance was there every step of the way.   Freda and Nicholas (or Fred and Viv) are not only amazing characters in their own rights, but they are perfect together. One of the best well matched couples I've read in a while.  And yeah, I'll say it.  That boy had me panting more than once.
Suzanne: This had a friends to lovers air to it, although from very early on you knew how they felt about each other it wasn't acted upon, which made the book crackle with sexual tension, whilst also letting Nicholas and Freda not only fall in lust but fall in love as well. But the path to romance is never smooth, and there were plenty of road blocks along the way but that is part of what made this book so great and made them perfect together, they complimented each other, both accepting the other for who they are.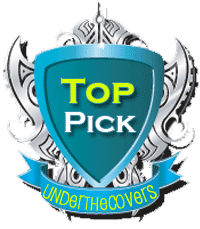 Overall would you recommend this to other readers, has L.H. Cosway won you over?
Francesca
: Hook, line and sinker.  I'm a fan and I've already recommended this book to many friends who have loved it and pretty much have talked about it to anyone who would sit and listen.  This will probably go down as one of my Favorite Reads of 2013!
Suzanne: She won me over then some, I loved this book! It was so unexpected, if I was told I would fall in love and want to have lots and sex babies with a drag queen I would have told you to go swivel, but I totally did. It was a great book, full of emotions, sexual chemistry and romance.
Favorite Quotes:
Hello, you'll be starring in my dirty dreams tonight, Mr. Blue Eyes.
"Lots of kinks, lots of quirks, my sexuality is multi-faceted."
"Right.  And wigs are your thing."
"The more the merrier, that's what I always say.  Except if it's an orgy; you've got to be picky in matters of group sex."
Okay, this is messed up.  I'm getting all hot and bothered over a man who's more comfortable in make up and a pair of heels than I am.
"Maybe he's one of those sexy psychos," says Harry.  "You know like the vampires out of True Blood.  They talk all explicit and then they drink your blood and give you the best sex of your life."
"I want to ruin you Freda, in the best way possible."
"Good or bad, all experiences shape you."
"I care about you more than I care about myself, Fred."
"My life is shit without you in it."
He gives me a grin that could melt the knickers off of a nun.
Did you like this review? If so, please tell us your thoughts in the comments below!
Latest posts by Under the Covers Book Blog
(see all)