Review: Heart of Darkness by Lauren Dane
I received this book for free from Purchased in exchange for an honest review. This does not affect my opinion of the book or the content of my review.

This post contains affiliate links you can use to purchase the book. If you buy the book using that link, I will receive a small commission from the sale.
Heart of Darkness

Book Info
Released:
November 1, 2011
Genre:
Paranormal Romance
Pages:
304





I was so excited to get to this book!! Ahhh!!! I've been a fan of Lauren Dane's work for a while and I remember being introduced to the magical world that this book follows back with the Cascadia Wolves and De La Vega Cats series. Of course in those books, the Clans were the bad guys. So it was fun to see that world from their perspective now.Meriel is a great heroine. She's next in line to rule Clan Owen, in the Seattle area. She's a powerful witch, even though she's young, she's smart, educated, has innovative ideas for the future of the Clan. Her mother has always been a bit tough, but Meriel is not resentful of this, she still loves and respects her mother and her authority.
Dominic on the other hand was raised outside of a Clan. He has very little knowledge about his own powers, other than some basic info and skills. But he is powerful all the same. And oh so sexy!
I have to mention that I recently read a post by Lauren Dane and saw that she pictures Emma Stone as Meriel and Michael Fassbender as Dominic. I can totally see him as the sleek, mysterious, sexy nightclub owner!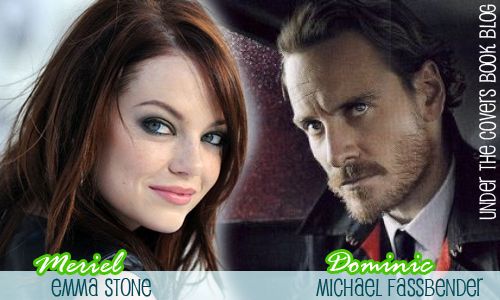 OK back to business. The story is suspenseful and full of hot naughtiness. Basically there's a group of mages that have been kidnapping witches and draining them of their powers, thus killing them. Kendra from Revelation was one of the witches this group tried to kidnap, of course she got away. Meriel as an integral part of Clan Owen is assigned to investigate this.
After meeting Dominic and realizing immediately he is her mate, sparks fly (and clothes do as well). Their connection is instant, hot, like bees to the honey. He wants to take things slow and she is willing to give him that space. But neither can deny their attraction and their love for each other.
With some surprises up ahead and some twists of fate for where their future together will take them, they manage to face the obstacles together. I think that was my favorite part of the story. Dominic is there for her, he doesn't do any asshole type things to push her away. He doesn't fight how he feels. And he is there to protect her.
Another part I loved was the connection between the Clan witches. Meriel's best friend, and sort of boss, Nell. She's a trip and I love them together. As well as Dominic and his buddy Simon. *cue massive drooling for the hot alpha were*
I've mentioned that this is basically a spin off of a spin off series, but don't be alarmed! You can jump in this book and enjoy it 100% without reading the previous books. The magick topics in them was not the main plot, and this is the first time everything was explained in detail. Also, along with the hotness and sexiness you can expect snarky comments, great personalities, and just the type of girl you'd want to hang out with. Ms. Dane is great at that! Now if only we could get Simon's book already! Simon will be book 2. He's a were, and he will be taken for a ride by Meriel's half sister, also a witch. I can't wait!
Did you like this review? If so, please tell us your thoughts in the comments below!
Latest posts by Francesca
(see all)