Review + Giveaway: A Sinful Summer presents Stacey Kennedy
Welcome back Maidens!!!!  Today as the last stop in the Sinful Summer Blog Hop we are having Stacey Kennedy with us and we are extremely excited about this giveaway!  Open internationally.  The prize is the book we are reviewing here today!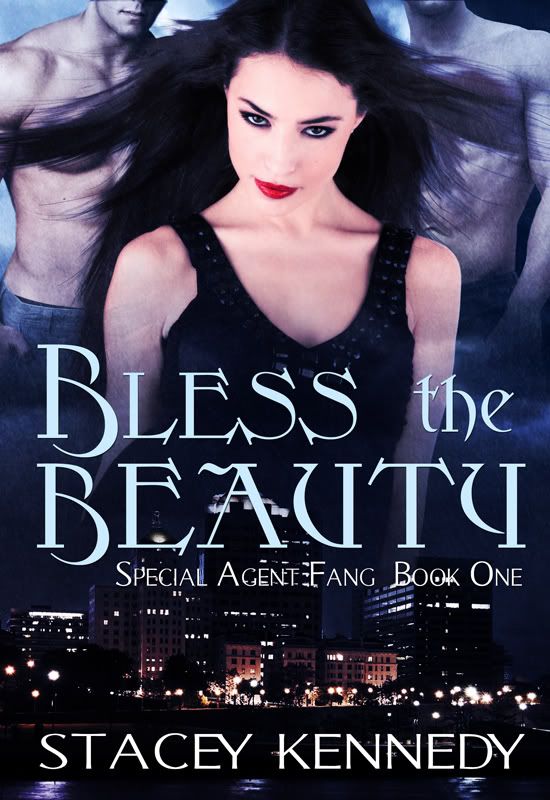 Bless the Beauty (Special Agent Fang # 1)
Erotica Romance
by Stacey Kennedy

Murder, abduction, sparring men, love and heartbreak―welcome to life of Special Agent, Hadley Sloan.
Hadley Sloan and Chase Finley might be Special Agents within the Criminal Investigations Department, but what their comrades don't know is, they're in love…or that Hadley is a vampire.
Soon, Hadley's personal life is uprooted and she is left with even more of a mess on her hands when Kellen Boyd, her vampire husband returns to sink his fangs back into her life…
From Goodreads
This is my first Stacey Kennedy book! I have read reviews from friends and so was expecting a hot book, and I wasn't disappointed. This definitely isn't a book you can read on the bus with out squirming! Right from the very first page, this had me drooling and it just got better when Kellen was thrown in to the mix! Ms. Kennedy certainly knows how to keep things sexy!
The plot line involving them trying to find the missing girl wasn't as strong as I hoped it would be. I think part of this had to do with the length of the book. With a short novella, it did not get the chance to really develop the missing girl storyline and I was a little sad about this.  The urgency of the rescue wasn't there as they kept stopping for sex breaks (and let's face it who could blame her!?) but it was still an enjoyable read that got me all worked up!
Overall I did enjoy this book, it got my pulse racing and I will definitely be reading more Stacey Kennedy!


Win a copy of Bless The Beauty!
To enter, you must:
1. Be a follower of all four blogs on the Sinful Summer Giveaway
2. Fill out the form below
Latest posts by Under the Covers Book Blog
(see all)