Review: Fire in his Kiss by Ruby Dixon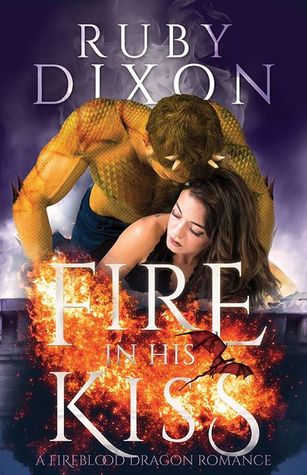 Fire in his Kiss

Book Info
Released:
April 10th 2017
Series:
Fireblood Dragon #2
"…the really sweet romance captured me."
~ Under the Covers
You know what I don't read enough of? Dragons. Good job Ruby Dixon has saved the day and started a post apocalyptic PNR dragon series to keep my quota of dragons up. Although these aren't your usual dragons, they came through a rip in the sky and tore the world apart and now the remaining humans live in fear of an attack. However, what the surviving humans don't know is that all the dragons that came through the rip are insane and driven by bloodlust. The only thing that seems to bring them back to sanity if finding their mate who manages to reach past the madness and calm their mind.
This is exactly what happens when Dakh finds Sasha. Dakh can feel the madness fall away when he looks at his mate. However, she isn't acting like a normal female dragon, showing displays of aggression so that he can dominate her. Instead she seems afraid of him, he is determined to show Sasha that she can trust him not only with her body, but her heart as well. Sasha has been through a lot since dragons came into the world. Forced to sell her body to a violent man who enjoyed her pain more than sex, so that she could eat, she's understandably weary of the huge golden dragon, even, or maybe especially when he shifts to his human shape.
Sasha and Dakh, so far they are my favourite couple in this series. Sasha has already survived a lot and it really tore at the heart to hear some of the things she had to endure in this post apocalyptic world. So, when Dakh came along I was dying for her to grab this chance of happiness and safety. I really enjoyed reading as she began to trust and open up to him as Dakh made some clumsy (and sometimes terrifying) shows of affection. Dakh, was completely clueless about how to treat a human female but it was adorable and heart warming to watch him try.
As well as the romance we also get hints, through Dakh's scrambled memories, about the world the dragons came from and I can't wait to learn more. The action also amps up in Fire in His Kiss as a bad guy is revealed, one that seems to have come through the rip in the sky with the dragons.
A great book in the series, although there is some action in this one, it is the really sweet romance that captured me. This book also finished at a really interesting point (don't worry no cliffhangers) and I can't wait to dive into the next book to what happens next.
What did you think of our review?
Let us know your thoughts in the comment box below!
 ♡ Don't want to miss any of our posts? ♡