Review: Fire in his Embrace by Ruby Dixon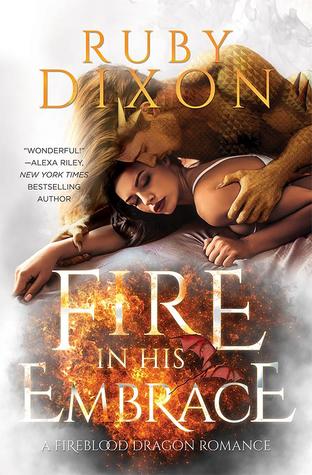 Fire in his Embrace

Book Info
Released:
August 14th 2017
Series:
Fireblood Dragon #3
"… the romance is both really sweet and caring and scorching hot. "
~ Under the Covers
When dragons tore through a rip in the sky they destroyed the world, leaving only a relatively small population of humans to survive. Now, every human has to survive not only this harsh new world but constant attacks by dragons driven mad by something in Earth's atmosphere, so now they only know bloodlust. The only way to stop the madness? Find their mate. It's the only way for sanity to return and the bloodlust to end.
Emma knows all this, which is why she knows it's her fault that a dragon, Zohr, has been captured by the gang that holds her prisoner. Zohr caught her scent, the scent of his mate and when he came to find her, they captured him. What they captured him for? She doesn't know, she only knows she has to save him and herself before it's too late.
At the end of Fire in his Blood Emma has decided to stay so she could release Zohr rather than be rescued by Sasha and Dahk. We start Fire in his Embrace just before the end of the previous book and see how Emma and then Zohr are captured. After the first two books, which basically followed a very similar damsel in distress pattern I am glad that Dixon decided to shake it up in the third.
In this book, the dragon is the damsel and Emma has to save him. I love this mix up in the dynamics; it is Emma that claims Zohr and then rescues him from his captors. Go girl power! They then work in partnership as Zohr is injured to survive and stay on the run from the bad guys. I love seeing them work together and Emma slowly come to trust and rely on Zohr, despite her instincts telling her she is better off alone. Much like the other books in this series, the romance is both really sweet and caring and scorching hot.
The plot thickens with the bad guy as well. You find out exactly who he is and where he came from in this book. It opens so many possibilities and I can't wait to see where Dixon will go with this, I guess I will have to wait for the next book to find out!
What did you think of our review?
Let us know your thoughts in the comment box below!
 ♡ Don't want to miss any of our posts? ♡