Review: Big Bad Beast by Shelly Laurenston
Big Bad Beast

Book Info
Released:
May 1st 2011
Series:
Pride #6
Pages:
307
Finally Dee Ann and Ulrich "Ric" Van Holtz's book! We have known that Ric was head over heels in love with Dee Ann for a couple of books. With Ric being from the rich and high society Van Holtz Pack and Dee Ann being from the hillbilly Smith Pack they seem  to be the most mismatched pair ever! But they are brought together through work as they are both involved in trying to bring down the people who are behind kidnapping and then forcing hybrids to pitfight and thus die gruesome deaths. And with Dee Ann in and out of his appartment it gives him the perfect oppotunity to seduce her and make her realize just how perfect they are for eachother.
This was another great book in the series! I loved it, once again it was funny and sexy with Shelly Laurenston's usual brand of twisted humour, which I adore! Although Ric and Dee Ann are SL's most unlikely couple yet I thought they made a great pairing, and an unsual one. Usually it is the male who is the dominant one but in this books there was a bit of a role reversal, it was Dee Ann who was the more aggressive one, whilst Ric was more "wily" as he was often described. This worked really well, I think if it was any other way it wouldn't have worked as it suited their personalities that she has been building since they first appeared in the books.
What I also liked about this book was that it had the hybrid plot line going on as well. I really wanted to know who was behind it. Although it wasn't a huge part of the book, it was always there in the background and it was good to have some closure on it. And I look forward to seeing what will happen with the hybrid children they saved, especially Hannah and Abbey.
So another great installment in the series! I loved it and I can't wait for the next one. I am also kind of hoping she does a prequel about Dee Ann's parents Eggie and Darla, I think that would be an interesting story.
This was really hard, there were so many to chose from but this is my fave quote:
"I am damn good at interiews."
"No. You're good at interrogations. Interviews are not your strong suit."
"Since when?"
"Since you made that six-year-old cry."
Dee stamped her foot "She was hiding something!"
"And she was six!"
Dee Ann: 
Ric: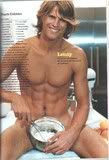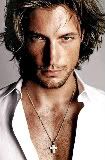 Reading Order & Buy Links
Click on the covers to buy the books
Did you like this review? If so, please tell us your thoughts in the comments below!