Movie Review: Christmas with Holly
Christmas with Holly

Movie Review
Dec 9, 2012
Hallmark

"Sweet but not memorable." ~Under the Covers
So as you all may know, we are big Lisa Kleypas fans here at Under the Covers.  Last night ABC was showing CHRISTMAS WITH HOLLY, which is based on the first book in the Friday Harbor series, CHRISTMAS EVE AT FRIDAY HARBOR.  First let me say that I loved the book!  (READ THE UTC REVIEW HERE and you can enter to win a copy of the book until Dec 13 here).
The story in the movie followed the book pretty close, witha few minor exceptions.  Being a TV movie, the acting was not perfect and felt a little "acted" instead of "real", if that makes sense.  However, Sean Faris did very well as the lead in the movie, he was definitely my favorite.  The whole time the movie was playing I kept thinking I've seen his face before and couldn't remember where.  But after looking at his filmography, I can't think of where.  Maybe just online pictures 🙂  However, I think he did the best of the whole cast.
I think I enjoyed this movie BECAUSE I loved the book.  Now, if I hadn't read the book I probably would've turned it off because it came off as a bit too sweet for my taste.  Being a Christmas movie though, if you are in the mood for something with a bit of feeling of the holidays, then give this a try for sure!  Best enjoyed with a nice cup of hot cocoa.
Encore presentations will start next week.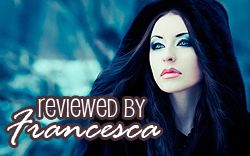 Latest posts by Francesca
(see all)