Mind Spill: Judge a Book by the Cover

We have been discussing the change in cover trend for quite some time amongst ourselves and have decided to ask you how you feel about it.  After the huge success of Fifty Shades of Grey we are seeing more and more erotic books trying to fit that Fifty "cover" mold.  What do you think about it?  Like it, hate it, tired of it?  Do you find it just a sales strategy or does it make you more comfortable to pick up an erotic book and read it in public or leave it sitting around the family room?  Leave us your comments!!
Here's what is running through our minds lately…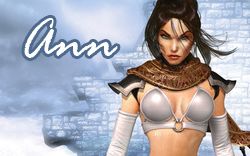 Tiffany Reisz's Original Sinners series has recently had a cover overhaul. The third book in the series, THE PRINCE, set to release in November now features piano keys and a cane playing right into the Fifty Shades of Grey phenomena. The original cover featured a blindfolded, sexy and strong-jawed man who is supposed to be a young Kingsley if you've read the books. Nom Nom! 
Now we don't get the sexy Kingsley! I miss the old cover so much because I don't think the new cover captures the sensuality of the series. I hate how it's become so subdued, almost as if we need to keep the contents of these erotic books hush-hush. If you've read Reisz's books, you know just how hard-hitting and shocking her sex scenes are. For me, the new cover doesn't capture that. And it doesn't match the other covers in the series! That drives me nuts! But nevertheless, I am dying to read this book! Regardless of what the cover looks like, THE PRINCE is my most anticipated book of this year.
Fiftyish covers seem to be dominating the new and re-releases of erotic books lately. In some instances I don't mind the change, like with Sylvia Day's BARED TO YOU.  I loved the original indie cover, but I also love the new cover.  However, I do find it fitting because Gideon Cross is a very classy guy and the new cover screams refined, sleek and sexy at the same time.
Ms. Day is also re-releasing her historical romance SEVEN YEARS TO SIN, which was her original inspiration for BARED TO YOU.  Would you even consider this new cover a historical romance?  Big fail for me.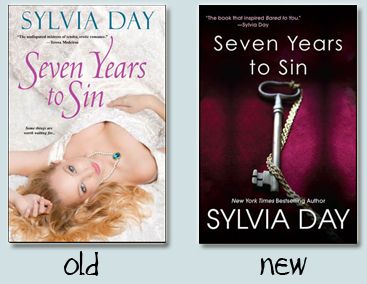 Other covers like THE DARK GARDEN by Eden Bradley I believe should've kept the original artwork.  The story in this book is about a pretty intense couple where both hero and heroine have a lot of issues to work through.  A flower just doesn't cut it for me.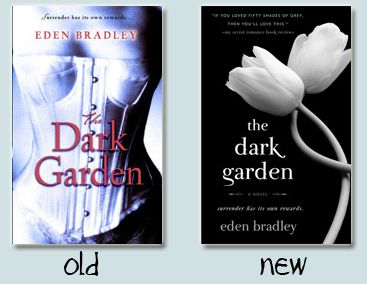 Of course then there are new series that have completely embraced the Fifty cover theme, like in the serial by Beth Kery BECAUSE YOU ARE MINE.  Yes they are pretty, and in the same idea as Sylvia Day's the hero is mega rich and it's all about his own private planes and having dinner in Paris.  But it's getting to the point that as pretty as they may seem, the theme is now overused.

And lets not leave out a great marketing tactic… The Sleeping Beauty trilogy by Anne Rice is being re-released with very Fifty covers, and actually a quote on the outside that if you loved Fifty Shades you'll love this series.  Having read only book one of this series and maybe being scarred for life because my virgin eyes couldn't handle this trilogy, I find this a bit false advertisement.  It is a completely different series, with a much different feel to it.  Very intense, extreme and not for the faint of heart.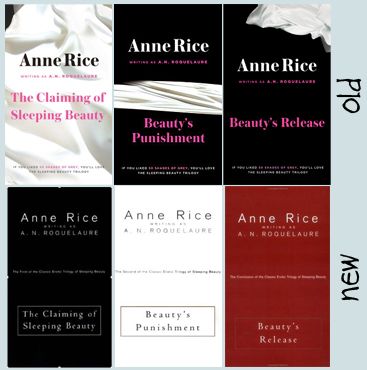 But I think I draw the line at seeing a romantic suspense book being re-released with this type of cover.  I just saw this morning the new cover for WILD CARD by Lora Leigh.  I loved the book and I would actually love to buy one of those dog tags but you cannot take the hot half naked men out of romantic suspense covers.  It is just not done!
What happened to the pretty covers with beautiful artwork, sensual pictures of a couple (or more) and a lot of hot guys?  I want them back!!  As my boyfriend usually puts it, "if it doesn't have a half naked man on the cover you probably wouldn't be reading it…"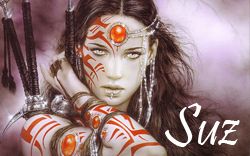 If it wasn't bad enough that Fifty now dominates all book conversation, it now has to dominate all book covers as well? It isn't even the fact that it is Fifty, which I admit I don't like, it is the fact that people are copying and following this massive fad in an effort to trick buyers in to purchasing their book, is it too much to ask for an original idea? It is not as if the Fifty books have such brilliant covers that it MUST be copied and quite frankly I miss my hot pictures of man boobies, please bring them back! 
Now your turn… what do you think?
Latest posts by Under the Covers Book Blog
(see all)