Interview and Giveaway with Tessa Adams

~ TESSA ADAMS ~
Can you please tell us about your new series, The Lone Star Witch series?
The Lone Star Witch series follows Xandra Morgan, the seventh daughter of the seventh daughter of one of the most powerful witchcraft families in existence. For most of Xandra's life, she's been latent, but recently (in the first book, Soulbound) she started to come into her powers—meaning she could see dead people. Not ghosts, but actual dead bodies. She also experiences their deaths with them. Enter Declan Chumomisto, a very dark, very powerful warlock who has an agenda of his own, one that he definitely needs Xandra to complete. Things only get more complicated as they realize that they are soulbound—not soulmates, but bound together by some serious witchcraft in order to limit their powers and keep them under control. The first book in the series, Soulbound, is about how they deal with this new knowledge while on the trail of a serial killer determined to kill Xandra, as well as a number of other women, and frame Declan for the murders. The second book, Flamebound, is about Xandra's and Declan's search for the truth—about the council that governs their world of witchcraft, about who is really trying to kill Xandra and about the relationship they have—one that neither can walk away from.
What is it about Xandra Morgan that made you want to write her story?
From the moment Xandra started talking to me, I was fascinated by her. I love that she grew up surrounded by some of the most powerful Heka (ancient Egyptian magic) in the world and yet she was completely latent. I love how she deals with that latency by carving out her own life for herself and I love how she deals with the shift in her life once she realizes she does have powers—very dark, very terrible powers. Most people, I think, would do their best to walk away from the talents that she has, but Xandra learns to use them to help others. Also, I love her relationship with her slightly crazy mother (who also happens to be a very, very powerful witch in her own right and who constantly has a new scheme to help Xandra come into her powers).
How many books do you have planned in this series?
I have three definite books in my head, along with ideas for three more. But Xandra lives in such an interesting world that I have a lot of material to work with. I hope to keep writing these books as long as people are interested in reading them.
What's your trick to get over writer's block?
Honestly, I write through it. I write a number of books in a year (on average seven, though this year it's more like eleven) and I don't have time to get blocked. So I write through the problems, even if what I'm writing is total crap, and hopefully in the middle of all that, the answer to what is wrong with the story—because that's what I think writer's block is, a flaw in the story—will come to me.
Describe your typical writing space. Do you write in an office, coffee shop, etc?
I actually write just about anywhere. My favorite spot in my house is my living room couch because it's at the front of the house and my boys tend to leave me alone when I'm in the "fancy" room. But I also write in the car while I'm in line to pick my youngest two up from elementary school, or at the coffeehouse at the corner of my subdivision, or at my friends' houses. When I'm in the zone, a bomb could go off next to me and I probably wouldn't notice it.
If you could be any paranormal creature, what would you be and why?
Oh, so hard to chose. I think a witch, because I love the idea of being able to do spells and control the elements. It just seems like such a fascinating thing to be. And if I couldn't be a witch, I'd choose a dragon shifter, simply because I love everything about dragons. I guess there's a reason why I write both dragons and witches …
What's the best thing about being a writer? What is the worst?
The best thing? Being able to give voice to all the characters and stories running around in my head without people locking me up in a straightjacket. The worst? It's a really hard business, one that in a lot of ways is designed to knock the creativity right out of you. But to be successful, to connect with readers, you have to hold onto that creativity against all the odds. Sometimes, when it's been a rough week, it's hard to remember that.
If you could only have one book to read over and over again, which book would you pick and why?
Oh, no! This is the worst question EVER! The lit professor in me says JD Salinger's Catcher in the Rye because I adore Holden Caulfield. The paranormal romance/urban fantasy reader and writer says Kiss of Snow by Nalini Singh. I LOVE that book.
Thank you so much for sharing with our readers!
Thanks so much for having me!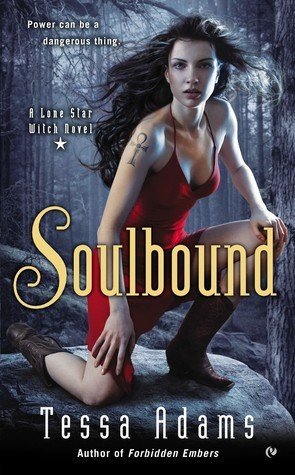 SOULBOUND
Lone Star Witch # 1
As the seventh daughter of a seventh daughter—and a member of Ipswitch's Royal family—Xandra Morgan should be a witch of incredible power. But things don't always turn out like you expect… 

While she hasn't lived up to her family's expectations, Xandra has come to terms with her latent magic and made a life for herself in Austin, Texas, running a coffee shop where she makes potions of a non-magical nature. While things aren't perfect, Xandra is happy—until she runs into powerful warlock Declan Chumomisto.

Xandra hasn't seen Declan in years, and though she's still overwhelmed by his power, she doesn't trust him. And when her own powers awaken one night and lead her to the body of a woman in the woods bearing the symbol of Isis—the same one that has marked Xandra since the day she met Declan—she's filled with a terrible suspicion, soon confirmed: the woman is connected to him.

Xandra doesn't want to believe that Declan is capable of murder, but as the body count mounts, and Xandra's own powers spiral out of control, she's not sure she can trust her own instincts…
FLAMEBOUND
Lone Star Witch # 2
After Xandra's nasty run in with the Arcadian Council of Witches—where she was almost killed and her boyfriend, Declan, was almost framed for it—her plan is to lay low and figure out why its members would torment the people they are supposed to protect. Declan, temperamental and protective warlock that he is, doesn't feel so reticent. And when violence erupts again, there's no stopping him from pursuing revenge…

When a council member is murdered in a fashion that screams dark magic, Declan claims someone else beat him to it. Xandra doesn't want to believe he could commit such a brutal act, but she knows he has a dark side—one that his former love interest Tsura understands better than she ever will. With Tsura back in town, Xandra doesn't know whom to trust. And a killer targeting witches and wizards is still at large…
Released December 3, 2013
Tessa is giving away a copy of SOULBOUND, the first book in the Lone Star Witch series; and the first book in the Dragon's Heat series, DARK EMBERS.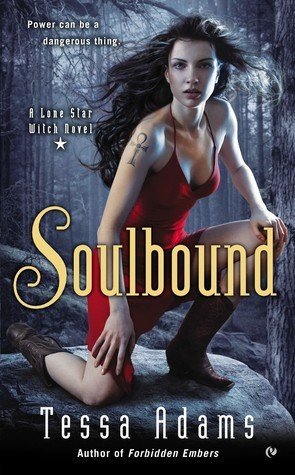 Latest posts by Under the Covers Book Blog
(see all)