Interview and Giveaway with Shelley Bradley

We are so excited that one of our favorite authors is here today! She can do it all, from erotic to paranormal and historical romance as well. Let's give her a warm welcome, once again, to Under The Covers, as part of our A Scandalous Affair event to Shelley Bradley (Shayla Black).
UTC: How do you ensure that your books continue to be historically accurate?
When I wrote these books a decade ago, I did extensive research. For instance, One Wicked Night, my Regency historical, was greatly influenced by an expert in the period. I also read a great number of books about everything from clothing to money to one of the pillars of the book's backstory, the hero's past divorce. With Strictly Seduction, I read a great deal about the beginnings of railroads in England. I've kept all of these books I've collected in both rare bookshops and in the UK and double check them as needed before re-releasing a title.
UTC: What would you say is the easiest part of writing historical romance? The most difficult?
One of the most difficult aspects of writing a historical, for me, was balancing dialogue appropriate for the period while keeping in mind a modern reader's sensibilities. Some colloquialisms and turns of speech aren't always things today's reader understands. It's also challenging to think about every aspect of a character's life in a historical perspective. More contemporary ways of looking at life or problems will sometimes creep in, and you have to weigh how a person of that era would truly view a situation versus what your reader now will be able to relate to. The easiest part is just the pure love of history, conveying the sweeping, swirling drama of a budding relationship in the midst of historical happenings.
UTC: What are some of your favorite historical romance books?
I have some favorite titles by Lisa Kleypas, Sandra Brown, Elizabeth Lowell, Laura London, Robin Schone, and Jennifer Haymore. Some are very old titles, but they are comfort reads that resonate with me today.
UTC: What can you tell us about Strictly Seduction?
Here's the official blurb:
PURELY PASSION

As an innocent girl, Madeline Sedgewick learned that nothing comes without a price—even desire. Five years later, now widowed and deeply in debt, she's certain that the stranger who bought her last husband's notes of credit will demand swift, steep repayment. But she never imagines her creditor will be Brock Taylor, her baseborn former stable-hand turned newly wealthy entrepreneur—the man who stole her virginity and her heart. She's even more stunned when he says that he'll forgive her debts only if she becomes his wife.

Brock's memories of their parting are no less bitter than Maddie's, and his plans for their future are hardly a rekindling of their blissful first love. But seeing Maddie again—just as spirited, strong, and beautiful as ever—reawakens a desire he thought long dead. When she refuses his proposal, they strike a dangerous wager, with Brock's self-made fortune and Maddie's treasured independence at stake. It's a wager only one of them can win—as long as they resist the other's passionate seduction . . . and falling in love again.

There were a lot of elements to this book that I thoroughly enjoyed writing. A sensual wager. A self-made man. A single mother desperate to give her child the best. As I edited this book for re-release, I remembered why I loved writing this book so much.
UTC: Would you say you prefer a rake or virgin hero?
Definitely a rake. I'm a big fan of the bad boy. I like the idea that he comes to the heroine, confident and prepared to sweep her off her feet and steal her virtue or her heart, whichever applies, but finds that for all his experience in the ways of the world, he is still felled by a woman who's far less worldly, but sweeps him away with her pure heart.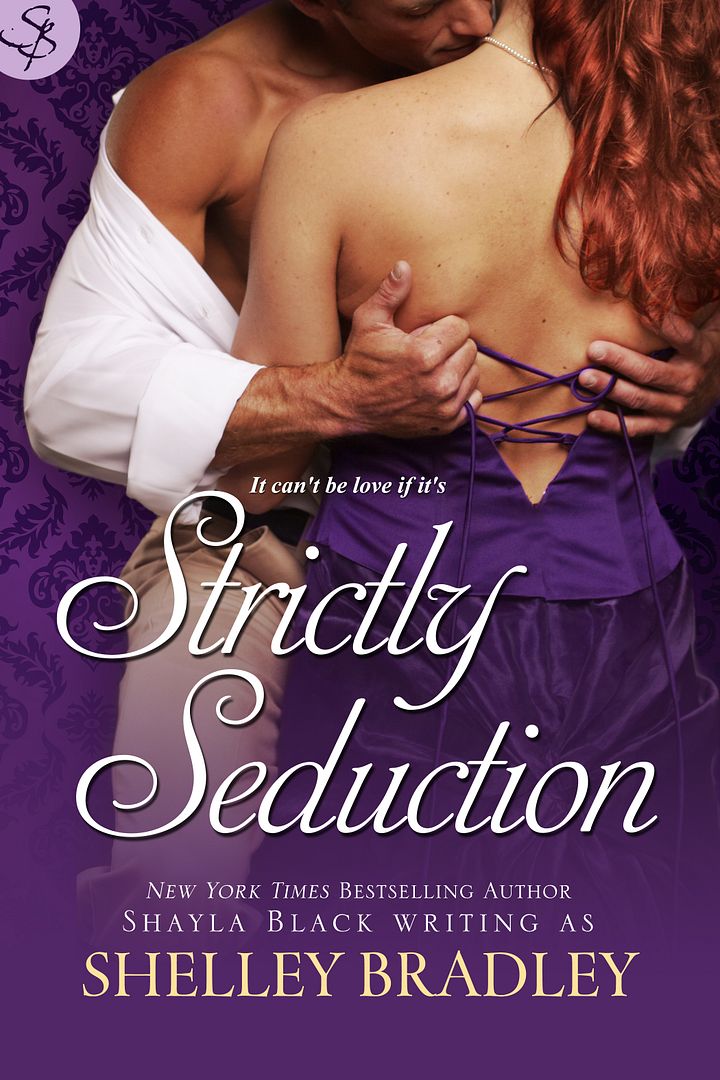 And now, we have an exclusive for you! An excerpt from Strictly Seduction! 18+ Warning! 😉
Without a word, he knelt at her feet. His fingers brushed her ankles, her quaking calves and thighs, as he lifted her skirts and snowy petticoats about her hips, nearly exposing her to his hungry gaze. Cool air and the heat of his stare hit her as he sat again, skirts in hand, and watched her face.
With little effort, Brock lifted her and slid her onto his lap, legs spread on either side of his hips. Maddie gasped. He did not pause until her skirts billowed around them, fabric rustling like a lover's whisper.
He brought her tight against his erection. She gasped. The crush of his steely shaft pressing against her feminine mound through his breeches flooded her with sharp yearning. He smelled of night and insistence and musk as he clasped her hips and held her close. Wriggling for freedom only caused a riot of sensation to burst between her legs. The ache there turned tighter, more insistent.
Blast it, Colin had always called her cold and unresponsive. Why wasn't she now?
His steady green stare touched her mouth, then caressed on the swells of her breasts. Everywhere his gaze lingered turned hot until she was burning up from the inside.
"I want you," he murmured.
She responded to his husky assertion like a flower, yearning to open for him, accept the pleasure his touch promised. She tried to remember all the reasons she must fight giving into these sensations and focus on enticing him into her bed.
Brock dragged a fingertip over her cheek, down the side of her neck, to play at her décolletage. "I want to strip you, hold you, fondle you, fuck you."
As she gasped at his harsh language—and the sultry images—his mouth closed over hers, a sizzle of insistence burning away at her ability to think, to breathe. She tasted him everywhere, inhaled him as she drew in a sharp breath, felt him beneath her, around her. His hands cupped her backside, pulling her even closer. His kiss blistered, his tongue entering her mouth with a demand that made her boneless. She moaned into his mouth, fingers curled around the velvet stone of his shoulders.
Again, he took her mouth feverishly—then reached for the buttons at her back. The dress yielded quickly, and he pushed it off her arms, down her body. Seconds later, his hot hands cupped her breasts through her thin chemise, her flesh pushed up by her corset. He thumbed her nipples slowly, unerringly. Tingles tore through her body, making her pant and ache. She couldn't hold in her moan.
She had never felt like this, so wanton, so needy. Maddie arched toward his touch, silently begging for more.
Brock's fingers found the corset's strings. "You wear too many damn clothes, Maddie."
Her mind registered his breathy words as he removed the cinching garment, then yanked on the faded pink ribbon of her chemise. The delicate garment fell down her shoulders, to her upper arms, gaping open across her breasts. Before she could utter a word, he shoved it aside impatiently and fastened his hot mouth over her bare breast. He suckled hard, tongue teasing her nipple. She felt a jolt of ecstasy curl in her belly, the crash between her thighs. Her womb clenched. He filled her with an ecstasy she'd never known.
Her world tilted crazily, his tantalizing tongue swirling about her sensitive flesh. As his mouth moved to her other breast, Maddie blindly reached out for support in her off-kilter world. Her tense fingers found the chair's curved back. She grabbed tight, the cool wood her anchor as desire overwhelmed.
Then he bit at her aching nipples, gently abrading. The ache multiplied, and Maddie cried out with need. She tossed her head back, arching her breasts closer to his magical mouth.
Dear God, how was she going to withstand such pleasure?
The tight clench between her thighs coiled mercilessly. Hot want joined the fray, creating a throb that pulsed with demand. She tried to wind her legs around him, but the width of the chair frustrated her. Still, she pressed herself against every inch of his steely erection, which had grown thicker, heavier, and rocked against him.
"Brock…" she cried out throatily.
He grabbed her hips and moved against her. She threw her head back with a moan as sensation cascaded over her. God, she wanted nothing more than to feel him deep inside her, satisfying this hungry, growing desire.
"What do you want, Maddie?" His normally smooth voice was as rough as gravel.
She simply moaned, uncertain what to say.
"You'll have to tell me," he coaxed, then flicked his tongue across each of her sensitive nipples, standing up for his attention. "Tell me."
"You," she panted, arching toward his mouth. "I want you."
He slid his hands beneath her skirts, fingers trailing fire up her thighs. The back of his knuckles brushed her wet, aching flesh. She gasped, staring at him, silently begging for more.
"What do you want from me?" he coaxed, then laved one tingling breast again as he cupped the other in his hand, rolling the hard tip between his fingers.
Maddie swayed closer, arching against him, still rocking against his stiff arousal. She needed relief from the unrelenting ache, but he was only making the desire grow hotter, higher.
"Make the ache stop. Fill me. Make love to me." Without awaiting his reply, she reached for his shirt and ripped the buttons free, running frantic hands against the taut flesh of his chest. "Please."
Brock nipped her neck with his seeking mouth. "God, I want to, Maddie. So damn badly. You have no idea."
As she shoved his shirt over his head, their naked chests met. Maddie gasped and pressed feverish kisses over his steely shoulder, up his neck, tasting the salty tang of his skin.
"I will take you constantly. Repeatedly. Over and over. I'll give you more pleasure than you dreamed," he vowed.
Yes. A thousand times yes. Blood roared through her body, and she felt the rise of tension and pleasure between her legs coming to some peak she didn't understand. Brock nipped hungrily at her breasts, and her sex clenched with empty, aching need. He could make it better. He could give her what she needed.
"Please…" she begged, feeling dizzy and overcome.
"You never have to ask, Maddie. I'll give you anything you want. Fuck you day and night. All you have to do is marry me."
His words pierced Maddie's haze of lust. "What?"
Her heart skidded to a stop. Lord, how had she allowed herself to get so carried away in his arms?
Feeling stricken, Maddie scrambled off his lap, legs trembling beneath her. She struggled with her chemise and stared at him in accusation. "Don't you want me?"
He stood and reached for his shirt. Maddie was horrified to see she'd torn away most of the buttons. The slabs of his muscled chest lay exposed, his skin burnished and taut. Lower, she saw the thick proof of his desire through his breeches, rigid and irrefutable.
How had she lost control of herself so quickly? He had played her body so completely. Furious tears pricked her eyes.
"You can see very well that I want you."
He reached out, knuckles skimming the swollen tips of her breasts, which she had not been able to cover. Need screamed inside her again. She bit her lip against the pleasure.
"Marry me, Maddie. I swear, I'll give you all you desire and more."
Feeling betrayed by him, by her own body, she backed away, fumbling with the ties of her chemise. "No. Never."
"Then you have the answer to your question." Anger hummed in Brock's voice.
With that, he retrieved his coat and gloves, then slammed out the door, disappearing into the night.

Thanks so much to Shelley for graciously giving away a print copy (SIGNED) of a book of winners choice (from Shayla Black or Shelley Bradley's backlist) to one lucky US/Canada Maiden.
To enter:
1. Be a follower
2. Fill out the form below
Latest posts by Under the Covers Book Blog
(see all)