Interview and Giveaway with Shayla Black

We are coming to the end of our month-long Shayla Black/Shelley Bradley lovefest, and what better way to end it than to getting to know her better, or finding out about her books straight from the source!  Please help us welcome Shayla Black to UTC.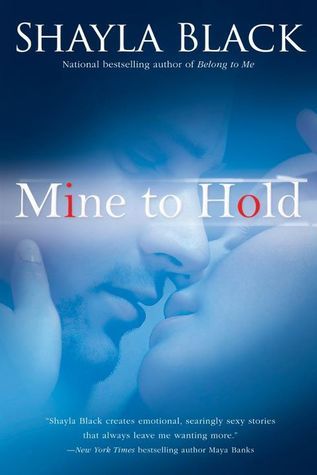 The sixth installment in the Wicked Lovers series released earlier this month.  What can readers expect to see in MINE TO HOLD?
MINE TO HOLD is packed full of sizzling romance. Tyler and Delaney have history, and this is their second chance at love. There are surprises along the way, as well as action, bad guys, and confrontation. Oh, and some super hot sex.
Whose book will we get after Tyler's book?
Now that Tyler (aka Cockzilla) has his happily ever after, I'm already working on the next book in the series. OURS TO LOVE will be about billionaire playboy, Xander. You'll also be getting up close and personal with his tormented brother, Javier.

You collaborate with Lexi Blake in your Masters of Ménage series. What is the best thing about working with Lexi?
We laugh a lot. Her plots are naturally lighter than mine, so as we're deciding what to put in the book, we throw out all kinds of ideas, some downright absurd. Nothing is off the table as we're tossing around suggestions, so we just talk and giggle (and drink a few glasses of wine) and come up with something we both love. She lives with my perfectionist streak, and I deal with her "sky is falling" days. It balances out.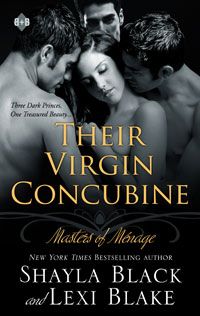 Can you tell us about your upcoming title in that series?
THEIR VIRGIN CONCUBINE will be a modern (and more erotic twist) on the classic Sheik books we all read back in the day. We're really excited to explore this theme and revisit Rafe and Kade, whom readers met in Their Virgin's Secret. We'll also be introducing their brother, Talib, and visiting the beautiful Bezakistan.
Here's our official blurb:
The country of Bezakistan – renowned for its wealth and the beauty of its deserts
Piper Glen is thrilled when Rafe and Kade al Mussad ask her to visit their country on a business trip. Madly attracted to both, the virginal secretary knows that neither of her intensely handsome bosses desires her. But every night she dreams of having them both in her bed, fulfilling her every need.

Rafe and Kade have finally found the perfect woman in Piper. Sweet and funny. Intelligent and strong. Before they can reveal their feelings, the brothers must fulfill an ancient tradition. Every sheikh must steal his bride and share her with his brothers. They have thirty days to convince Piper to love them all forever.

The country of Bezakistan – notorious for its danger…

Sheikh Talib al Mussad knows his villainous cousin seeks to take his throne. If Talib and his brothers fail to convince the beautiful Piper to love them, all will be lost. After meeting Piper, he knows he would risk everything to possess her heart.

Khalil al Bashir has long coveted his cousin's rule. Without a bride to seal their birthright, his every wish will come true. If Piper falls for them, he will lose everything but Piper can't love them if she's dead.
Note to readers: 
Remember that we are giving away the first two books in the Masters of Menage during the
HOT SUMMER NIGHTS BLOG HOP
ENDS TODAY, JUNE 24!
What's the best thing about being an erotica writer? What would you say is the worst?
Actually, I write erotic romance, not erotica. There's a difference. Erotica is one person's journey to fulfillment or self-actualization through a sexual exploration, often with multiple and/or random partners. Erotic romance is the story of a developing relationship between two (or more) people that ends with a happily-ever-after. That said, the best thing is that I write just about whatever I want. I have very few limitations on words I can use or plots I can write about. As long as I'm telling a story, staying true to my characters, and making it romantically hot, I'm doing what I should. The worst thing? People's assumptions that it's porn, has no plot, is easy to write, or that I'm not writing a "real" book. I think the 50 Shades readers who are coming my way and telling me how much they're loving the stories and the meaty characters/plots indicate that people who aren't traditionally romance readers (many say they haven't really been readers at all) are coming over out of curiosity but staying because they like a hotter read with heart.
   
This July you are taking part in a super sexy anthology with Shiloh Walker and Sylvia Day. Your contribution is called ARRESTING DESIRE, can you tell us a bit about this novella?
I'm actually really excited to pick up the Sexy Capers series again. For the people who have read BOUND AND DETERMINED and STRIP SEARCH and asked me when I was going to write a story about Blade (aka Jon) and Lucia, here it is! I'm also hoping to get another book in this series out next year.
According to your website you have a brand new series planned to be released soon. Can you give us maidens a little teaser of what is to come?
I don't have a lot to say yet, as I haven't actually started writing yet. Conceptually, think a more romantic version of the Bourne series meeting the Dark Angel TV series (remember the one that first introduced us to Jessica Alba?), crossed with a bit of Captain America.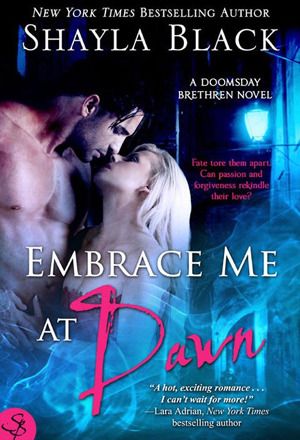 Can you tell readers more about EMBRACE ME AT DAWN that just released?
Yes! It's the 5th book in the Doomsday Brethren series. For the readers of the series, you know I waited a while to put this one out. I wanted it to be better than good. I was waiting for spectacular. I've received so much reader feedback about it being the best of the series. This reunion romance touched my heart in so many ways. I was thrilled to be able to tell Lucan and Anka's story in exactly the way I wanted to.
Here's the official blurb:
No man will ever define her again.

Anka MacTavish lost everything when Mathias D'Arc captured her, shattered her bond with her mate, and broke both her body and spirit. Determined to heal her bleeding soul, she joins the Doomsday Brethren's fight to vanquish the evil wizard and seize her revenge. But becoming a magical warrior will require close contact with her former mate, the love who's never left her heart, Lucan. And she'll have to explain why she left him and fled to the arms of another lover…

No woman can ever take her place.

Lucan's world crumbled when Anka escaped Mathias and sought protection from his long-time rival, Shock. Now she has returned, and Lucan must train her to confront a new and terrible danger that threatens magickind. With every punch, blow, and parry, Lucan discovers that Anka isn't the demure wife he once knew, and his reawakening desire for this woman is a need he can't control. He vows to do whatever it takes to reclaim her heart and make her his once more. But when the Doomsday Brethren are forced to make an unlikely alliance, it will test Anka's resolve like never before. To survive, she and Lucan must rely on one another, face their deepest fears…and expose the dark secrets that threaten to destroy everything, including their love.
For readers that are not familiar with the series, how would you describe it?
Doomsday Brethren? I sold the concept initially by saying it was a cross between Harry Potter and the Red Shoe Diaries. It's been a lot of fun writing these books, and I've got more up my sleeve. The official concept statement on my website reads:
In today's world of technology, science and logic, few people realize that magic lives and breathes-and walks on two legs-among mortals. Or that magickind possesses a weapon that can hurt, heal, comfort, destroy, grant fantasies, bring peace. Or, in the hands of someone terrible and strong enough to call forth its power, the weapon can bring about Doomsday.

Created during the days of the Round Table, it resurfaces in modern-day London and is sought by a wizard of evil brilliance with one goal: dominion over human and magical worlds alike. Only a band of wizards, enemies who must learn to become friends and accept love, can save the world from destruction.
I love the warnings that Samhain books have in their blurbs. If you had to write a warning like that for your Wicked Lovers series, what would you say?
LOL! Here's what I'd say… Warning: These books contain hot military men, covert operatives, a hot chef, and a billionaire playboy, all of whom cook in the bedroom (and the BDSM club, the back deck, the kitchen table, the Vegas strip, and anywhere else the opportunity, ahem, arises. These smoking hot pages contain sex, oral sex, anal sex, ménage a trois, sex against a wall, sex in the shower, even sex in a swamp, along with three Doms a spanking, two hotties sharing, and a Cockzilla who wouldn't waste his time in a pear tree (especially if there was a willing stripper in a ten-mile radius).
Thank you so much for taking the time to answer our questions.  

Shayla Black is our Author of the Month, 
and because she is one of the most awesome authors around she will be giving away one book per week to one lucky maiden!
You get to choose from a book from her backlist.
2. Fill out the form below.
Latest posts by Under the Covers Book Blog
(see all)