Interview and Giveaway with Monica Murphy

~ MONICA MURPHY ~
Welcome to Under the Covers! We are so excited to have you back with us today.
So glad to be here, Francesca, thank you for having me!
Lets start out with an easy one…or maybe not so easy. When you first released ONE WEEK GIRLFRIEND it wasn't common knowledge that Monica Murphy and Karen Erickson were one and the same. Why did you decide to keep it quiet until just recently?
Well, OWG is completely different from a Karen Erickson book. I didn't want to confuse readers and hey, if it failed? Then no one would know because Monica was a completely unknown author. Instead of failing though, it took off and now Monica is bigger than Karen. Which makes Karen insanely jealous. *winks*
It's difficult being two people and it's especially difficult when you don't let the two paths cross so I finally had to announce I was one and the same. It's so much easier now that everyone knows I'm both Karen and Monica. Well, it's still hard to keep up with the social media (and the deadlines!) sometimes but yeah. Easier.
How would you say your writing style is different when you put your Murphy writing hat on as opposed to your Erickson one? Other than the obvious genre.
The genre, as you said, is different yet similar. At their core, my new adult titles are romances. As Monica, I write in first person present tense, my characters are younger and their stories are a lot more angsty and filled with high drama. It's such an exciting and dramatic time of a person's life, living on your own for the first time, first job, first love…lots of firsts!
As Karen, I write in third person past tense and my books are romances with couples that are a little more established in their careers, life, etc. The overall tone is different. I think my voice is different writing as Karen vs. Monica. Hard to describe beyond that so I sound super vague. Sorry. LOL
How did the idea for ONE WEEK GIRLFRIEND came about?
Fable's been hanging out in my brain since 2009 but she was a different person then. Younger. I tried to write a YA and it sucked. But Fable was my main character and I loved her so much, I knew (hoped really) that I would write about her again one day.
Late in 2012 I saw a local news report about a teacher who was arrested for having sex with her 17 year old student. Her excuse? She thought he was 18. This got me thinking. So many boys involved in these types of situations are viewed as "studs", as in ooh, they got some with the teacher, high five, versus being portrayed as victims.
I wanted to create a male victim and I wanted the heroine to rescue him. And that's how Drew and Fable were born.
Damaged characters are my drug. Both Drew and Fable have their own history and it's not a pretty one on either end. What would you say is the most difficult part of pairing those two up?
Drew's hang ups are difficult to overcome and no one can blame him for that, least of all Fable. His views on sex are negative. So are Fable's, though she uses sex in a different way than he ever did. So for them to come together and have a healthy, loving, sexual relationship…that's not easy for these two.
What's your favorite thing about Fable?
She's strong and loyal. She takes no shit. She's a lot of fun to write.
Describe Drew in three words.
Broken, protective, sweet – he always means well, it's just sometimes life is hard for him to face.
Is there a scene that in any of your Drew & Fable books that was hardest for you to write? Why?
Without giving too much away, pretty much the entire second half of One Week Girlfriend was difficult to write. I never tried to hide anything. I wanted the "secrets" to be discovered pretty quickly for the reader because Fable figured them out fast but she didn't want to face it. I wanted the reader to experience that along with Fable. It's like a car wreck. You don't want to look but you still have to, right? That's how I felt about writing most of One Week Girlfriend.
Which one of your books have you had the most fun writing and why?
Second Chance Boyfriend was a joy to write because Drew and Fable could actually be together and have a real relationship. So much of it I wrote for the readers who love them. Those two deserved their happily ever after and I gave it to them. I cried after I finished it. They put me through the ringer. If I think about it too much, I could probably start crying all over again. I'm still attached. LOL
We love finding out what our favorite authors are reading. What's the last book you read that you couldn't put down?
While on the plane going to the RT Convention, I finished a YA book called Ten by Gretchen McNeil. It was like all my favorite teen scary movie in book form. LOVED IT.
What are you currently working on?
Three Broken Promises, which is Jen and Colin's story, and they first appeared in Second Chance Boyfriend. I'm excited to bring this story to readers – it will release in December both in digital and print and be available in stores. I sold the series to Bantam and One Week Girlfriend will come out in stores in August and Second Chance Boyfriend in October. So. Exciting!
ONE WEEK GIRLFRIEND
Drew + Fable # 1
New Adult Contemporary Romance

**Mature situations and sexual content – recommended for ages 17+**

Temporary. That one single word best describes my life these last few years. I'm working at a temporary job until I can finally break free. I'm my little brother's temporary mother since our mom doesn't give a crap about either of us. And I'm that temporary girl all the guys want to get with because I give it up so easily. According to the rumors, at least.

But now I'm the temporary girlfriend of Drew Callahan, college football legend and all around golden guy. He's beautiful, sweet—and he's hiding way more secrets than I am. He's brought me into this fake life where everyone seems to hate me. And everyone seems to want something from him. The only thing he seems to want though is…

Me.

I don't know what to believe anymore. All I know is, I think Drew needs me. And I want to be there for him.

Forever.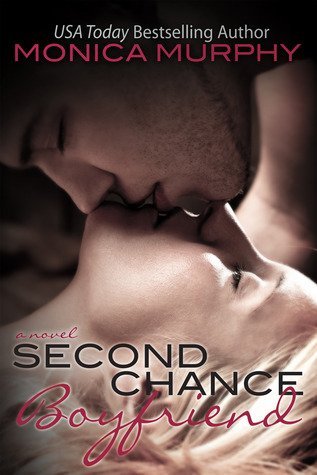 SECOND CHANCE BOYFRIEND
Drew + Fable # 2
**Recommended for ages 17+ due to sexual content and language, mature subject matter**

New Adult Contemporary

Lost. That one single word best describes my life at this very moment. I lost the last games of the season and both my team and my coach blame me. I lost the last two months because I drowned in my own despair like a complete loser. And I lost the only girl who ever mattered because I was afraid being with me would destroy her.

But now I realize how truly lost I am without her. She has become my story…and even though she acts like she's moved on, I know she still thinks about me just as much as I think about her. She's beautiful, sweet—and so damn vulnerable, all I want to do is help her. Be there for her.

Love her…

If only I could convince Fable to give me a second chance. Then I wouldn't feel so lost anymore, and neither would she. We could be found together.

Forever.
About the Author
Monica Murphy is a wife of one and mother of three. A native Californian, she lives in the foothills below Yosemite but hasn't visited the park in years (whoops). She is also the author of the USA Today bestselling One Week Girlfriend and its sequel, Second Chance Boyfriend.
Website: http://www.monicamurphyauthor.com/
Facebook: http://www.facebook.com/MonicaMurphyauthor
Twitter: http://twitter.com/MsMonicaMurphy
Blog: http://missmonicamurphy.blogspot.com/
Pinterest: http://pinterest.com/msmonicamurphy/
Goodreads: http://www.goodreads.com/author/show/5934418.Monica_Murphy
Drew + Fable Fan page: https://www.facebook.com/DrewAndFableOfficial


Latest posts by Under the Covers Book Blog
(see all)