Interview and Giveaway with Lori Foster!

Maidens we are very excited to have here today New York Times best selling author Lori Foster.  I'm sure most of you know of her and probably have read her books, and if you haven't you need to rectify that right away!  Whether writing about cowboys or hot ex-military alphas, her characters are endearing and the stories always well written.  Now, celebrating the recent release of the fourth book in the Men Who Walk the Edge of Honor, we got a chance to ask her a few questions and just happened to run into some of the hot men she writes about!
Hi Lori, welcome to UTC!  A Perfect Storm is Arizona and Spencer's book, and we got a great taste of their personalities in Jackson's book. What can readers expect of these two?
Arizona is volatile and unpredictable; Spencer is a rock, always. She's still in survival mode, and he's the steady, safe place.
But they're both wounded from their pasts, sharp witted, and highly capable. I think you'll grin as much as you sympathize.
Do you have plan on writing more books in this series after A Perfect Storm?
I have a new series starting in October, with all new characters. However, Alice (who was a secondary character in "Trace of Fever") will show up in the 2nd book of the new series. She stayed in my head and in my heart, and she deserves a happy ever after.
Human trafficking being the main subject line that ties the series together, what would you say has been the most important part of your research?
It's easy to get data and statistics. It's easy to find out legal procedures and shortfalls. The most wrenching part was reading the human accounts – finding out from interviews how victims felt, how they were affected, and what they went through. So many tell the tragic details in a very detached way, almost as if they're talking about a fender-bender instead of a life-altering assault. One particularly emotional account came from the mother of a victim. I cried while reading it because I could feel her pain. It's unthinkable for most of us – and yet many are going through it every single day.
You write some sexy ex-military heroes in your Men Who Walk the Edge of Honor, hot guys next door in your Watsons series, and studly cowboys in Buckhorn. What is your favorite to write about?
I like writing sexy Alphas, period. I don't care where they work or what they have in their pasts. To me, being a hero isn't always about the job as much as the core of the man. Many times, a person doesn't realize he/she is a hero until circumstances dictate that someone step forward. An entire crowd of people (like me!) will be standing there, watching something unfold, and a single person will step out and *do.* I remember a man who dove into an icy river to save someone. A kid who dove into a murky pond to save a man who'd passed out behind the wheel and drove his car in. A man who jumped onto the tracks to save someone… every day, if you watch the news, you hear about an ordinary person who took extraordinary steps to assist someone in need. I LOVE seeing those stories, and I love writing about those people.
You are obviously hosting your own event, but who would be your ideal panel of authors and what would you talk about?
I have a lot of longtime faves, and I'm currently a big fan of Kresley Cole. Also, I recently read a new author (1st book out in Oct 2012), Macy Beckett. "Sultry with a Twist" was *amazing.* Can't wait to read more from her.
I guess if I was putting together a panel, I'd love to hear what new authors have to say. It's very different for them than for old veterans like me.
Virna DePaul, Donna MacMeans, Macy Beckett… it'd be great to get them all in one place and pick their brains to find out how things have changed – because they surely have! (I first sold back in 1995. LOL)
Arizona seems to be the most kick ass chick in the series Men Who Walk the Edge of Honor, and my favorite, even though still with a damaged past. Who is your favorite heroine?
I still love Gaby Cody, my mega kick-ass heroine from my urban fantasy series, "Servant." I didn't intentionally put romance in the books, but I guess at heart, I'm a romantic, because she and Luther pretty much burn up the pages. 😉 And the 2nd book, "Servant: the Acceptance," was named Amazon's #1 Editors' Pick in Romance. Gaby is a paladin, so she has extreme ability, but she's also very compassionate, and very curious about Luther Cross. Love, love, love her. J

Who was the hardest hero to write?
I don't really write heroes who are difficult. The way it works for me, characters are in my head, clamoring for a book. Whoever kicks the biggest fuss gets priority. If a hero isn't telling me his story, I don't write him.
What are your essential items required for you to write a book?
Time. LOL. That's the only truly essential item.
I like the PC, desk, proper light – and I love writing with a nice view, like the pond in my backyard or the lake at our summer house.
But always, the biggest essential is the time to dedicate to the writing.
You are re-releasing some older books with some pretty hot new covers! Any particular one that has a special place in your heart?
The publishers handle all that, including the covers. It's no secret that I like hairy chests on my heroes, and Harlequin has been wonderful about providing that for new covers. Not so much for reissues. 😉 So none of the reissue covers really excite me, although readers certainly seem to enjoy them!
If you're talking stories, I'm thrilled that the Buckhorn brothers are once again being reissued. It amazes me that they continue to stand the test of time. 🙂
What does a typical writing day for you look like?
Up by 5am, coffee, tend the animals (4 cats and 3 dogs) then answer the 200 plus emails that come in every day. Do any promo stuff (like this interview) that's waiting in my inbox. I try to get on the treadmill for a bit. Then I light my favorite scented candles, crank up the playlist on my iPod, and start writing. Usually I start writing by 10 am and stick with it until 4pm or so – unless I'm under a tight deadline and then I work as late as necessary to get things done.
Since we were lucky enough to catch the men in your books around, we'd love to ask you a few things as well!  If you could take your girl in the perfect vacation, where would it be?
Jackson: I'm partial to the lake, because then I can get Alani into her swimsuit… or maybe out of her swimsuit. When no one is around, yeah, I can usually talk her into skinny dipping. And more. With me, she's not shy, and thank the good Lord, she's not all that proper either. You know how exciting that is, knowing she's all prim with others, but a sexual hedonist with me? I'm a lucky bastard, right? The luckiest.
What's the craziest thing you've done for her?
Dare: I killed for her. Hell, I'd kill for her again. But that's not really crazy, is it? Molly's so grounded, she doesn't ask for anything crazy – but she knows whatever she needs, I'm there for her.
If you weren't out fighting bad guys, what would you like to do instead?
Trace: Have sex with my wife. Actually, do anything with my wife. Arguing with her is exhilarating. Talking with her is comfortable. Just… being with her is perfect, even when she makes me nuts, which she does on a regular basis. But I wouldn't have it any other way.
What are your thoughts about the woman that writes your stories?  
Spencer: I'm grateful to her. She brought Arizona to me, when I would have thought – did think – her totally unsuitable for me. Arizona is young, and her past is so tragic… but with all her quirks and difficulties and big heart, she's the one thing that was missing from my life, when I didn't know anything was missing.
Yeah, I'd say gratitude covers it.
Have You Met the Men Who Walk the Edge of Honor??

Maidens, Lori Foster has a great giveaway for you. One lucky US maiden will win a  T-shirt, a fan , an autographed copy of "When You Dare," and other promo stash 😉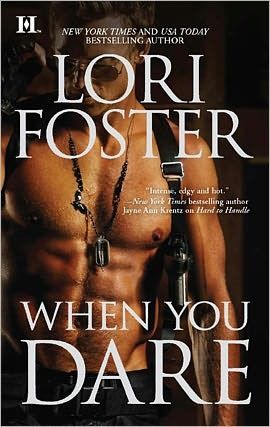 The tougher they are, the harder they fall…

Professional mercenary Dare Macintosh lives by one hard and fast rule: business should never be personal. If a cause appeals to him and the price is right, he'll take the mission he's offered. But then the lovely Molly Alexander asks him to help her track down the men who'd had her kidnapped—and for the first time, Dare's tempted to combine work with pleasure.

Fiercely independent, Molly vows to trust no one until she's uncovered the truth. Could the enemy be her powerful, estranged father? The ex-fiancé who still holds a grudge? Or the not-so-shy fan of her bestselling novels? As the danger heats up around them, the only anchor Molly has is Dare himself. But what she feels for him just might be the most frightening thing of all…
To enter, please:
1. Be a follower
2. Fill out the form below
<p>Loading…</p>
<p>Loading…</p>
Latest posts by Under the Covers Book Blog
(see all)