Interview and Giveaway with Kasey Michaels
~ KASEY MICHAELS ~
Hi Kasey! Welcome to UTC! This month you'll be releasing WHAT A HERO DARES, could you tell us a little bit more about Max and Zoe's story?
I'd be happy to, yes. Max and Zoé are survivors, even when they think they're not. Both have suffered, both are damaged, but when the cause is larger than their own heartaches, they come together again, vowing to work as a team, as they'd done before, and then go their separate ways. But the heart doesn't always follow the head…
In your research for Maximillien Redgrave's character as a soldier, did you find anything particularly interesting or fascinating?
I've been writing about the Napoleonic wars, soldiers, for over thirty years. This time I wrote about the men with no names, those who serve as spies for the King. There wasn't much they didn't venture, a risk they didn't take, and adding a female spy to the mix, giving her the same skills and daring of her male counterparts, was exhilarating. I'm all for strong female leads!
You've previously written about siblings. What is your favourite thing about writing a series about siblings? What would you consider to be the most difficult?
My favorite thing is watching them grow, both over the years of the stories and the life events that shape them as individuals. I also have a lot of fun setting them up in their 'pecking order,' as the oldest, the one who always teased the other – and in the Redgrave series – showing the reactions of older male siblings when their tomboy little sister grows into a beautiful young woman. The most difficult, after a seven book series like the Beckets of Romney Marsh, or the Blackthorn and Redgraves quartets? Saying goodbye…which is why I brought a few Beckets into my Redgrave series, most especially the enigmatic, tragic Ainsley Becket, the patriarch and my favorite hero of all time, even if he's never the central character in any of the seven books.
As a writer, I'm sure you draw inspiration from many places but the love for reading usually stems from other books. What would you consider the book that started your love for reading?
Should I really admit this? By the time I'd reached the ripe old age of thirteen, I'd definitely outgrown all the books in what was then the children's area of the library. We weren't allowed in the adult section. But a librarian snuck me a book titled Desiree, by Annemarie Selinko. Part history, part imagined, I fell in love with Napoleon, in love with the era, and in love with love. I wish some smart publisher would put it back on the market, but at over six hundred pages, they probably believe it's too long for today's reader. That's a shame.
What's the best way to get over writer's block?
I've been writing for nearly thirty-five years and over 120 novels now, sometimes with the words just flowing, sometimes having to extract them from my brain one-by-one with a tweezers. So the minute I have a definitive answer, I'll let you know!
What is your favorite thing about writing historical romance and why did you pick this genre?
I love history, always have. The Regency Era intrigued me from the moment I first discovered it (as readers, we do 'discover' things, you know, just as if nobody has ever heard of them until we had our ah-ha moment). Napoleon (thanks to Desiree) also won me over. Georgette Heyer sealed the deal. After that, there was no going back, and I began writing my own stories.
Who is your favorite historical hero?
Again, Ainsley Becket (see above). I wish I could write an entire book about him, but that can't happen in today's market. And perhaps that's a good thing. He'll always be this man of mystery … the perfect hero.
What's next for Kasey Michaels?
I'm writing a trilogy now for HQN, this time the main characters are friends, but not related to each other, and each book takes place during the Little Season in London (during the fall months). I also am self-publishing many of my earlier books, which is truly exciting. This week launches one of my 'darker' historicals, The Legacy of the Rose. I love the book, but my timing may have been off when I wrote it in 1992. The sort of darker story is much more accepted now, so that Legacy might seem tame to some, but back in the day it was fairly revolutionary for a romance novel to concentrate on the subject matter I chose.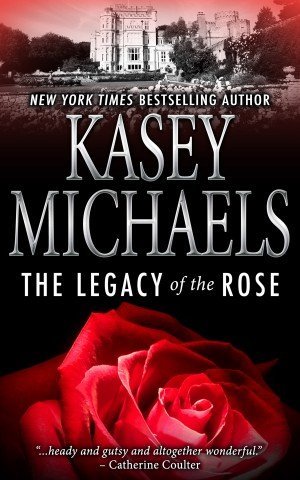 A compelling historical romance from the award-winning author of The Belligerent Miss Boynton. Two lost souls betrayed by their families find one another. The wealth and security that surrounded them in their youth has vanished–and only together can they unravel the web of lies and secrets that binds them to the past.
It, and Come Near Me, another historical novel written back then — and coming soon to digital – also deals with darker themes, as does my Redgrave series.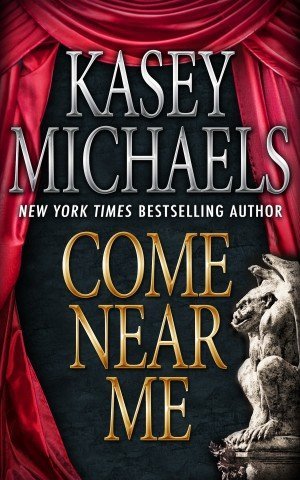 Kasey Michaels is adored by her many fans for her sparkling wit and the magic with which she brings the glittering world of Regency England to life. Now she mixes a dash of suspicion with a drop of temptation — and shows how the two can play havoc with a fairy-tale romance…

Adam Dagenham, Marquis of Daventry: He is a worldly, brooding rake who doesn't believe in love…until he lookzs into a certain flame-haired beauty's laughing green eyes. But when he rushes his cherished Sherry to the altar he marries a stranger — and will soon learn that even the truest love can be threatened by a single lie…

Charlotte "Sherry" Victor Dagenham: Achingly beautiful, she is the toast of London with every gentleman — save one. Her beloved husband, Adam, has turned away from her, and all because of a devil named Richard Brimley whose dangerous "game" almost disgraces her. Now Sherry desperately seeks a way to not only rekindle her husband's passion but build something new — a marriage based on trust aswell as love.
Over the course of the past nearly thirty-five years, I've had many moods, and I've been lucky enough to find publishers who have published them all. For a full list, and to read an excerpt from What A Hero Dares, check out www.kaseymichaels.com
Thanks for having me, and I hope you'll enjoy What A Hero Dares.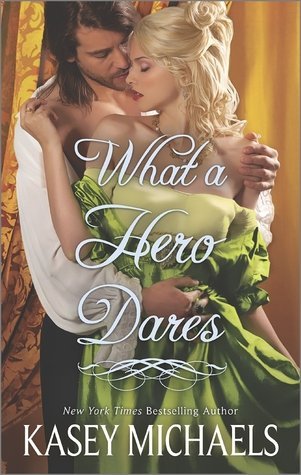 Desire and loyalty collide in the riveting conclusion to USA TODAY bestselling author Kasey Michaels's series about the Redgraves—four siblings united by their legacy of scandal and seduction…

Punished for his father's crimes and scorned by society, fearless soldier Maximillien Redgrave fights to protect England. But his quest to restore his family's reputation is his own private battle. Trusting the irresistible young Zoe Charbonneau, whose betrayal destroyed his closest comrades and nearly unraveled his covert mission, is a mistake he intends to never repeat. So when the discovery of a smuggling ring compels him to embark on a voyage straight into danger, he's prepared for anything—except to find Zoe on his ship.

Believed to be a double agent for England and France, Zoe must clear her name in order to save her life. Convincing Max of her innocence seems impossible, until inescapable desire tempts them both to trust—and love—again. But a circle of enemies is closing in, and their time together might run out before they outrun danger…
Kasey is giving away two mass market paperbacks of WHAT A HERO DARES.
Comment below to enter. International.
Latest posts by Under the Covers Book Blog
(see all)