Interview and Giveaway with Jennifer McQuiston
~ JENNIFER McQUISTON ~
Could you please introduce yourself and maybe tell us 5 interesting facts about yourself that readers wouldn't necessarily know about you?
I am admittedly a bit of an oddity, although if there is one thing I have learned, it's that you can't stereotype romance authors! I am an epidemiologist (otherwise known as a disease detective) who works for the U.S. Centers for Disease Control and Prevention by day. I started writing mainly as a creative outlet for the stress of my day job. But once the writing bug sunk its teeth into me, I found it impossible to let go, so now I struggle to balance what amounts to two full-time jobs.
Five interesting facts:
1) I am a recovering and sometimes failing Diet Coke addict. I give it up at least annually.
2) I suffer from a self-diagnosed case of Seasonal Affective Disorder, and October-March I survive by dosing myself with 30 minutes of artificial sunlight every morning.
3) I promised my kids a pony with my first book deal and delivered on that promise!
4) I am a veterinarian by training. And yes, my hand HAS gone there. I have pictures to prove it.
5) I get up and write from 4 to 6 am every day to get my word count in before life kicks in.
MOONLIGHT ON MY MIND is your third book and is releasing March 25th. What can you tell us about this upcoming release?
Moonlight on My Mind is the third and last book in my debut series. It features characters readers first met in my other books, including Patrick Channing (a veterinarian from What Happens in Scotland), a Miss Julianne Baxter (a fun busybody from Summer is for Lovers).
To ruin a man's life once takes a regrettable mistake.

To do so twice takes a woman like Julianne Baxter.

Eleven months ago, Julianne's statement to the authorities wrongly implicated Patrick, the new Earl of Haversham, in his older brother's death. The chit is as much trouble as her red hair suggests, and just as captivating. Now she has impetuously tracked him to the wilds of Scotland, insisting that he return home to face a murder charge and save his family from ruin. A clandestine wedding may be the only way to save her reputation—and his neck from the hangman's noose.

Julianne has no objection to the match. More and more she's convinced of Patrick's innocence, though when it comes to igniting her passions, the man is all too guilty. And if they can only clear his name, a marriage made in haste could bring about the most extraordinary pleasure…
See the Book Trailer Here: http://www.youtube.com/watch?v=c0EUI3B4ts0
WHAT HAPPENS IN SCOTLAND was nominated for Best First Historical Romance for 2013 RT Reviewer's Choice! Congratulations!! Where you expecting the warm welcome your books have received?
Thank you so much! I was absolutely bowled over to make the RT Reviewer's Choice list, and so, so thankful to hear from reviewers and readers who love my writing. But the welcome hasn't been all roses… What Happens in Scotland has a decidedly different format from most historical romances (namely, the entire story takes place over 24 hours, and the hero and heroine are looking for each other for half the book, rather than interacting together in the same scenes). There are some historical romance readers and reviewers who definitely did not appreciate the novelty. 😉 But for those who eagerly embraced the differences and told everyone they knew to read it, I will forever be grateful!
What is about the historical romance genre that draws you in and ultimately you decided to write in this genre?
I've always preferred historicals to any other category in the Romance genre. Something about being swept away to another time and place where the social conventions were so different appeals to me on both a personal and intellectual level. When I decided to start writing, there was never any question in my mind which genre would be my focus. And, given a time machine, no question I'd choose to go back instead of forward!
If you could collaborate with another Historical Romance author on a secret project, who would you pick to work with and why?
Some of my favorite authors include Joanna Bourne, Meredith Duran, and Julia Quinn, and who wouldn't want a secret project with any one of those inspiring ladies? But it is patently unfair of you to make me pick just one.
So I would choose to go on an international tour with all of those authors, with sociologist Meredith Duran as our official tour guide through India. When we are arrested as spies, Joanna Bourne will use her State Department background to talk our way out of prison. I, of course, will handily diagnose the enteric bacterial infection we get from drinking the local water, and Julia Quinn will treat our infections, using her own medical school background and her internal medicine husband's guidance. And of course, we'd all go on to write an anthology about our experiences.
See, I TOLD you that it was impossible to stereotype romance authors!
Is there a book that you love to reread over and over again? If so, what do you think is it about that book that resonates with you?
The one book I have returned to several times in my life is probably going to surprise people…. It's Ken Follett's "Lie Down With Lions." I first read this book during a 3 month stint in Africa, where I was working as a CDC scientist on polio eradication, and it carried me through some difficult, lonely days. Though Follett is primarily a suspense and sweeping saga sort of writer, Lie Down With Lions is a romance at its heart, featuring a love triangle set in war-torn 1980's Pakistan. I would also strongly argue that even though it is in the 1980's, it most definitely qualifies as a historical novel.
As to why the book resonates with me, I think it is because I found the descriptions of the region and the people so evocative. I re-read it every few years, and I am just as blown away by it each time.
Since it's Historical month at UTC, we want to know why you love the era in which you write in and perhaps share with us some of your favourite books that explore that time period.
I will always reach for a historical first, given my choice of books. In addition to the amazing authors I mentioned above, here are some others I love:
1) Cecilia Grant: A Lady Awakened (I blogged about it here😉
2) Sarah MacClean: A Rogue By Any Other Name
3) Julie Anne Long: What I Did for a Duke (but literally, anything in her Pennyroyal Green Series!)
4) Elizabeth Essex: Almost a Scandal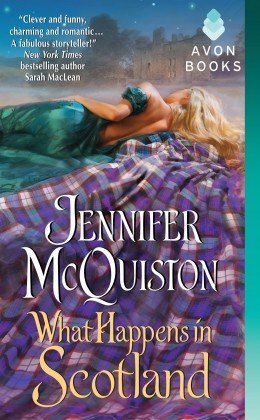 Jennifer McQuiston's debut historical romance, What Happens in Scotland, is a lively, romantic adventure about a wedding that neither the bride or the groom remembers.

Lady Georgette Thorold has always been wary of marriage, so when she wakes up next to an attractive Scotsman with a wedding ring on her finger, it's easy to understand why she panics and flees. Convinced that Georgette is a thief, her may-be husband, James McKenzie, searches for her. As both try to recall what happened that fateful night, they begin to realize that their attraction and desire for each other is undeniable. But is it enough?

Fans of Sarah MacLean and Mary Balogh will enjoy this charming historical romance from New York Times best-selling author Jennifer McQuiston that features unforgettable characters and a satisfying mix of adventure and passion.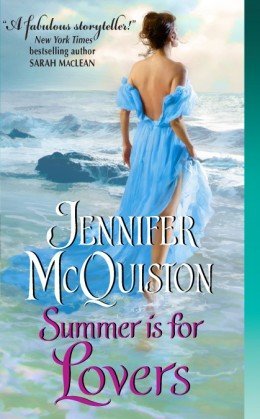 His heart is unavailable.
Luckily, her interest lies in the rest of him…

Though she was just a girl when they first met, Caroline Tolbertson's infatuation with David Cameron remains undimmed. Now fate has brought the handsome Scotsman back to Brighton for what promises to be an unforgettable summer. Soon, Caroline will have to choose a husband, but for now she is free to indulge her curiosity in things of a passionate nature.

That is, if David will agree to teach her.

Past mistakes have convinced David he'll make a terrible husband, though he'll gladly help the unconventional Caroline find a suitor. Unfortunately, she has something more scandalous in mind. As the contenders for her hand begin to line up, her future seems assured…provided David can do the honorable thing and let them have her.

When a spirited young woman is determined to break Society's rules, al a gentleman can do is lend a hand…or more.
Jennifer has a package of What Happens in Scotland and Moonlight on My Mind
up for grabs to a lucky maiden! US and Canada.
Latest posts by Under the Covers Book Blog
(see all)