Interview and Giveaway with Jennifer L. Armentrout


Today we have Jennifer L. Armentrout with us for an interview and giveaway! Armentrout is the author of the YA series Lux and Covenant. Both series are very kick ass and addicting. If you're a fan of Sherrilyn Kenyon's Dark Hunter series, then you may like Armentrout's Convenant series. She's even able to make aliens seem hot with her Lux series. Please help us welcome Jennifer to UTC!
Hello Jennifer and welcome to UTC After Dark, our yearly paranormal month!  Who is Jennifer L. Armentrout? Tell us five things that readers wouldn't know about you.
I've never ate apple pie.
The idea of layered food grosses me out.
I don't like bridges over water.
I saved someone from drowning once.
My name wanted to name me Belle Star to go a long with my brother's name, Jesse James, but thankfully my mom said hell to the no on that.
You are able to write some very compelling heroes. Daemon Black, Aiden St. Delphi and Seth are great guys. In your opinion, what one quality should all heroes have?
I think the qualities that a person looks for in a hero is very subjective, but for me they have traits from all my male characters: bad boy, witty comebacks, a sweet, disarming side underneath the harder shell, and knows when to say the right thing when it matters.
And because inquiring minds want to know, who is your favorite hero out of those three? Is one character more difficult or easier to write than others?
Oh, it really depends on who I'm writing, but I couldn't pick one. It would be like picking a favorite kid.
In your Covenant series, Alex is very much a fighter chick. Presented with obstacles, she really does her best to shine. How would you say Alex has grown since we've first seen her in HALF-BLOOD and by the end of DEITY?
Alex has most definitely grown. She still is a fight and prone to smartass responses, but she has calmed down and is learning that all actions, no matter how little or big, have consequences.
I recently finished reading DEITY and I have to say that you saved all the drama and the heartbreak for this book. What can readers expect from this latest installment?
More drama and heartbreak? Haha. Seriously, it's about to get real up in the Covenant world.
Aiden will have his own novella called ELIXIR. Can you tell us a bit about this read?
It picks up right after Deity ends and it's important to the plot of Apollyon, so it's not a filler novella.
Your other series, Lux has Pepe and Sztella on all the covers. But since the Covenant series features beautiful works of art instead, readers can make up how they see Aiden, Seth and Alex. Do you have a clear vision of what they look like? Have you tried casting the characters in your head? If so, care to share?
Everyone always asks about casting characters. I must be the only author who rarely does that. I have clear images of Aiden and Seth in my mine, but don't go looking for models or actors for them.
Your books are YA but I consider them to be a little sexier than some of the other titles out there right now. How important is building sexual tension between characters and how do you go about deciding whether or not you've push too far in a book?
I like to bring the smexy and build tension, because it's something that happens to teenagers and adults. I think it's important to explore all the human emotions when appropriate. I don't think you can push too far in a YA book. Well, unless you make it an erotica and that would be just weird, but otherwise, I don't think you can go too far. Why? Because real life goes that far and treating teenagers like they don't have a clue is doing them a disadvantage.
I like the love triangle that happens in your Covenant series. Some authors attempt it but in some cases, there is a clear winner. However, with your books, I find that I love Aiden and Seth equally but for very different reasons. How do you approach this as an author and create a love triangle that seem believable to readers?
I really want both boys to stand on their own. Both of them are good for Alex is different ways but both of them don't feel the same way. And Alex doesn't feel the same way about both of them.
Both your series have really grown in popularity. Did you ever expect the kind of success you've had? Do you now feel pressure to perform at a higher level to meet those expectations?
I'm just excited the five people have read my books, so… I think every writer feels pressure at any stage in writing. But yeah, you worry that people are going to be disappointed.
What's next for Jennifer L. Armentrout?
A lot more writing and more books =)
About the Author
USA TODAY Bestselling author Jennifer lives in Martinsburg, West Virginia. All the rumors you've heard about her state aren't true. When she's not hard at work writing. she spends her time reading, working out, watching really bad zombie movies, pretending to write, and hanging out with her husband and her Jack Russel Loki.
Her dreams of becoming an author started in algebra class, where she spent most of her time writing short stories….which explains her dismal grades in math. Jennifer writes young adult paranormal, science fiction, fantasy, and contemporary romance. She also writes adult romance under the name J. Lynn.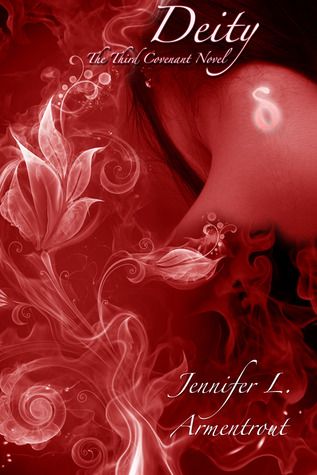 "History is on repeat, and things didn't go so well the last time. "

Alexandria isn't sure she's going to make it to her eighteenth birthday–to her Awakening. A long-forgotten, fanatical order is out to kill her, and if the Council ever discovers what she did in the Catskills, she's a goner… and so is Aiden.

If that's not freaky enough, whenever Alex and Seth spend time "training"–which really is just Seth's code word for some up-close and personal one-on-one time–she ends up with another mark of the Apollyon, which brings her one step closer to Awakening ahead of schedule. Awesome.

But as her birthday draws near, her entire world shatters with a startling revelation and she's caught between love and Fate. One will do anything to protect her. One has been lying to her since the beginning. Once the gods have revealed themselves, unleashing their wrath, lives will be irrevocably changed… and destroyed.

Those left standing will discover if love is truly greater than Fate…

Spencer Hill is giving away a DEITY t-shirt!
a Rafflecopter giveaway
Latest posts by Under the Covers Book Blog
(see all)