Interview and Giveaway with Jennifer Estep!
Today we are celebrating the recent release of BY A THREAD, the sixth book in the massively popular urban fantasy series by Jennifer Estep. Under the Covers got the chance to ask Ms. Estep some questions. Here's how it went down…

Thank you, Jennifer for taking the time out of your busy schedule to chat with us today! What can readers expect from BY A THREAD, the sixth book in your Elemental Assassin's series?
JE: Thanks for hosting me on the blog today. I appreciate it.
I've been calling BY A THREAD my "Gin on vacation" book. Basically, Gin decides to get out of Ashland for a few days so she can rest, relax, and recharge after everything that happened in Spider's Revenge, the fifth book in the series. But Gin's vacation ends up being anything but relaxing. One of Bria's friends is being threatened by a vampire who wants her land, and Gin decides to help Bria's friend – and finds herself in just as much trouble as ever. There's also some emotional fallout between Gin and Bria because of what happened in Spider's Revenge, so Gin is dealing with that, as well as the reappearance of someone from her past.
You also recently released an e-novella called THREAD OF DEATH. Can you tell us a bit about this novella?
JE: THREAD OF DEATH takes place around the time of the end of Spider's Revenge. Basically, Gin and her friends attend the funeral of Mab Monroe, the Fire elemental who murdered Gin's family. But trouble always seems to follow Gin around, and the funeral is no exception. In addition to Gin, the e-novella also features the points of view of Jonah McAllister, Mab's lawyer and Gin's enemy, and Phillip Kincaid, another one of the movers and shakers in Ashland.
Gin Blanco is kickass, smart and steady. How would you say Gin has grown over the course of the series?
JE: I would say that Gin has definitely opened up a little in her personal life and let people like Owen and Bria get close to her. That's probably the biggest way that she's grown and changed so far.
When readers hear your name, Jennifer Estep, they automatically think of your Elemental Assassin series. However, you do write two other series: the Mythos Academy and the Bigtime series. Can you tell us a bit about each series?
JE: I also write the Mythos Academy young adult urban fantasy series for Kensington. The books focus on Gwen Frost, a 17-year-old Gypsy girl who has the gift of psychometry, or the ability to know an object's history just by touching it. After a serious freak-out with her magic, Gwen is shipped off to Mythos Academy, a school for the descendants of ancient warriors like Spartans, Valkyries, Amazons, and more.
Books in the series are Touch of Frost and Kiss of Frost. Dark Frost, the third book, will be published on May 29.
I'm also the author of the Bigtime paranormal romance series. The Bigtime books feature sexy superheroes, evil ubervillains, and smart, sassy gals looking for love. Books in the series are Karma Girl, Hot Mama, and Jinx. A Karma Girl Christmas, an e-story, is also available.
Folks can visit my website at www.jenniferestep.com for more information and excerpts from my books.
You write several books from a female protagonist's POV. Gin Blanco, from the Elemental Assassin series and Gwen Frost from the Mythos Academy series are unique characters. Do they share any similarities? Any differences?
JE: I would say that the two series share a lot of the same elements – a strong, sassy heroine, magic/world building, lots of action/fight scenes, and a little romance. The Elemental Assassin series is darker and grittier than the Mythos Academy series. Also, as a heroine, Gwen is still learning about her magic, growing up, and trying to figure out what her place in the world is. So the Mythos Academy books tell a little more of a coming-of-age story than the Elemental Assassin books do.

You have created interesting worlds in your books. What would you say the best easiest part of worldbuilding? The most difficult?
JE: I would say the easiest part of world building is just dreaming up ideas for magic, powers, creatures, and more. That's always fun to do. The hardest part is making sure that everything works together and that the magic system and world building makes sense.

When not writing, what do you do in your spare time?
JE: I love to read, watch TV/movies, and spend time with family and friends.
Who are your go-to authors when you are in a slump?
JE: I like authors like Robin McKinley, Lisa Kleypas, Donald Westlake, Ian Fleming, and too many others to name.
What do you do when you are stuck while writing a particular scene?
JE: It depends. Sometimes, I'll take a break for a few minutes and see if that helps or gives me any ideas about how to move forward with the scene. Other times, I'll just keep writing and try to get something down that I can hopefully go back to later and work with.
If Gin could take another character (from another author's books) out for a drink, who do you think she would pick and why?
JE: Hmm. That's a tough question. I think there are a lot of characters Gin would be interested in having a drink with, but I'll say James Bond from the books by Ian Fleming. Bond is sort of the ultimate spy, and I think Gin would be interested in learning how he's survived so many deadly situations over the years. Bond could have a martini, Gin could drink gin, and they could share stories.
Thanks for answering our questions, Jennifer! It was a pleasure to chat with you!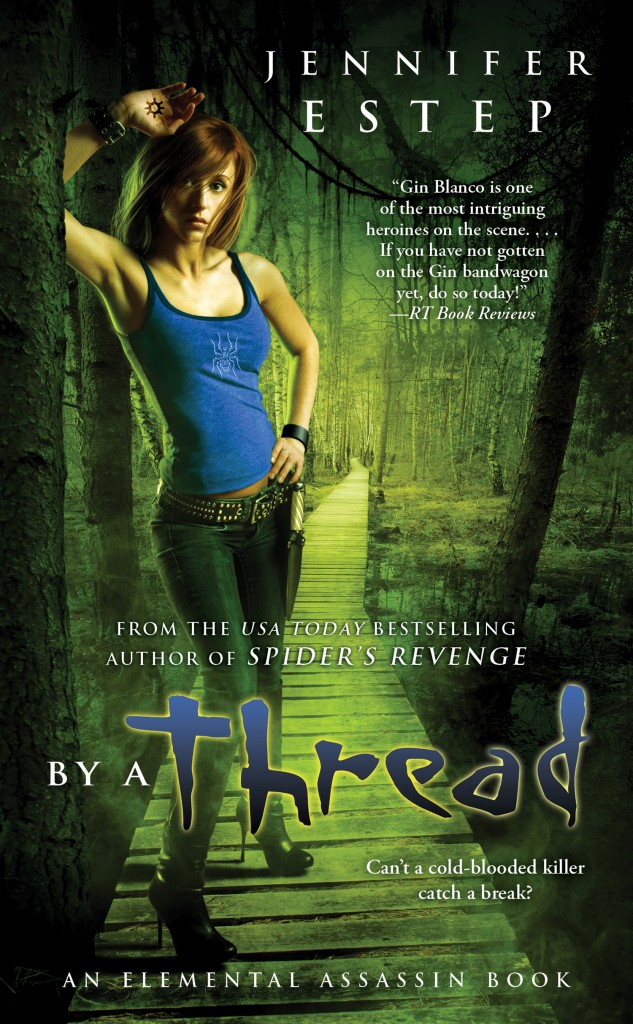 When killing people is your job, there's no such thing as a vacation.

Then again, how often does an assassin live long enough to enjoy her retirement? In this line of work, you either get lucky or you get dead. And since I destroyed my nemesis Mab Monroe a few weeks ago, all of Ashland's lowlifes are gunning to make a name for themselves by taking out the lethal Spider—me, Gin Blanco. So I'm leaving behind my beloved barbecue joint and heading south with my baby sister, Bria, to cool my heels in a swanky beach town. Call it a weekend of fun in the sun.

But when a powerful vampire with deadly elemental magic threatens an old friend of Bria's, it looks like I'll have to dig my silverstone knives out of my suitcase after all. Complicating matters further is the reappearance of Detective Donovan Caine, my old lover. But Donovan is the least of my problems. Because this time, the danger is hot on my trail, and not even my elemental Ice and Stone magic may be enough to save me from getting buried in the sand—permanently.
In honor of the recent release of BY A THEAD, Jennifer is giving away a copy to one US resident. To enter this giveaway, please:
1. Be a follower
2. Fill out the form below
Latest posts by Under the Covers Book Blog
(see all)