Interview and Giveaway with Jamie Brenner

Hi Jamie, first of all congratulations on your new releases and welcome to UTC!  Let's talk a bit about your new series, THE GIN LOVERS. This will be released as a serial, a popular way of publishing a story in parts, one every week. Some readers have mixed opinions on serials – they can love it or hate waiting a week for the next chapter/part. I was pleasantly surprised to learn that The Gin Lovers and Little White Lies are novella length. What was behind the decision to approach this story in this manner?
I grew up addicted to soap operas – daytime dramas like The Bold and the Beautiful, and prime time shows like Melrose Place and 90210. I enjoyed the anticipation of seeing what would happen next, and I also loved knowing those characters would be there for me day after day, week after week. (To this day, I can turn on The Bold and the Beautiful and see the same characters I watched when I was in high school. I know it sounds crazy, but it's like they're like old friends.) Sex and the City was a soap opera, and definitely now Revenge is a dramatic prime time soap. So when I heard that publishers were going to experiment with publishing novels in a serial format, I was extremely excited. The experience of watching a serial on TV can't be completely replicated in a book of course, and I don't know how many authors will be able or willing to write serialized novels that go on for years, but for me, this was the chance to combine my first love – books – with the thing I enjoy most about television.
And you're right –readers' reception of this has been mixed. I think part of the problem is that there is a wide range in terms of the length of episodes for e-serials, and length of the arcs. Some writers, like me, are publishing 80 or 90 pages at a time for six "episodes" or installments, while others might only be publishing 30 pages at a time for ten or more episodes. I don't think there is a right or wrong way to do it, I just think there needs to be a way for the readers to know what they are getting into.
I'm fortunate with this project in that St. Martin's in also publishing it as a paperback in February, so if readers aren't into the e-serial format, they can read it as a single novel. The old-fashioned way
What would you say is the most difficult part about writing a serial? The easiest?
Honestly, there are a lot of difficult parts of writing a serial. It's hard! Harder than I expected. I wrote in my acknowledgements that this book was a group effort. My agent, Adam Chromy, became my plotting partner. My editor, Vicki Lame at St. Martin's, read and edited it along the way, 80 pages at a time. She kept me on track and pushed me to make sure each episode ended with enough intrigue to make readers excited enough to come back for more – and this was the hardest part, no question. And my publisher, Dan Weiss, had to figure out all the logistics – the stuff like how long each piece should be, how often should it publish – weekly? Monthly? There were a lot of unknowns going into this project, and there still are. As far as the easiest part of the process, it was choosing the time and the place and the characters.
The setting of this series in 1920's New York. Glamour and intrigue. Tell us a bit about your inspiration.
I've always had an affinity for the style of the 1920s – the haircuts, the clothes, the emergence of Coco Chanel. About a year ago I read a nonfiction book called Flapper: A Madcap Story of Sex, Style, Celebrity, and The Women Who Made America Modern by Joshua Zeitz. This book is fantastic and put faces and names to the idea of the "flapper." And I started thinking that when contemporary women think of the 1920s, we always assume we'd be flappers. We never think of ourselves as the women who were afraid to embrace the changes. But really, the women who fought for the vote and started smoking in public and cut their hair like boys – it wasn't easy for them. And I wondered what if would be like for a woman on the sidelines – who saw this revolution taking place around her, but didn't know how to get in on the party. From that, my Gin Lovers heroine Charlotte Delacorte was born.
If you had to describe your series in 140 characters or less, what would it be?
The story of one woman's sexual and emotional liberation.
Just because I'm completely enamored with the era you chose for this story, I'd love to know what kind of research went into this?
I read a lot. After Flapper, I read the Richard Zacks book Island of Vice: Theodore Roosevelt's Doomed Quest to CleanUp Sin-Loving New York. This book gave me a lot of insight into the big business of prostitution, and how corrupt the system was, rife with police and politicians getting paid off – the people cracking down on the prostitutes were the ones frequenting these brothels half the time. There are a lot of parallels to what we're seeing today. The morality police becomes big business, and there is a ton of hypocrisy. Another really great book on the darker side of nightlife during that era is Nightclub City: Politics and Amusement in Manhattan by Burton W. Peretti.
For the fashion and style aspect, I found an illustrated book called Fashions of the Roaring '20s by Ellie Laubner. It was my bible while writing The Gin Lovers. And I found some great blogs on Tumblr that gave me visual inspiration. And I was fortunate in that just as I was conceiving of this serial, the Ken Burns documentary Prohibition aired on PBS. From that, I learned about this guy George Remus, who started out as a lawyer defending bootleggers and then became the biggest and baddest bootlegger out there – eventually murdering his wife and getting acquitted using the legal strategy he once used when he was the lawyer defending others. Reading and watching all of this stuff was great for inspiration, but also a little daunting because I realized that when it comes to the 1920s, fact is truly stranger than fiction.
Do you have each installment meticulously planned, or do you wing it and see where they story takes you?
My typical approach to writing a novel is to outline first. I'm not one of those writers who says, "I have to see where the characters take me." I'm amazed by those writers. I can't do it. Now, when it comes to e-serials, the plotting stakes are even higher. Your phrase "meticulously planned" is right on: this story was thought out every step of the way. I don't think any writer can "wing it" when writing in this format. Every episode has to have an arc, and the entire story has to come together at the end. If you're asking readers to come back every week for six weeks, there better be a reason.
Is there a character in this series that you identify with the most?
That is a great question. I would have to say Charlotte. Like Charlotte, I made some "safe" choices in my twenties which, in the end, left me wondering if I was being true to myself. And, like Charlotte, I eventually did things to shake up my life. I also identify with Charlotte's relationship with her father. My father is a bit of a rogue, and in my toughest moments he has told me – and shown me – it's okay for life to be messy or full of uncertainty.
Is there an author that has influenced your writing or your inspiration?
There are two big ones: First, Jackie Collins with her novel Chances. She has such a flair for drama, for writing flawed characters you can't help but love, and she writes sex scenes that really push the envelope. Another favorite writer of mine is Judith Krantz. Her novels are full of glamour, sex, romance and passion. And her plots are fantastic. Finally, I have to say a huge influence isn't an author, but the late, great tv producer Aaron Spelling. This guy gave us Dynasty, 90210, and Melrose Place. I think he shaped generations of storytellers.
You also write as Logan Belle. How do you think you differentiate the two in your writing?
My Logan Belle novels are much more sexually explicit. While sex is a part of all of my novels, when I write as Logan Belle it's graphic. The Logan Belle books are "erotica."

Would be great if you could share an excerpt from one the parts of this series!
The excerpt I'm sharing with you is from the first episode of The Gin Lovers, in which the sheltered, married heroine, Charlotte is going to a nightclub for the first time to chase down her wild, wayward sister-in-law, Mae. (And, though she won't admit this to herself, Charlotte is also hoping to run into the handsome, charismatic speakeasy owner whom she has met recently through Mae.)
A bright pink neon sign marked The Vesper Club on 46th Street and Broadway. Outside, women clustered in pairs and groups, dressed in colorful dresses, as flamboyant as wild birds. Their cigarettes created a cloud of smoke, and from somewhere came the sharp rifts of a trombone.

"Good heavens," Charlotte said before stepping out of the cab. She walked through the people on the crowded sidewalk.

At the door of the club, she was met by a gentleman in a dark suit and wearing a fedora.

"Good evening, Madame," he said, "May I check your coat?"

She smiled. It was so civilized! Was this what all the fuss was about – the corruptive nightclubs?

"The couvert tonight is five dollars," the man said to her.

"Excuse me?"

"The admittance fee. Five dollars."

Charlotte opened her purse, her heart pounding. She only had enough money left in her wallet for the return cab ride home.

She handed the man her last few dollars.

The man opened the door, leaving Charlotte to walk self-consciously out of the vestibule into a crowded room filled with the rich sound of a saxophone, smoke, and giddy laughter. The walls were a sugary, pastel pink, and overhead hung a Rococo iron and crystal chandelier. But what struck her immediately was the wall covered with an enormous reproduction of William-Adolphe Bouguereu's The Birth of Venus. It was an unmistakable painting, with its nude Venus front and center, standing on a oyster shell, her long red hair flowing behind her as various centaurs, angels, cupids, and nude maidens surround her.

And everywhere: mirrors. Mirrors on the walls, mirrored table-tops, and in one room she passed through, a mirrored ceiling. These made it impossible to miss the fact that the patrons were all – every last one of them – drinking alcohol.

It was like a scene out of a movie.

Room after room was filled with beautiful people talking in animated groups, couples were huddled with their arms locked around each other. Waitresses in short dresses carried trays filled with colorful drinks. No one paid her any notice. It was as if she were invisible.

She told herself she would just find Mae, tell her she had to leave, and then they would return home. As she walked through the club, the electrifying rifts of the jazz band grew louder. She spotted another Bouguereau painting featuring nude women, this one Nymphs and Satyr. Here and there, couples danced alongside tables and in the middle of the floor. Charlotte scanned the crowd, and finally spotted her sister-in-law's slender frame and short dark hair. Mae, talking to a woman holding a tray of cocktails, looked radiantly happy. Charlotte realized Mae was talking to the same woman she'd brought to her house.

Charlotte took a deep breath, and marched over to them. She tapped Mae on the shoulder.

"I need to have a word with you," she said.

Mae looked at her blankly for a moment, as if it didn't quite register that it was Charlotte. Then she covered her mouth with one hand.

"Good lord! What are you doing here?" Mae said.

"I came to find you."

"Well, you've found me. Now you can go back home."

"I'm not leaving without you."

Mae shook her head and took Charlotte by the hand, tugging her impatiently to a back corner of the room.

"You can't be here, Charlotte. Do you want Greta Goucher to write about you in her column? My brother would positively murder you if he found out about this."

"So let's go home."

"And Charlotte, what on earth are you wearing? You're lucky they let you inside wearing that get-up."

Charlotte looked down at her gray, ankle-length draped silk velvet evening gown with a boat neckline and silk floral embroidery. She had left the house feeling very smartly dressed, but could see now that it was all wrong. All around her, women frolicked in short dresses — black and silver and gold. They wore diamond pendants and beaded necklaces, and their short hair was adorned with headbands with beading and feathers. Mae was perhaps the brightest, shiniest, star of them all: she wore a beaded black lace dress that fell just below her knee and plunged low in the back. She wore a red chiffon scarf and a red silk flower on her hip. Ropes of pearls fell down her back across her bare flesh.

Mae took her by the hand and tugged her towards a bar near the back of the first room. They sat on two padded barstools. "Jimmy, give me two sidecars."

"Who's your pretty friend?" Jimmy said, smiling at Charlotte. "I know I haven't seen you here before. I'd remember."

"Oh, this is…." Mae looked Charlotte up and down. "This is Grey. My friend Grey."

"Pleased to meet you, Grey. How do you like our little party, here?"

"It's really something," Charlotte said.

"Two sidecars, coming right up," Jimmy said.

Mae turned to Charlotte. "I can scarcely imagine what brought you out here tonight – or how you found me. But you really have to leave after this drink. You're just going to get yourself – and me – into trouble."

"You're the one who is going to get me in trouble," Charlotte said. "William doesn't want you running around at all hours like this, and while he's away you're my responsibility. So after this one drink, we both leave." She looked around to make sure no one nearby could here her. "And for the record, I don't understand how this place gets away with serving alcohol out in the open like this."

"There are ways to keep prohibition agents happy — and silent," said Mae.

Jimmy re-appeared, handing them both yellow cocktail, the rims dusted with sugar and garnished with wedges of orange.

"Cheers," Mae said. Charlotte touched her glass to hers. Mae took a long swallow, but Charlotte didn't dare take a sip.

"Oh Charlotte, live a little. If you're not going to leave, you have to at least have some fun. Otherwise you'll ruin my good time."

Charlotte brought the glass to her lips, then licked some sugar off of the rim. The sweetness emboldened her, and she took a small sip of the drink. It was sweet and sour and filled her throat with a warmth that made her feel giddy. It was her first taste of alcohol since the champagne her father had brought to her wedding.

She felt a pang at the thought of her father. It had broken her heart to ask him to leave the reception following Geraldine's funeral. But he had understood. Oh, her father! He hadn't done much for the Andover name or the Andover fortune – what was left of it. But he was the most handsome, charming, downright roguish character she'd ever met. And while her mother had encouraged her to marry a different sort of man – a safer man – Charlotte doubted that her mother would have done anything differently with her own life given a second chance.

"Do me a favor, and don't get crocked," said Mae.

"What? Of course not." Charlotte put the drink down on the bar. "So, where's your friend?"

"Which one?"

"The one who drove you here."

"Jake? Oh, he's not here. He hates the big clubs."

Charlotte was shocked by her disappointment.

A large woman with yellow hair peaking out of a gold lame turban sauntered over to them. She waved her cigarette in Mae's face.

"I need a word with you, Miss Delacorte," she said.

"Save my seat," Mae said to Charlotte.

Even as they walked away, Charlotte could see that the oversized, brassy blonde was telling Mae something she did not want to hear. Mae stopped in her tracks, and the woman grabbed her by the arm brusquely. Mae shook off her hand, and returned to Charlotte.

"Let's get out of here," Mae said quickly.

Confused, Charlotte jumped up from her seat and followed Mae to the door. Along the way, Mae tapped on the shoulder of a statuesque woman wearing a short dress fringed with peacock feathers.

"Betty, are you off yet?" Mae said to her. "I need a ride to the juice joint."

The woman looked at Charlotte. "What's with that get-up? Did you come from a costume party?"

"Don't mind her," said Mae. "She was just leaving. Charlotte, this is where we say goodnight. I'll help you find a cab."

Charlotte didn't know what a "juice joint" was, but she did know that she had zero intention of going home without Mae.

"I'm going with you," she said.
 Set against the turbulent and glamorous backdrop of Prohibition and the rise of the jazz age, The Gin Lovers is a sensual and romantic story of how one high society woman's passion and courage lead her to love.

It's 1925, and the Victorian era with its confining morals is all but dead. Unfortunately, for New York socialite Charlotte Delacorte, the scandalous flapper revolution is little more than a headline in the tabloids. Living with her rigid and controlling husband William, her Fifth Avenue townhouse is a gilded cage. But when William's rebellious younger sister, the beautiful and brash Mae, comes to live with them after the death of their mother, Charlotte finds entrée to a world beyond her wildest dreams – and a handsome and mysterious stranger whom she imagines is as confident in the bedroom as he is behind the bar of his forbidden speakeasy.
Set against the turbulent and glamorous backdrop of Prohibition and the rise of the jazz age, The Gin Lovers is a sensual and romantic story of how one high society woman's passion and courage lead her to love.

Charlotte's cloistered, high society world quickly spirals out of control as she discovers her husband, William, is keeping some big – and potentially dangerous – secrets. Unsure of who to trust Charlotte falls deeper into the thrall of sexy Jake Larkin and New York's ever-exhilarating and increasingly carnal jazz scene. Charlotte must decide where her true loyalties lie? With a man she has just met or a husband she barely knows?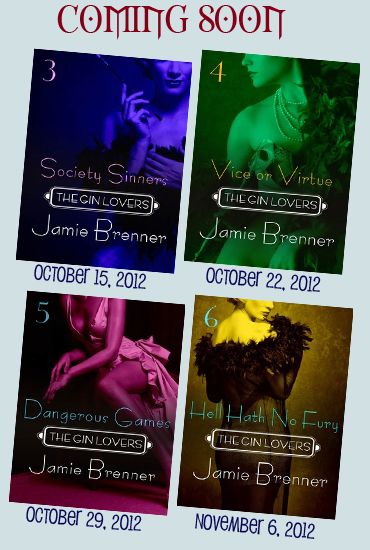 About the Author
Jamie Brenner's novel The Gin Lovers will publish as an original e-book serial with St. Martin's Press on October 8, 2012. The Gin Lovers is a romantic drama set against the backdrop of prohibition and the rise of the modern woman. Jamie is the author of the erotic romance trilogy Blue Angel, published under the pseudonym Logan Belle. Also writing as Logan Belle, her upcoming erotic romance Bettie Page Presents: The Librarian will be published by Pocket Star/Simon & Schuster. Her short fiction has been published in the anthology Obsessed: Erotic Romance for Women (Cleis Press).

Jamie has worked in book publishing for over a decade as a scout, publicist, and agent. She lives in New York City. Read more at www.jamiebrenner.com

One lucky winner will get either an e-copy of part 1 and 2 (Kindle or Nook format) NOW or you can choose to wait for the print of the whole book (you would receive in February 2013)
a Rafflecopter giveaway
Latest posts by Under the Covers Book Blog
(see all)