Interview and Giveaway with J.D. Tyler


Maidens, be very, very quiet. Ms. JD Tyler is sneaking us into the Alpha Pack compound for a unique opportunity to sit down and chat with her and her smoking hot shifters. We don't want them to know you're all tagging along.
Ms. Tyler thank you so much for giving us the opportunity to spend some time with you and the boys! *squeeee*
Thank you so much for inviting me and the Alpha Pack guys here today!
Well lets gets started.  Ms Tyler your series Alpha Pack has not only "werewolves" but it seems that at every turn a different kind of supernatural was popping up.
Yes, it does—it would be a shame if our highly specialized guys had no paranormals to fight! The Alpha Pack is tasked with eliminating the world's most dangerous creatures, both human and non-human. So by necessity, the series is teeming with all sorts of wonderful, interesting, and lethal paranormals such as gremlins, the Fae (including Seelie and Unseelie), a basilisk, Sluagh (Unseelie minions), and shifters of all kinds.
In your opinion, what makes a good heroine?
I think that today's reader wants a heroine who's smart and tough, able to take care of herself. But they also want to see her vulnerable side shine through, giving the hero a well-rounded person to fall in love with. It can be a tricky balance, getting tough and vulnerable just right. But I enjoy that sort of heroine, too.
Do you prefer writing in the paranormal romance genre where the possibilities are endless, or do you enjoy your contemporary stories more?
Truthfully, I enjoy both because each genre feeds a different need for me as a storyteller. My contemporaries as Jo Davis (Firefighters of Station Five) are suspenseful romance, and take place in the "real" world. My J.D. Tyler books are darker, grittier, and take you to a world only found in fiction, filled with paranormal beings. Both are fast-paced, packed with action and romance.
What can you tell us about Savage Awakening?
I'd love to! Here's the blurb:
After a mission goes wrong, Aric Savage is taken prisoner. Half-dead and despairing, he makes a stunning discovery: his Pack mate Micah Chase, who was reported dead, is a fellow captive. When the Alpha team goes into full-rescue mode, accompanying them is an absolute stunner with sable hair—and a spine of solid steel.
LAPD officer and Psy Dreamwalker Rowan Chase has one priority: her brother Micah's recovery. Still, she can't help but be drawn to Aric, the ruggedly handsome wolf shifter who pleasures her as no man ever has—however fleeting their affair is destined to be. But when Aric's life is endangered, Rowan must ask herself what she's willing to sacrifice in the name of love, for the man fated to be her Bondmate.
Who is your favorite author and what is it about their work that resonates with you?
One of my favorite authors ever is Stephen King. I'm awed by the way the man can take our most common fears and play us, make us quiver in our boots while telling a fantastic tale. He can take a ball point pen and make it evil. But I also enjoy his wisdom on writing, and I quote him all the time.
If you could bring one of your characters to life for the day, who would it be and what would you do?
Right now, the answer to that would have to be Alpha Pack's newest member, Kalen Black. He's the team's Sorcerer/Necromancer/panther shifter, and his just too cool with his black rock star hair, emerald green eyes, black-tipped nails, guyliner, and enough powerful magic to light up West Coast. I'd spend the day with him, making him demonstrate his magic… in more ways than one!!
Of course we are very excited to chat with the boys as well.  And Hammer, because you are one of my favorites, I brought you a little present *hands over a quilting patterns magazine to Hammer* What do you think? I hope that has some new designs for your quilting work. 🙂

Hammer: Aww, thanks so much! How'd you know I love to quilt? The guys give me a lot of crap about it, but quilting is a stress reliever for me.
Jax (snickering): Yeah, I can think of more enjoyable ways to relieve stress, buddy.
Hammer: Shut up, moron.
You guys not only have the ability to shift into wolves, but you also have unique abilities. If you could switch psychic abilities with any of the other members of the Alpha Pack, what would you like to have and why?
Ryon: I'd like to be a Firestarter/Telekinetic like Aric. That would be awesome to burn stuff instead of seeing dead people. (Makes a face)
Jax: Yeah, Ryon is a Channeler, which means he can communicate with the dead. They're always following him around, trying to talk to him.
Ryon: And it sucks! (He looks at Jax) What about you?
Jax: I don't know, I'm kind of cool with my own ability. I'm a RetroCog, and that means I can touch objects or people and catch glimpses of past events surrounding them. I'm also a Timebender, and that's exactly what it sounds like. I can bend time backwards, but only by a few minutes. I don't recommend jacking around with time, though, 'cause it can really mess up the future.
Zan: I'm a Healer, and though I'm always glad to help one of my injured bros, it takes a lot out of me. I'd like to be a Sorcerer/Necromancer like Kalen, command the elements to do magic and raise the dead.
Kalen: I'll bet you would. Too bad for you. (smirks)
Hammer: I'm a Tracer, and I can teleport from one location to another. It's handy in a fight, that's for sure. But I'd like to heal people, like Zan. That would be neat.
And who has the hardest ability to deal with?
The guys all look at each other, knowing that's a tough one to answer because along with the fun they sometimes have, each of them also has his own cross to bear.
Jax: That would be Nick, in my opinion. (Lots of nodding and murmurs of assent, though Nick Westfall, the Pack's commander, doesn't comment) Nick is a PreCog, which means he can sometimes see into the future. He doesn't believe in influencing a person's free will in order to change that future, so his gift can be a heartbreaking curse to live with. I don't think anyone here would want to switch gifts with him.
Sometimes it's the quiet ones you have to watch out for. What do you all think of your new Sorcerer/Necromancer recruit and how are you dealing with all the new additions to the team?
Ryon: Kalen is pretty cool, for a kid who looks like a cross between a Goth rock star and a gunslinger. (That earns the finger from the Sorcerer, and Ryon just laughs) He's really powerful and he'll only get more and more so the older and more experienced he gets. Kalen is a super asset to the team. Our other new man is A.J., and he was a security guard where Jax's mate Kira used to work. He's not ready to go out in the field yet, but it won't be long.
Zan: Maybe. A.J. has some heavy shit he's dealing with, I think.
Aric: Don't we all?  
It's game night at the Alpha Pack compound, what are three things that you can't do without?
Kalen: Definitely the Wii! We're really twelve years old at heart.
Aric (snorting): You can be twelve if you want. My vote is for girls—one for each arm. What? Well, she didn't say what KIND of games, did she?
Zan: And the booze! Don't forget that. (Zan and Aric bump knuckles)
Even though a lot of you got turned let's say against your will, what are the best parts of your new shifter life?
Jax: Being able to run as a pack, and hunt. Enjoying the freedom to just be wild and free for a short time. That's pretty cool. (The rest agree)
Guys, how do you handle Ms. Tyler's multiple personality disorder and the fact that you have to share her with some hot firefighters?
Aric: Human firefighters got nothin' on us. No disrespect, you understand, because they have a dangerous job, too. But…
Jax (shrugging): What can we say? We're selfish and we want all of her attention.
Ryon: Yeah, true that.
JD: Now, guys, there's plenty of me to go around! You know I'll make sure you all get your fair share of love.
The Pack moves in to give JD lots of hugs, and she basks in the attention.
Ms. Tyler, can you tell us what's coming next, both as J.D. Tyler and Jo Davis?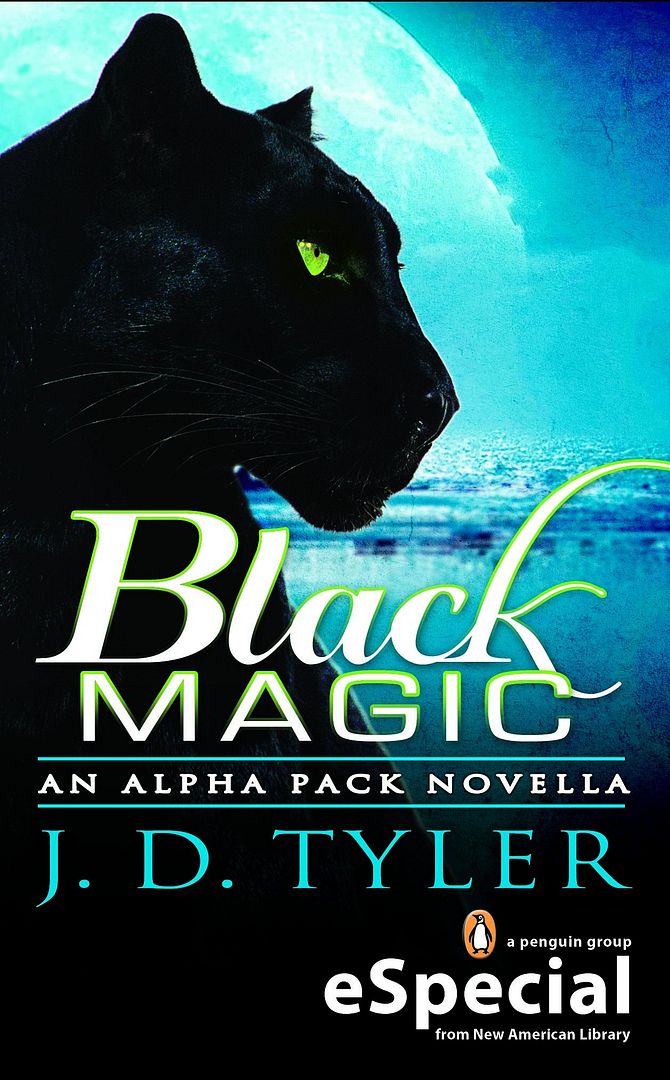 Next up is the Alpha Pack novella BLACK MAGIC, and it will be a stand-alone story involving Kalen Black, the Sorcerer/panther shifter/Necromancer who joined the team in PRIMAL LAW (Alpha Pack #1). As Ryon said, the Pack calls him a cross between a Goth rock star and a gunslinger. The novella will be released from Penguin eSpecials on March 6, 2012, and will lead into Kalen's full-length book, which will be BLACK MOON (Alpha Pack #3), coming out in December 2012. And I'll tell you right now, Kalen's full novel is going to be truly epic.
After Kalen's novella is SAVAGE AWAKENING (Alpha Pack #2), which is Aric Savage's story (blurb above) and will be released on April 3, 2012! Aric has been the most fun hero I've ever written because he's such a snarky bastard. Of course, the prickly outside hides a heart as big as a continent. It will take a really special woman to make this sexy redhead accept his self-worth and be the hero everyone knows he is.
Last, for those of you who've read and enjoyed my Jo Davis books (Firefighters of Station Five), or even if you haven't yet, I've sold my spinoff of the Firefighters series to NAL! The new series, SUGARLAND BLUE, will be about the heroes behind the badge at the Sugarland PD, the dangers they face, and the women who love them. The series is tentatively set to launch in June 2013 with Detective Shane Ford's story, book title TBA. I can't wait to start writing! Ah, patience is a tough thing…
Wow we can't wait!  And of course we are drooling over that Savage Awakening cover!!!  We want to thank Ms. Tyler and of course the hot Alpha Pack shifters for stopping by UTC today and now another treat for you!

Ms. Tyler is giving away a SIGNED copy of Primal Law, the first book in the Alpha Pack series (and Jax's story).   You know you want to get your hands on this one!  This is open for US/Canada ONLY.
Founded by a team of former Navy SEALS, the Alpha Pack is a top-secret team of wolf shifters with Psy powers tasked with eliminating the most dangerous predators in the world. But the gift of their abilities comes at a price…

After a massacre decimates half his team and leaves him crippled, Jaxon Law must relearn how to fight—and must defeat the anger and guilt threatening to overwhelm him. But when he rescues a beautiful woman who reawakens his primal instincts, Jax is unprepared for the dangers that lie ahead.

On the run from her employer, brilliant lab assistant Kira Locke escapes with disturbing evidence that leads the Alpha Pack team on a hunt for someone targeting human civilians with Psy abilities. And as Jax and Kira circle both the killer and each other, Jax will have to decide if the deep connection he feels with Kira is worth breaking the ultimate shifter rule—because bonding with Kira means putting his abilities at risk, and they might be the only tool he has to keep his mate alive…
To enter you have to:
1. Be a follower of this blog
2. Answer Ms. Tyler's question below in the comments
"If you could have any psychic ability, what would you like to have?"
Latest posts by Under the Covers Book Blog
(see all)