Interview and Giveaway with Gena Showalter

You might've figured this out, but we are HUGE Gena Showalter fans!  And everytime she has a new release out we get giddy with excitement and just jump up and down.  This time she's taking on the theme of Alice in Wonderland and throwing in some zombies for good measure.   She delivers a story that is true Gena Showalter full of action and lots of fun.  Now lets welcome Gena back to UTC for a little pre-release celebration.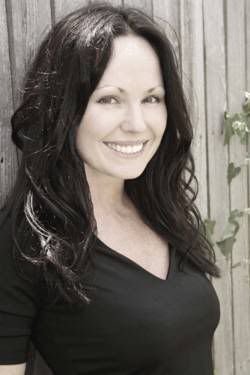 Hi Gena and welcome back to Under the Covers. As you know you are one of our all time favorite authors and we love having you here!
Thank you so much for having me!
We are extremely excited about the release of ALICE IN ZOMBIELAND, the first in the White Rabbit Chronicles series. Tell us a bit about the White Rabbit Chronicles.
The White Rabbit Chronicles features a sixteen-year-old girl who loses her entire family in a car crash, only to discover her father was right. Monsters stalk the night. She has to learn to navigate this dark, new world—and with the help of bad boy Cole Holland, she just might survive. Or not. ßI just had to throw that in.
How did you include the elements of Alice in Wonderland in your zombie remake of the fairytale?
I tried to use shades of Lewis Carroll's beloved characters and give them a twist, patterning a certain girl off the Mad Hatter and a certain boy after the Cheshire Cat. I then tried to pull from the essence of his scenes. While his Alice falls down a rabbit hole, my Alice falls down a pit of despair when she loses her family in the crash. Just things like that.
Is there something you have to have when writing YA or adult to get you in the right mood for each style of writing?
I try to remain aware of my audience. And it's actually easier to do than I thought it would be, because my teen characters aren't ready to experience the things my adult characters experience. As long as I stay true to the characters, their pasts, their mindsets, their hopes and dreams, I don't think it will ever be a problem.
Demons and aliens and zombies, oh my! You've written about just about anything paranormal, even a paranormal dating guide. What's your favorite creature to write about?
I very much enjoy writing about my Sent Ones (the Angels of the Dark), and the redemption of a tortured soul.
Speaking of the paranormal dating guide…. Will you publish another issue of Dating the Undead? It was so much fun! 
I wish! We had an absolute blast with it, but that baby was actually very expensive to make (because of all those photos) and quite labor intensive. There just isn't time in the schedule.
Impatient minds want to know… Do you have any idea when you will take Dallas off the back burner and write his story?
He shows up in Last Kiss Goodnight (briefly), and will have a bigger part in the next Otherworld Assassins novel (I think), but his book isn't actually under contract so it's difficult to say.
Who is the heroine you most identify with?
Probably Alice. No matter how many times she's kicked down, she gets back up to continue the fight for those she loves. I adore that about her, and hope to always do the same.
I'm not sure how you managed this, but I'm crushing on a YA hero. What are your favorite things about Cole Holland?
Cole is big and bad and dangerous, but he's also amazingly loyal to those he loves. He will die for his friends. He will protect those weaker than himself with every ounce of his strength. And, okay, he's sexy.
I know this is early, but thinking about zombies makes me think about Halloween. Do you have a Halloween tradition?
I don't. Well, other than staying in, wearing fuzzy pj's, and relaxing. Three of my favorite things!

She won't rest until she's sent every walking corpse back to its grave. Forever.

Had anyone told Alice Bell that her entire life would change course between one heartbeat and the next, she would have laughed. From blissful to tragic, innocent to ruined? Please. But that's all it took. One heartbeat. A blink, a breath, a second, and everything she knew and loved was gone.

Her father was right. The monsters are real….

To avenge her family, Ali must learn to fight the undead. To survive, she must learn to trust the baddest of the bad boys, Cole Holland. But Cole has secrets of his own, and if Ali isn't careful, those secrets might just prove to be more dangerous than the zombies….

I wish I could go back and do a thousand things differently.
I'd tell my sister no.
I'd never beg my mother to talk to my dad.
I'd zip my lips and swallow those hateful words.
Or, barring all of that, I'd hug my sister, my mom and my dad one last time.
I'd tell them I love them.
I wish… Yeah, I wish.
ARC copy of ALICE IN ZOMBIELAND + SWAG US only.
a Rafflecopter giveaway
Latest posts by Under the Covers Book Blog
(see all)