Interview and Giveaway with Gena Showalter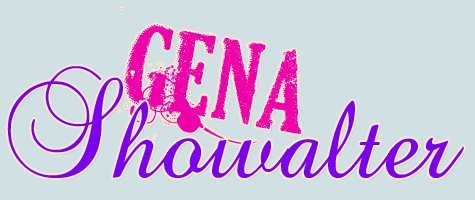 Hi Gena and welcome to Under the Covers.  As you know, we love having you here.  As fans of, well, all your series, we are very excited about the release of BURNING DAWN.  Happy Release Day!!!
Thank you so much!  And I'm very happy to be here.
Elin Vale is such a unique name! Where did you get the inspiration for it?
I collect names.  I had heard Elin a few years ago, and added it to my list of "to be used at some point."  After I'd written the first chunk of Burning Dawn, my spunky heroine was all, "Dude, check it.  The name's Elin.  Deal."
I dealt.
Elin wasn't actually the original name I used.  Milla was.  (Not Jamilla, hence part of the problem LOL)  But Milla never really gelled.  So I asked my editor—What do you think of Elin?  She absolutely adored.  Elin happened to be one of her favorite names, too.
What's your favorite thing about her?
Honestly?  Everything.  And that's not any kind of self-promotion talking.  I fell hard for this girl.  She delights me.  Her indomitable spirit.  Her warped wit.  Her sass.  Her journey from timid mouse to fierce warrior.  Her smart mouth.  Her dodge-boulder skills.  Yes.  Dodge-boulder.  Her capacity to love and forgive.  Her desire for acceptance.  Her passion for Thane.  Her loyalty.  I wouldn't change a thing about her.
Thane is a dangerous assassin of the skies and has a tortured past. What is it about Thane that you hope readers will love most about his character?
His protectiveness and possessiveness of Elin.  She is a prize, and he knows it.  His tender feelings for her shock him, but for her, he, too, is willing to deal.
Your heroes are always to die for.  What do you think is one essential thing a hero has to have to be book boyfriend material?
I think it all boils down to the hero's protectiveness over the heroine.  He can be merciless with everyone else, but with her, he has to melt.  Maybe because, in our hearts, we are her.
Do you currently have a book boyfriend?  Doesn't have to be of your own heroes if you don't want to pick a favorite.
I have many book boyfriends!  Thane, for sure.  Lothaire from Kresley Cole's Immortals After Dark series (any of her heroes, actually).  Bones from the Night Huntress series by Jeaniene Frost.  Ryodan from Karen Marie Moning's Fever series.  Raphael from Nalini Singh's Guild Hunter series.  I could seriously go on and on!
When you're not busy writing your own books, what books do you like to read? 
Besides the ladies mentioned in my book boyfriend answer, I read Roxanne St. Claire, Kristen Painter, Lily Everett, Susan Elizabeth Phillips, Linda Howard, Katie McGarry, Jennifer Cruise, Francine Rivers, Samantha Young, Jennifer Armentrout, and many others.  There are so many talented authors out there!
What's your favorite way of pampering yourself after you send your final edits in?
Nesting.  I'll stay in bed, pillows and books around me.  I'll read, watch TV, nap.  Family members bring me food.  A taste of heaven!
Any special release day rituals?
I'm usually working on another book LOL
What can we look forward to next from you?
Lots of releases coming your way!
On April 29th is one of my personal faves, BURNING DAWN.
A tormented past has left Thane with an insatiable need for violence, making him the most dangerous assassin in the skies. He lives by a single code: no mercy. And as he unleashes his fury on his most recent captor, he learns no battle could have prepared him for the slave he rescues from his enemy's clutches–a beauty who stokes the fires of his darkest desires. Elin Vale has her own deep-rooted scars, and her attraction to the exquisite warrior who freed her challenges her every boundary. But Thane's unwavering determination to protect her means she must have her greatest fears–and enter a world in which passion is power, and victory means breathtaking surrender.
Then, June 2nd will mark the e-book reissue of my Alien Huntress novella, TEMPT ME ETERNALLY.
Tempt Me Eternally first appeared in Deep Kiss of Winter, a book she released with the amazing Kresley Cole. Now, her story is available as its own e-book download! A daring spin on a tale of huntress and hunted…and concocts a sensual chemistry that is positively explosive. Aleaha Love can be anyone — literally. With only skin-to-skin contact, she can change her appearance, assume any identity. Her newest identity switch has made her an AIR (alien investigation and removal) agent and sends her on a mission to capture a group of otherworldly warriors. Only she becomes the captured. Breean, a golden-skinned commander known for his iron will who is at once dangerous and soul-shatteringly seductive, threatens her new life. Because for the first time, Aleaha only wants to be herself….
On September 30th, THE QUEEN OF ZOMBIE HEARTS will hit bookstores everywhere.
In the stunning conclusion to the wildly popular White Rabbit Chronicles, Alice 'Ali' Bell thinks the worst is behind her. She's ready to take the next step with boyfriend Cole Holland, the leader of the zombie slayers… until Anima Industries, the agency controlling the zombies, launches a sneak attack, killing four of her friends. It's then she realizes that humans can be more dangerous than monsters; and the worst has only begun. As the surviving slayers prepare for war, Ali discovers she, too, can control the zombies and she isn't the girl she thought she was. She's connected to the woman responsible for killing–and turning–Cole's mother. How can their relationship endure? As secrets come to light, and more slayers are taken or killed, Ali will fight harder than ever to bring down Anima…even sacrificing her own life for those she loves.
Then, on November 25th, THE DARKEST TOUCH (a Lords of the Underworld novel) will arrive.
 *DYING FOR COVER!*
Fierce immortal warrior. Host to the demon of Disease. Torin's every touch causes sickness and death—and a worldwide plague. Carnal pleasure is utterly forbidden, and though he has always overcome temptation with an iron will, his control is about to shatter. She is Keeleycael. The Red Queen. When the powerful beauty with shocking vulnerabilities escapes from a centuries-long imprisonment, the desire that simmers between her and Torin is scorching. His touch could mean the end for her, but resisting her is the hardest battle he's ever fought—and the only battle he fears he can't win.
2015 will mark the start of my new contemporary series, The Original Heartbreakers, as well as a new young adult series.
Excerpt from BURNING DAWN
Taken from Chapter One:
He lived sex. Breathed sex. Ate sex.
He was sex.
Maybe that was his name.
No. That wasn't what she called him. She—his heart.  His reason for being. She would straddle his waist, feed his aching length into her hungry body, and say, "My slave needs me more than air to breathe, doesn't he?" My Slave. Yes. That was his name. My Slave wanted his woman. Craved her like water to drink. Must have her. Only she would do. He couldn't live without her smoke-and-dreams scent…mmm, or her too-close-to- the-sun heat…or her fiery claws. How deeply those lit- tle daggers cut into his bare chest. And her peekaboo fangs…how deliciously they nipped at the vein in his neck. She was perfect, and only when she was with him, her strong body taking and receiving pleasure, was the gnawing hunger within him finally satisfied. Must. Have. Her. NOW. But…he looked around. She wasn't with him. He tried to rise from the bed. Something bound his wrists and ankles again. Not rope. Not this time. Too cold, too hard. Steel? He didn't care enough to look. Problem. Solution. My Slave gritted his teeth and jerked with all his considerable might. Skin tore, muscle ripped, and bone snapped. Pain. Freedom. He grinned. His woman was out there. Soon he would find her. He would thrust inside her and slake his need for her. Again and again and again… Nothing and no one would stop him.
Gena is giving away a signed copy of Burning Dawn.
Latest posts by Under the Covers Book Blog
(see all)