Interview and Giveaway with Desiree Holt

DESIREE HOLT
We are over halfway through our Burning Up July event and we are not stopping.  We are very excited to bring you another great erotic romance author today.  The talented Desiree Holt.  First we would like to thank Desiree for stopping by!  We had a chance to ask her some questions and here's what she had to say…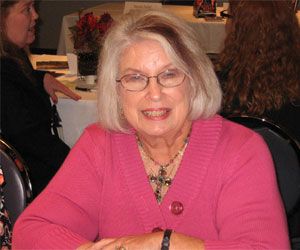 You have a brand new series in the works, THE NIGHT SEEKERS! What is this series about and can you give us something juicy to bring back to our readers?
Night Seekers is built around the paranormal legend of the Chupacabra, a creature of unknown origin that kills its prey in a distinctive manner. The legend began in South America, worked its way up through Mexico and now has spread throughout the United States and Canada A billionaire whose wife and child fell victim to the beast has put together a specialized team of people selected from all areas of law enforcement. Six of the eight are shifters. But they all have one ting n common-they each lost a loved one to the beast. Each member of the team has his or her own story and finds his or her mate, sometimes with a human, sometimes with another sifter.
ON THE PROWL is book two in the Cat's Eyes series. What are you most excited about with this book?
The response I've gotten. I started it almost as a lark. I have three cats and my smallest one, Bast, is all black and looks like a miniature panther. She sits on my desk and "helps" me write, and actually inspired the series, built around the very, very, very sexy Rogan brothers. I et to do she rings with my cats that  couldn't do with my wolves and I'm ovine every minute of it. Just finished plotting the next one.
From your own books, which book do you feel is the sexiest book and can we get a teaser excerpt from it?
Oh, lordy! It's really a tossup because I have so many favorites. But I'm really in love with the opening scene of Jungle Inferno, Book One: The Phoenix Agency: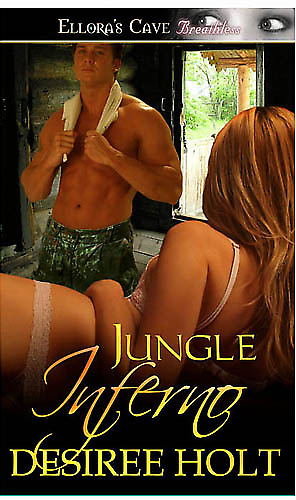 The sun was a globe of fire creeping up in the sky, turning everything below it into an oven. It was barely nine o'clock in the morning yet Mark Halloran was sure the temperature was already close to triple digits. The humidity was as thick as a rainfall.The roar and grunt of the howler monkeys was already splitting the air as they leaped from tree to tree feasting on the canopy leaves.
How the hell did people live in places like this?
Or work in them.
And this appeared to be a permanent camp, with tents, lean-tos and crude buildings. It also boasted a campfire pit and other amenities they wouldn't have taken the time for in a transitory situation, unlike the temporary setup where the meeting had taken place. Where they'd been told the Wolf was going to meet with Escobedo's group.A friend of a former Special Ops soldier Rick Latrobe's, deep undercover with Escobedo's group, had risked his life to get the message out that the Wolf was going to make a personal appearance. Unusual for him but this shipment was so large and involved so much money, Escobedo insisted.
Not at his camp, however.Not even the Wolf would be privy to its location. A meeting place not far away was set up. For the Wolf it would be in and out. Just like that. He would arrive with the shipment, Escobedo would bring the money. As soon as both parties were satisfied with the goods, the transaction would take place and that would be that.
Mark had gone to his commanding office, Major John Gregorio, with the information. The major had passed it up the chain and the word had come down to act. The United States government had waited a very long time for a chance at the Wolf. To make it a two-fer upped the ante.
A simple mission. Get in.Take out the bad guys. Get out. One less group of Al Qaeda plotters to worry about. And the arms dealer meeting with them. That was the key. That's what he and his men had been told. It was a chance to clean out a viper's nest and takeout a key arms player at the same time.
With the weakening of the Tupac Amaru terrorist group and the decline of Shining Path, Al Qaeda had been recruiting heavily and spending big money to rebuild Peru's terrorist structure. Another foothold in South America for the promised Islamic world.
But someone had leaked the mission, Escobedo's group was waiting for them and now most of his men were dead. After burning the bodies of Mark's men they'd cleaned up every trace of what had taken place and moved, all of them including the Wolf, what Mark reckoned was about ten miles away.
He grunted, trying to shift to a more comfortable position. The tent gave him little protection him from the ruthless sun and having his ankle chained to a stake barely two feet away severely restricted his movements. For maybe the thousandth time he wondered what had gone wrong and landed him in this abominable mess.
God, what a mess it had been. One minute they were finding their positions to take their shots,carefully hidden, the target painted. The next they were the targets instead.The noise of the AK47s still echoed in his ears, along with the stench of the blood of his dying men. They'd even gotten the comm guy they'd left at the insertion and extraction point with their gear.
He'd forced himself to look when they dragged the bodies into the center of the camp, piled them together and set them on fire. They stood watching with arrogant, evil grins on their faces, then opened bottles of whiskey to celebrate. Mark was sure it was a sight he'd never forget.
He knew what they wanted—the name of the man who had betrayed them. They could kill him and very well might but the source had to be protected at all costs.
Yet as much as they tortured him, for sport and pleasure as well as information, there were things he hung onto that kept his sanity intact. For one thing, despite his wounds he kept himself alert and counted the bodies. One was missing, Joey Latrobe. The kid. The sniper. Rick's brother, who'd brought them the information. Mark was convinced he wasn't dead or they'd have found him. No, badly wounded or not, he'd found a way to hide from them. Now if Mark could only be sure he got away.
Of course he had no idea what shape Joey was in, or even if he could give his rescuers, if there were any, information about the camp.
But what gave him real strength was his connection to Faith. God. Beautiful Faith. The woman of his dreams. How stupid was he to walk away from what they could have to play soldier? No, not that. To defend his country. His sense of honor and patriotism was stronger than almost anything. But now, if he died here in this godforsaken hellhole, the only memory he'd have would be that long weekend they'd shared before he was deployed the first time.
And the erotic dreams that came to wipe away the pain.
When he closed his eyes she was in his arms again, her lush body naked against his, her breasts pressing against his chest. His hands coasted over her satiny skin, fingertips exploring every dip and hollow.
"It's a good thing you aren't around when I'm planning a mission," he murmured, his lips against her throat. "I just look at you and my cock gets so big I'm afraid my pants won't contain it."
Her laugh was throaty and musical, and her fingers drifted down to close around his thick erection."Good. That's the way I like it."
She moved her hand in as low pumping motion and he groaned at the heat that rushed through him.Lowering his head he closed his lips over one taut nipple, pulling it into his mouth. It hardened even more at his touch and when he dragged his teeth over it lightly her grip on his cock tightened.
"Easy." He released the nipple and lapped around the edge of it. "We don't want the dance to end when the music has just begun."
"Ah, but we can always dance again," she reminded him.
He tasted the skin in the valley between her breasts, doing his best to take control of the situation even as her fingers continued to stroke the hard, thick length of his cock.Light movements that teased him and heated his blood.
But then just being near her did that.
What's the best thing about being an erotica writer?
There are no boundaries in developing the relationship between characters. I don't have to close the bedroom door, so to speak, and I'm glad because to me that's where the soul of a relationship is created. I love being able to express the depth of a relationship through the sexual activity. h, and the wicked emails I get aren't bad, either!
Is there an author whose work has influenced you?
Joe Hill, hands down. In 2005 I read The Ice Queen and Mirror of My Soul and I've been striving for her level of writing ever since. She truly brings out the essence of each of her characters and shows how their sexual desires define them. Her books touch my heart.
What's the biggest misconception about being an erotica author?
That people think I write porn. Even soft porn. Or, as they say since the Fifty Shades trilogy, mommy porn. I write detailed scenes of sexual activity and I hep is in a sensitive manner so my readers no that while the sex is essential to the relationship it's not jet about the sex. It's about ways that people express how they feel about each other. My stories are all character-driven and they all have, if not a HEA at least a HFN. Porn has no such plot. Maybe not even any plot.
We're asking participating erotica authors to share their favorite cocktail drink recipe with readers! Do you have a favorite you'd like to share?
It's not exactly a recipe but I am totally ing up on whipped cream vodka We were drinking it at one of our Sassy Seven Authors weekend et togethers ad I had just a touch too much and told everyone I was drinking shipping cream vodka. It's become an ongoing je. The the vodka is to die for.
Quick fire questions!
plotter or panster? panther but with a few crib notes!
sunrise or sunset? sunrise, always the dawn of a new day
mountain or beach? mountain; love the scent of the trees and the feeing of the mountain winds
ebook or print? ebook. I have three ereaders and I also read n my phone I can carry two thousand books around with me in my purse.
boxers of briefs!    boxers, for sure. much sexier.

You have the opportunity to choose an ebook from Desiree Holt's backlist!
a Rafflecopter giveaway
Latest posts by Under the Covers Book Blog
(see all)