Interview and Giveaway with Dee J. Adams

~ DEE J ADAMS ~
Hello and welcome back to Under the Covers. Thanks for stopping by today and celebrating with us a bit the release of your latest book, LIVING DANGEROUSLY.
Thank you for having me! I love your blog!
For those new to your books, can you please introduce yourself? Tell us a few interesting things that readers wouldn't know about you…
I was an actor for many years before I started writing and I also worked – and occasionally still do – behind the scenes as an acting coach in television. I'm lucky enough to be able to narrate my books for Audible and I love bringing them to life the way I want people to hear them.
Do you mind telling us about your latest release, LIVING DANGEROUSLY? What is it about and how did the story come to be?
Living Dangerously came about because Julie and Troy were both lonely people in previous books and they kind of called out to me that they needed some love. They are so different, but both harbor such a need to be themselves along with finding that someone special, that I felt compelled to write their book.
Julie Fraser was a secondary character in Danger Zone and I had a reader comment on how she couldn't wait to read her story. I hadn't even thought about giving Julie a story until that point. I figured if a secondary character who only appeared in two scenes made someone interested enough to inquire about her story, maybe I should write it. Troy Mills has been in most of my books (even the ones that have yet to be published!), so I thought I owed him his own story. (He did too. He was tired of watching all of his clients hook up and be happy. )
What would you say drew Troy 's character to Julie apart from her Hollywood status?
Julie is one hundred percent normal in a very abnormal industry. Her Hollywood status was actually on the "con" list for Troy. He's not a fan of Hollywood or the people who work in entertainment only because he's never run across any genuine people who have their priorities straight. Julie is all about family and relationships and since Troy didn't have that, it drew him like a magnet.
If you were a P.I. working undercover and was free to do anything, what sneaky thing would you do first?
Oh man… I'm going to get in trouble with this one!! I would definitely look up dirt on the people who make me mad and I'd save it as ammunition for an "as needed" basis. LOL.
What scene for you was the hardest to write and how did you overcome that obstacle?
The toughest scene was at the end. I had a hard time writing the climax of the book. I struggled with who was going to save whom. I'm big on my characters saving themselves, but sometimes it gets more involved. I want to make it exciting so it's not like I can have the good guys win without a struggle. The questions become, who does what, when do they do it and who do they do it to? Figuring that out is never easy.
We love all your covers! Which one has been your favorite so far?
Oh, yay! I love my covers too! Aren't they gorgeous?! Hm… my favorite…that is SO hard…like asking which child is my favorite, you know… I'd have to say as far as nailing my characters and getting them exactly right, Living Dangerously is my favorite, but as far as colors and tone, it's a tie between Dangerous Race, Danger Zone and Dangerously Close. Haha! How's that for dodging the question!? I just love all those cool blues, greens and teals. My absolute favorite colors!
What's the best way to get over writer's block?
Go back to your character's motivations. What do they want and how do they go about getting it? It gets me through every single time! The characters wants/needs have to drive a story. They have to keep the story moving. When all else fails… blow something up.
You are being sent off into space in a mission alone and can bring only three books with you, which books would you choose and why?
Perfect by Judith McNaught. Over the Edge by Suzanne Brockmann and A Rose in Winter by Kathleen Woodiwiss. (Not necessarily in that order.) I've read those books so many times, but they still keep me smiling. The mark of a great book is the ability to keep you reading over and over again even when you know what's going to happen next. It doesn't get any better than that. I will be re-reading them until the day I die. The best books have a combination of humor, emotion, action and love.
What other projects are you currently working on?
Right now, I'm working on Adrenaline Highs number five and book number two in my High Stakes series.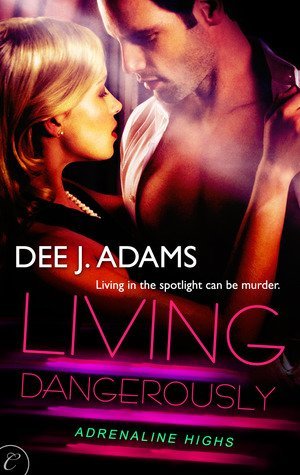 LIVING DANGEROUSLY
Adrenaline Highs # 4
Julie Fraser, Hollywood's newest "it" girl, arrives on the red carpet to more than just the flashes of the paparazzi's cameras. A sniper's shots leave her bleeding and in the line of fire. Her life would be over if it weren't for the bodyguard who comes to the rescue—taking a bullet in the process.

Troy Mills, a P.I. working undercover, couldn't stand by and watch an innocent woman die, but now he's torn. How can he tell her that he's not a bodyguard, but a P.I.? A P.I. hired to prove that Julie is sleeping with the movie producer he's pretending to protect.

When a second attempt is made on Julie's life, Troy realizes that keeping her safe is more important than any supposed affair. And in order to keep her safe, he'll have to keep her close. But desire and danger are hot on Julie's heels. Who could have guessed that protecting an A-list actress would not only put Troy's life in jeopardy, but his heart as well?
About the Author
Adams is published by Carina Press, and you can find all the books in her Adrenaline Highs series: Dangerous Race, Danger Zone, Dangerously Close, and Living Dangerously at CarinaPress.com, Amazon, Barnes and Noble, Audible and many other online booksellers.
Website:
FaceBook:
http://www.facebook.com/DeeJAdamsAuthor
Twitter:
Carina Press:
Amazon:
Barnes & Noble:
Goodreads:
http://www.goodreads.com/author/show/5107047.Dee_J_Adams

Ms. Adams is graciously giving away a copy of DANGER ZONE (where Julie is first introduced) to a lucky maiden!
Latest posts by Under the Covers Book Blog
(see all)