Interview and Giveaway with Deborah Cooke!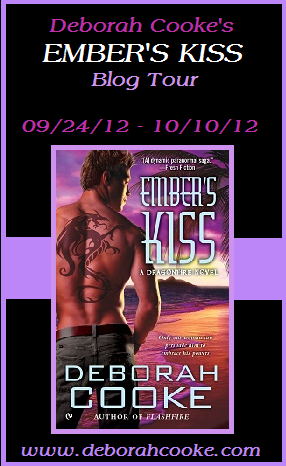 Thanks for stopping by UTC today! Who is Deborah Cooke? Tell us five things about yourself that would surprise your readers!
 Thanks for inviting me! One thing that many readers don't know is that I write under other names and in other sub-genres. I write medieval romance as Claire Delacroix (http://www.delacroix.net) and I have written time travel romances and contemporary romances as Claire Cross. Recently, I republished the Claire Cross books – the time travel romances I republished as Claire Delacroix titles (http://www.delacroix.net/ttravels.html), and the contemporary romances I republished as Deborah Cooke books (http://www.deborahcooke.com/coxwells.html). A lot of people also don't know that I've written future set paranormal romances – my Prometheus Project trilogy is set in a dystopian future with fallen angel heroes. (http://www.delacroix.net/angels.html) I've also written paranormal YA as Deborah Cooke – my Dragon Diaries trilogy is a spin-off from Dragonfire and features the coming-of-age of Zoë, the only female dragon shifter who must be the new Wyvern, if she can figure out how to do it. (http://www.deborahcooke.com/dragondiaries.html)
A second thing readers don't always know is that I listen to Queen's music, very loud, when I'm writing. It's always me and Freddie Mercury, fighting dragons, storming fortresses and seducing hot heroes.
Mmm. A third thing? I knit. A lot. You can find me on Ravelry as DCDKnits and see my free knitting patterns there, too. http://www.ravelry.com/designers/deborah-cooke
Number four – my husband and I like to renovate old houses. It's a lot of work but fun, too, and very rewarding when everything comes together.
Number five – phew, I was running out! – I'm fascinated by medieval herbalism and try to grow as many of the herbs they used in my garden as possible. The varieties are often different because I live in Canada, but I find it fascinating to learn the lore of these "helpful plants."
 EMBER'S KISS is book 8 in your Dragonfire series! While writing this book, what was the single most difficult challenge to overcome?
 There were two challenges. The first was the increasing cast of characters, who needed to be managed.
First a bit of background. The Dragonfire series features my dragon shape shifter heroes, called the Pyr, and over the entire series, there is a battle between the Pyr (the good dragon shifters) and the Slayers, who are the evil dragon shifters. Each book features one of the Pyr as he meets his destined mate – once in each lifetime, a Pyr will meet the human woman who can bear his child. He knows who she is because they both experience a firestorm. Sparks literally fly between them until their match is consummated – and their child is conceived first time, every time. In addition to explaining what's going on to the woman in question and seduce her, the dragon shifter also has to defend her against Slayers – the firestorm can be felt by all dragon shifters in this world, so it draws them like moths to the flame. In Dragonfire, we have an established cast of characters, many of whom have cameos in the ongoing series, as well as a bunch of babies and kids as the series goes on. As you might imagine since they are dragon shifters, they are pretty forthright and active characters, always ready to leap in to help a fellow Pyr (plus they tend to think they know best.) It's a challenge to persuade them to let the Pyr in question work out his own solution.
 Secondly, with an ongoing series, there's always the challenge of making each book distinctive and different. I've had Pyr heroes who wanted just a fling – to make more dragons and move on – and I've had ones who wanted a long term commitment. I've had heroines with both perspectives, too – even though every book ends with an HEA. This year, I wanted to mix it up so my two Dragonfire heroes were outsiders and reluctant dragon shifters. (The other Pyr have been totally into the dragon thing.) Lorenzo in FLASHFIRE (published in January) knew all about being Pyr but hated it. He had a plan to eliminate that side of his nature with an ancient spell – fortunately for the Pyr and for us, he had his firestorm with Cassie at a key moment, and she changed his mind about the future.
 Then there's Brandon…
 Can you please tell us a little bit about EMBER'S KISS? What can eager readers expect from this book?
 Brandon is another reluctant dragon shifter. He knows he inherited his ability to become a dragon from his father, but he hates his father. His parents got divorced when he was a kid and he's convinced that it was his dad's fault, because he thinks his dad is a jerk. As a result, he wants nothing in common with his dad, and he wants no part of his dragon nature. He ignores it. He manages to do that pretty well until he is targeted by the evil Slayer Chen (who thinks Brandon will be easy prey, because of his ignorance). Brandon is a surfer trying to go pro and is right on the cusp of his big chance when he has his firestorm. Liz is a scientist, apparently as different from Brandon as any woman can be, but she has a secret. She, too, has paranormal powers that she doesn't want to have – but Liz was fully trained in how her powers work before she turned her back on them. So, she's the perfect one to help Brandon evade Chen's clutches – never mind that they have awesome sex!
 Brandon Merrick is the sexy tattooed surfer. What would you say is Brandon's best quality and what is the one thing he needs to work on?
 Brandon's strengths and his weaknesses are two sides of the same coin. He's confident and direct, but that confidence makes him trust too easily. He's also very driven, which is why he's succeeding as a surfer, but that focus means that he can ignore things he shouldn't – like his dragon nature and how it works.
 Dragons seem to be becoming more and more popular in paranormal romance. Why do you think there is a sudden interest in this paranormal creature and why did you decide write about dragons?
Maybe it's because of Dragonfire! LOL! I'm kidding but not really. This series was very hard to place with a publisher initially because editors were convinced there was no market for dragon shifter romances. Evidently there is one, as my series has many fans, and so maybe they've gotten past those reservations. I'm mystified that anyone could think that dragon shifters aren't sexy – I think they're awesome.
For readers new to your books, how would you describe your style of writing?
 Readers tell me that my writing is vivid, that they feel as if they are right in the moment. I hope that's true, because it's part of what I would like to achieve with my books. The whole point of fiction, IMO, is to take us away to another time and place so we can live an adventure.
 If you could collaborate with another author on a different project, who would you like to work with and why?
 It's interesting that you would ask this, because it's something I've been thinking about recently. I've never collaborated with another author before, but I think it would be a really interesting and instructive process. I'd like to write with someone who wrote in a different genre, but whose work I admire greatly. Maybe a fantasy hybrid with Neil Gaiman, or a mystery hybrid with Donna Leon.
 That said, I do have a plan for historical Dragonfire novels, which will be "collaborations" between Claire Delacroix and Deborah Cooke. I think that will be fun.
 In order to write super fast and super awesome, what items would you need to get a book finished?
Well, I do write pretty quickly. To do that, I need my trusty laptop, my pot of tea, my mess of research materials spread all around, my stereo blasting, and a knitting project for thinking. I have a nice rhythm each day that helps me to focus and get work on the page. I'm not sure it would be possible to write faster – I try to do it all the time, as I have so many ideas – but when I push to a higher word count for the day, it's either on the wrong track and has to be chucked out, or I'm so exhausted by it that I write nothing the next day and everything averages out as if I'd just stuck to my routine. I have way too many ideas and not enough time, so I keep trying to push the limits on this. Thus far, I haven't nudged my 3000 words a day consistently further, though.
 What was the last book you read and enjoyed?
 I recently read Donna Leon's SUFFER THE LITTLE CHILDREN. This series is set in modern Venice and are mysteries. I like to read in different genres than romance because I can forget to look at the structure of the book and just lose myself in the story. Her books are very atmospheric – I've loved visiting Venice so reading a book in this series is like a little vacation there.
 What's next for Deborah Cooke? What are you currently working on?
 I'm currently working on two Claire Delacroix projects. The first is a novella linked to my Prometheus Project trilogy, which finally gives Tupperman his HEA. Poor guy. He's been waiting a while. (http://www.delacroix.net/nohaloX.html) I'm also writing the next medieval in my True Love Brides series, THE HIGHLANDER'S CURSE, which is a paranormal romance set in medieval Scotland and is Annelise's story. (http://www.delacroix.net/truelove.html) AND I'm writing some more Dragonfire. We're going to start 2013 with a trio of novellas, all paranormal romances, which will follow the adventures of Drake and the Dragon's Tooth Warriors. They have the darkfire crystal and it's causing some troubles for them. There will be more about that on my blog November 1 – here's the permalink although it won't go live until that day: http://www.delacroix.net/wordpress/?p=4306
Thanks for stopping by!
Release Date:

 

October 2, 2012
Only one woman can persuade him to embrace his powers.
Brandon Merrick is determined to banish his shifter nature forever. The charismatic tattooed surfer is on the cusp of the ultimate challenge – to prove himself on the whitecaps of Hawaii and secure his future as a pro surfer. But his dragon isn't prepared to be tamed so easily…
One look at marine biologist Liz Barrett ignites the spark of the firestorm: Liz is his destined mate and his chance for happiness. While Brandon sees their first night together as just the beginning, his dragon seizes the upper hand. Awakening in the company of a raging dragon challenges Liz's ability to believe her own eyes. Can Brandon accept his inner beast in time to make it work with Liz?
Neither one realizes that Brandon is caught in an ancient Slayer's scheme to enslave him. When the deadly plot ignites, the very island will be at risk…and Brandon and his mate could be the ultimate sacrifice.
Buy it now!
About the Author
Deborah Cooke has always been fascinated with dragons, although she has never understood why they have to be the bad guys. She has an honours degree in history, with a focus on medieval studies. She is an avid reader of medieval vernacular literature, fairy tales and fantasy novels, and has written over forty romance novels and novellas. She has also been published under the names Claire Cross and Claire Delacroix.
Deborah makes her home in Canada with her husband. When she isn't writing, she can be found knitting, sewing or hunting for vintage patterns.
Connect with Deborah:
Deborah's Blog / Deborah's Listserve / Deborah's Facebook Page / Deborah's Amazon Page
Deborah's Smashwords Page / Claire Delacroix website
Please check out the other dates for Deborah's blog tour!
Deborah Cooke's Blog Tour for Ember's Kiss Tour runs from September 24 – October 10
9/24 – RCJReZine Blog – http://rcjrezineblog.blogspot.com/
9/25 – Vampires, Werewolves & Fairies Oh My – http://vampireswerewolvesfairiesohmy.blogspot.com/
9/26 – Books-n-Kisses – http://www.books-n-kisses.com/
 The Reading Café – – http://thereadingcafe.com/
9/27 – All The Fun Starts After Dark – http://allthefunstartsafterdark.blogspot.com/
9/28 – Riverina Romantics – http://riverinaromantics.blogspot.com/
9/29 – Reading Between The Wines – http://readingbetweenthewinesbookclub.blogspot.com/
9/30 – Book Lovin' Mamas – http://booklovinmamas.blogspot.com/
10/1 – My Keeper Shelf – http://mykeepershelf.blogspot.com/
10/2 – United By Books (Interview) – http://unitedbybooks.blogspot.com/
10/3 – Under The Covers (Interview) – http://underthecoversbookblog.blogspot.com
10/4 – Book Monster / Literal Addiction – Book Monster – http://bookmonsterreviews.blogspot.com/
Literal Addiction – http://www.literaladdiction.com/
10/5 – The Book Nympho – http://thebooknympho.blogspot.com/
10/6 – Book Reader Addicts – http://bookreaderaddictsgiveaways.blogspot.com/
10/7 – Cocktails & Books – http://www.cocktailsandbooks.com/
10/8 – Paranormal Haven – – http://www.paranormalhaven.com/
10/9 – Grave Tells – http://gravetells.com/
10/10 – I Smell Sheep – http://www.ismellsheep.com/

Deborah will be giving away a paperback of EMBER'S KISS for each blog stop – US and Canada winners only. 
GRAND PRIZE:
There is a Grand Prize drawing of an autographed set of the DRAGONFIRE series, (that's all 8 Dragonfire novels) over on Deborah's blog. To enter, click the link below: http://www.delacroix.net/wordpress/?p=4483
a Rafflecopter giveaway
Latest posts by Under the Covers Book Blog
(see all)