Interview and Giveaway with Cindy Gerard

Welcome to UTC! We are so happy to have you today! I fell in love with your BOI series but this time you've started a new spin-off based on that series. Care to tell us a bit about the One-Eyed Jacks and how the idea of this series came to you?
Hi and thanks so much for having me.  You can blame Mike 'Primetime'  Brown for the One-Eyed Jacks.  When Mike showed up in With No Remorse then again in Last Man Standing, I just knew he had to have his own book.  And I also knew that behind all that flash and swagger there had to be a story about who this guy REALLY was – as opposed to who he showed the world. Turns out I was right.
The One Eyed Jacks (a multi-branch military task force formed in 2002 and disbanded in 2005) got their nick name because of the uniqueness of their experimental unit, their tight camaraderie, their slightly reckless reputation, their favorite downtime/pastime of high stakes poker and because each of them made a pact to always carry a One Eyed Jack playing card (either a Jack of hearts or a Jack of spades) as their lucky charm and a sign of unity.
Today, only three men of the original detail are still alive – Mike Brown, Bobby Taggart, Jamie Cooper.  On their last mission in Afghanistan, all three were dealt a losing hand and now share one common bond:  The military that they proudly served had cut them loose eight years ago with a 'less than honorable' discharge when their team led a covert operation that went south and the powers that be laid the blame squarely on their shoulders.  To the dismay of the prosecutors of the Navy, Army, and Marines military tribunals, the most serious of charges could not be proven, which negated the possibility of court martial and prison but still ended in their separation from the service.
Now Brown, Taggart and Cooper lead separate lives in separate countries, have all dropped out of 'normal society' and not only live with the lie that led to their military separation but with the weight of the deaths of both their task force team members and several innocent civilians haunting them.
For these three men, life is now all about getting by, about forgetting the past, dealing with the anger and coping with the hand they've been dealt.  None of them intend to break the status quo – until a mysterious woman confronts and forces Brown to ask questions about what really happened in Afghanistan and how those events played into a current national security threat.  She dangles bait Brown can't resist – the means to clear his name, deliver justice and expose the master mind behind the death of his teammates and his own downfall.
KILLING TIME is the first book of the series. If you've read the last book of the BOI series, then you should already be familiar with the hero, Mike "Primetime" Brown. Ms. Gerard, can you tell us a bit about Mike?
On the surface Mike is charming, irreverent, and a consummate tease.  These are all staples in his bag of tricks that he uses to hid the shame he feels over the loss of his military career, the lost of his friends, and his inability to do a damn thing about it.  Some heroes are born though and like it or not, he can't hide from his destiny.  I loved creating Mike's character.  He's so broken and so determined not to let anyone know that.  And he just can't help but be a hero.
One thing I love about your writing and your Romantic Suspense series in particular is the fact that you seem to delve deep into the character's mind whenever you write. Can you tell us about your writing habits and how you are able to make readers feel as if they are amidst all the action?
I wish I had good writing habits. LOL.  The truth is, I procrastinate.  A lot.  I LIKE to think that all the pondering I do when I should be writing is part of the creative process and helps me develop my characters, so we'll just go with that :o).  Thanks for the compliment about making readers feel they are in the midst of the action.  I'm glad it's working out that way :o)  I merely try to be honest.  Not clutter up the action with a lot of unnecessary 'filler' and put myself into the scene and weigh what my reactions might be.  I'm no hero, like the guys and women I write about but I'd like to think I'd act according to a certain set of rules and moral code.
How much research went into writing KILLING TIME?
There is always a lot of research involved in any book I write.  I can't feel comfortable fleshing out my characters if I don't know who they are, where they've been and what's going to happen to them.  Plausibility is a huge issue for me when I'm reading so I attempt to make every story and every scene plausible.  Do I create 'fictional' situations?  Absolutely.  But I want those situations to be as accurate and feasible as possible.  So – LOTS of research, whether it be about weaponry, helicopters, troop placement in Afghanistan, local in Peru and in this book also survivalist compounds in Idaho.
I know some fans are a little sad to be leaving the BOI series, but there is a good amount of cameos in KILLING TIME. Joe Green and my personal favorite, Gabriel Jones (*tries to control squeals*) make an appearance. I know it's like asking a mother to pick her favorite child, but if you had to pick your favorite hero, who would it be and why?
You're right.  It's a tough one.  I'll always have a soft spot for Gabe but Johnny Reed, Luke Colter and Mike Browne have special places in my heart.  I love a funny hero and those guys just make me laugh.
What do you hope devoted readers will take away from this new series?
I hope they love it every bit as much if not more than The Body Guard and The Black Ops, Inc. series.  Where as the BG and BOI teams were heroes all around, these guys are more like the A-team of romance LOL.  They've had a less than stellar past – through no fault of their own – and have some huge grudges and some big anger to overcome to bring them back to who they were meant to be.
If given the chance to work with another author on a project, who would you pick and why?
Easy answer.  Glenna McReynolds aka Tara Janzen.   Glenna and I were fans of each other's work long before we became friends.  I LOVE her intellect, her creativity and her amazing voice.  We've often talked about doing a project together but we can never coordinate a time that works for both of us.  So we keep hoping …. Someday
What are you currently working on right now?
I'm really excited to tell you that my publisher has asked me to write a bonus One-Eyed Jacks novel that features Mike's little brother, Ty Brown.  Ty's story – THE WAY HOME – will be released just in time for Christmas 2013 and will initially come out in a specially priced hardcover edition.  I'm so excited about this book.  Wish I could tell you more but for now all I can say is that, wow, it's turning into a very special story.  When I finish THE WAY HOME, I'll start work on RUNNING BLIND  – Jamie Hondo Cooper's story –  then finish up the series with TAKING FIRE – Bobby BoomBoom Taggart's story.
Thanks so much for having me today.  Hugs, Cindy
One Eyed Jacks Series Blurbs & Links
Killing Time
(One Eyed Jacks #1)
Publisher:  Pocket Books
Publication date:  January 22, 2013
An exciting new series featuring Mike "Primetown" Brown, a character from her popular

"Black Ops, Inc." series.

For the seven years after Operation Slam Dunk went south, Mike Brown got drunk on each anniversary. The eighth year was no different–until he was drugged by a woman and woke up to her questions about what had happened eight years ago in Afghanistan. CIA attorney Eva Salinas has her own theory behind what happened to Mike's team–which included her husband–in Afghanistan eight years ago, and she's determined to prove foul play. Though she doesn't trust him, Mike is the only person she can turn to for help. Under an assumed name, Eva convinces Mike to assemble a new team and go after the traitor who screwed up both their lives. As they track down the rogue who started it all, Eva and Mike discover they can't live without each other. But can they stay alive while an enemy is still on the loose?
READ OUR REVIEW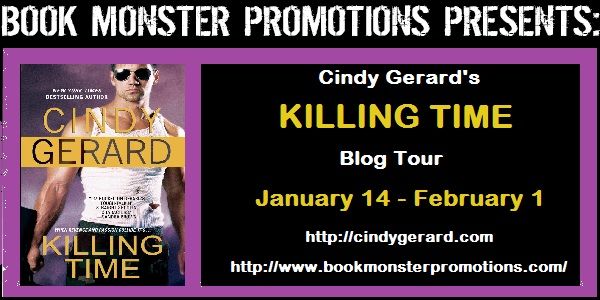 KILLING TIME Blog Tour Schedule
1/14 – Books-n-Kisses
1/15 –  Under the Covers
1/16 –  Just Romantic Suspense
1/17 –  United by Books
1/18  – Reading Between the Wines
1/19 –  – Book Monster Reviews / Literal Addiction
1/20 –  Book Lovin Mamas
1/21 – The Reading Café
1/22 – Cocktails and Books
1/23 – Romancing the Book
1/24 – Ramblings From This Chick
1/25 – Sizzling Hot Books
1/26 – Bookworm 2 Bookworm (Review)
1/27 – Bookworm 2 Bookworm (Interview)
1/28 – All Things Books
1/29 – RR@H Novel Thoughts
1/30 – Romance Crush Junkies
1/31 –  Pimpin' Reads
2/01 –  The Book Nympho
About the Author:
The only thing Cindy had in mind when she started writing her first book was finishing it. The issue of actually selling it came much later. Only after she made that life-altering first sale did she realize that one book would never be enough. Now, over 20 books and numerous awards later, Cindy laughingly admits that she can barely remember life before…well, was there life before writing?
Actually, yes there was, and still is. A professional career woman, Cindy is a trainer for the Iowa Department of Human Services, a position she states is both challenging and rewarding. "Human Services is a front-line, real-life event. Everything about the job is immediate, from serving families in crisis, to assisting staff with difficult situations, to meeting tension-fraught deadlines."
Cindy's writing has netted her spots on bestseller lists, numerous RT nominations and awards, the Colorado Romance Writers Award of Excellence, a National Reader's Choice Award and two RITA nominations.
Between writing and working full time you wouldn't think Cindy would have much time for anything else. And while she does find her work and her writing rewarding, there does have to be more. Cindy has more. Much more. She is happily married to the perfect man. Tom's a cowboy, ladies!
Both Tom and Cindy enjoy gardening and have recently expanded their annual beds into a perennial garden. Cindy says she can hardly wait for spring and the promise of all that reawakening and the colorful blooms.
In addition to the horses, the Gerards have two dogs, Ellie and Boomer, who pretty much get anything they want. Tom and Cindy have one son, Kyle, who, after years of keeping them in suspense, found Eileen, the perfect woman.
Connect with Cindy:
Website / Facebook / Twitter / Goodreads / Cindy's Amazon Page


A deadly mission.A thirst for revenge.

One headstrong alpha hero and one daring woman will settle the score.

LAST MAN STANDING

Special operative Joe Green has gone vigilante. His mission: avenge his Black Ops, Inc., brother's death during a bloody ambush years ago in Sierra Leone. He refuses to drag the BOI team or his lover, Stephanie Tompkins, into the hunt for the man responsible, so when he finds himself beaten, starving, and alone after being falsely imprisoned for the murder of a Freetown priest, he knows he's as good as dead. Joe meant to protect Stephanie when he walked out on their relationship, but he can't stop her now from executing his escape. Breaking him out of prison is the easy part. After Joe's explosive theory pans out and his cunning enemy emerges as the front runner for a high-level presidential appointment, he and Stephanie must race to derail the traitor's conspiracy if they are to save their loved ones, the nation, and each other.
Cindy is giving away a signed copy of LAST MAN STANDING.
Open internationally.  To enter?  Just leave a comment below.
There is also a Grand Prize drawing of a $25.00 Gift Card (Amazon or B&N) and an autographed copy of KILLING TIME for one lucky winner that follows the tour and leaves a comment at every stop.
To enter the Grand Prize drawing CLICK HERE!
Latest posts by Under the Covers Book Blog
(see all)