Interview and Giveaway with Beth Williamson

We are very excited to have with us today the wonderful and talented Beth Williamson (aka Emma Lang) you may know her better as a cowbooy romance enthusiast but today she's here to talk about bowling.
Sliding in under the wire!
THE PERFECT SCORE is a bit of country and a bit of sport with a whole lot of romance.  What gave you the idea of writing a romance novel centered around bowling of all things?
That's a funny story, actually. My mom is an avid bowler and has been for my entire life. Her bowling team encouraged me to write stories about a bunch of bowlers and voila!
Jimmy, the hero from ONE NIGHT STAND, is the perfect man IMO.  What are your favorite things about each hero in the book?
Ooh, that's a good question! I loved Jimmy because he is elegant, strong yet incredibly romantic. Like how he cooked dinner for Babs. I melted. 🙂
And Buck, well, what can I say? I love a big man, especially one who is a cowboy. He's my ideal hero because he's not perfect, but he's big, sexy and can still be vulnerable for the right woman. *sigh*
WIDOW'S WEB is a f/f story.  What made you decide that's what was right for Veronica?
Veronica had loved her husband deeply but she spent too long mourning him. What she needed, and what she thought she wanted, were two different things. Love doesn't ask permission, it simply happens.
Do you have a favorite scene?
Believe it or not, I think the scene where Marlene sings to Buck is my favorite. She gets up in front of everyone and overcomes her fears. It's the start of something that changes her life. One of those defining moments
What was the hardest thing to write in these three stories?
By far, the F/F was the hardest thing to write. I don't have any firsthand knowledge (TMI?) but I wanted it to be as authentic as possible. So I did a lot of research (reading!) and asked a friend of mine who is a lesbian to read it for me. She gave me two thumbs up and I knew I'd hit my stride! 🙂
The stories are centered around, not only bowling, but three best friends.  Have you taken any of your own real life experiences with friends (or that you've heard about) and put them in the book?
Every book has a piece of me, my life or my experiences in it. For example, the characters of Lily and Ray in THE TREASURE (book 4 in the Malloy series)? They are based on me and hubby. I'm a clumsy, always-see-the-bright-side, but strong chick. My husband, well, he's Ray Malloy – kind of dark, intense and refuses to show his emotions although they simmer right below the surface. Ray even says some of my hubby's favorite sayings. LOL.
If you could describe Babs, Veronica and Marlene in one word each, what would it be?
Babs – brassy
Veronica – elegant
Marlene – audacious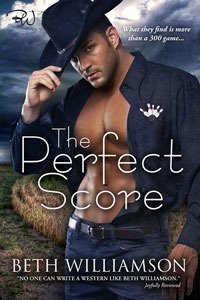 The Perfect Score Tournament is coming to the small town of Espejo, Texas. The biggest bowling tournament in the state is going to change the lives of three friends.

The Perfect Score: Three novellas of women on a bowling team who all sign up for the tournament… what they find is more than a 300 game.

One Night Stand

Babs Loomis is a bitter woman. Her husband left her after five years because they couldn't have children and he didn't want a woman that was barren. She is a chain smoker, and a drinker, intent on getting as much pleasure as she can out of life. She bowls for company – Veronica and Marlene are her closest friends. When she runs into Jimmy Tanaka at the tournament, a former friend of her ex-husband's, her bitterness turns into something completely different and totally unexpected.

Can Babs overcome her own ghosts and find more than a one night stand?

Widow's Weeds

Veronica Avery needs to get laid. It's been five years since her husband died in a car accident and she's lonely and tired of trying to meet men that end up with a big "L" on their forehead. When she joins The Perfect Score bowling tournament, her modest hopes are pinned on meeting a man she might feel comfortable going to bed with.

She's not expecting to meet Patrice Goldman, a woman that inspires feelings of passion and longing in her cobwebby heart. Afraid and confused, Veronica tries to deny her growing feelings for the auburn haired woman, but fate has other things in mind for the woman in black. It's time to shed her widow's weeds and live again.

Marlene's Man

Marlene is a big girl and has always been a big girl, but she's a kick-ass bowler, determined to finally hit that 300 game. The Perfect Score tournament at the Starlite Bowling Alley is her chance to show the world that she's worth something more than just a quick lay.

When she meets Buck Miller at the tournament, she falls instantly in lust. When their fabulous sex turns into a relationship, Marlene runs like a scared rabbit. Will Buck give up his goal of a perfect game to convince the woman of his dreams that he loves her? Or will Marlene's stubbornness ruin her chances at a 300 game and a man of her own?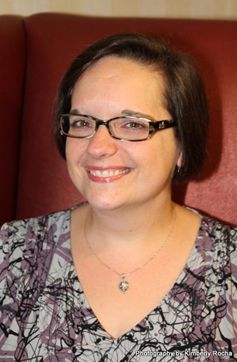 About Beth Williamson
Beth Williamson, who also writes as Emma Lang, is an award-winning, bestselling author of both historical and contemporary romances. Her books range from sensual to scorching hot. She is a Career Achievement Award Nominee in Erotic Romance by Romantic Times Magazine, in both 2009 and 2010.
Beth has always been a dreamer, never able to escape her imagination. It led her to the craft of writing romance novels. She's passionate about purple, books, and her family. She has a weakness for shoes and purses, as well as bookstores. Her path in life has taken several right turns, but she's been with the man of her dreams for more than 20 years.
Beth works full-time and writes romance novels evening, weekends, early mornings and whenever there is a break in the madness. She is compassionate, funny, a bit reserved at times, tenacious and a little quirky. Her cowboys and western romances speak of a bygone era, bringing her readers to an age where men were honest, hard and packing heat. For a change of pace, she also dives into some smokin' hot contemporaries, bringing you heat, romance and snappy dialogue.
Life might be chaotic, as life usually is, but Beth always keeps a smile on her face, a song in her heart, and a cowboy on her mind. 😉
Beth loves to hear from readers so get to e-mail her cowgirlbeth@gmail.com
BETH'S WEBSITE: http://www.bethwilliamson.com/
BETH'S TWITTER: https://twitter.com/authorbethw
BETH ON GOODREADS: http://www.goodreads.com/author/show/38231.Beth_Williamson

A copy of THE PERFECT SCORE is up for grabs.  Comment below to enter.  International.
Latest posts by Under the Covers Book Blog
(see all)