Interview and Giveaway with Alyssa Day!

Keeping things rolling with UTC After Dark, we have New York Times and Bestselling author Alyssa Day with us! Before we get into the interview though, please send your birthday wishes to Alyssa since TODAY IS HER BIRTHDAY!!! Under the Covers sends their wishes your way! Happy Birthday, Ms. Day! Thank you for spending your day with us!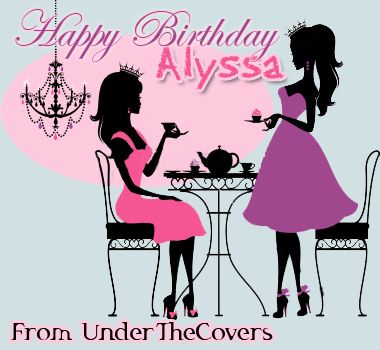 Thank you for being a part of UTC After Dark!
Thank you for inviting me! It's lovely to be here. 
What does a day in the life of Alyssa Day look like? 
Right now, it's kind of crazy.  I'm living in Japan with my Navy Guy  husband and our family (and pug Daisy!) and any given day can find us traveling to a 450-year old castle, exploring Buddhist temples, or just staying at home and trying to keep the work and schoolwork rolling along.
Can you tell us a bit about your most recent release, Vampire in Atlantis? 
Ah, my lovely, tortured Daniel.  He's an 11,000 year old vampire who has given up on life and is ready to face the dawn–and his own death–until a quirk of a magical portal transports him to Atlantis.  There he finds the only woman he truly loved and is shocked to find her alive!  He thought she died when Atlantis first dove under the oceans all those millennia ago.  Serai is a very determined, very magically powerful Atlantean princess and between the two of them, they must rescue the sleeping princesses, slay the evil vampire (or is he really evil?) and discover a lost jewel of Poseidon's Trident.  It's a crazy thrill ride of a book and maybe my most emotional one yet.
What can readers expect next in the Warriors of Poseidon series? 
Finally! Heart of Atlantis! Finally!  I have to say "finally" since most of my readers have been waiting for High Priest Alaric's book since the very first book, ATLANTIS RISING, came out in March of 2007!  This one is insane.  Absolutely a nail-biter of a book wrapped around a world-ending kind of love story.

Who is your favourite author and what is it about their work that resonates with you? 
I have too many favourites to even begin to list.  My most recent reads, as I check my iPad and Kindle and library book stack, are, in no particular order:
A Tree Grows in Brooklyn (introducing my daughter to this amazing book); the new biography of Steve Jobs; Condoleeza Rice's memoir, No Higher Honor; several books about Norse mythology; the children of Henry VIII by Alison Weir; a history of the Borgias, for my upcoming LEAGUE OF THE BLACK SWAN series; The True Path of the Ninja; and I'm going to start a CJ Box novel my librarian recommended when I finish the book I'm writing right now.  
What would you consider essential elements of a good story? 
Conflict, conflict, conflict.  Characterization that grabs you by the gut and won't let you go.  A world that draws you in and makes you want to return.  
The mythology of Atlantis has intrigued many in paranormal romance. What was it about the myths that captured your interests? 
Everything!  I've wanted to discover a lost city since I was a child; I nearly went for archaeology in college, but decided to write about it instead. 

Your worldbuilding is exceptional! How do you make readers believe in the world you have created? What are some of the challenges? 
Thank you!!  The key to paranormal fiction, I believe, is to make very sure that the rest of your story is as accurate and truthful as possible.  You're already asking readers to suspend disbelief that there are vampires and Atlanteans running around; you don't want them to lose faith in you by putting the fort in St. Augustine, florida, in the wrong part of the city, or describing ancient Aztec rituals and getting them wrong.  When I say "truthful," I mean truthful with the emotions–the heart of the story.  I reach into my own life and heart to reveal the truth, no matter how painful, of what love lost and defied feels like.

Fun questions! If you could collaborate with another author, who would you pick and why?
I've tried that before and learned that it's just not for me.  But if, in my imaginary world, I were not such an obsessive control freak, I would collaborate with Eileen Rendahl and my Atlanteans would visit her Messenger and solve a case together.  You should totally check out her incredible urban fantasy series at http://www.eileenrendahl.com/.
If you could drop your characters into another author's world, who would you pick and why? 
My Atlantean warriors might send some warrior trainees into a zombie world like The Walking Dead.  They could help the remaining humans and get in some great sword practice!

Of ANY book character, who would you want to have a date with?
My husband and I have a firm rule that we don't date other people.  It's just better for our marriage.     
Thank you so much for inviting me!  What a nice place to hang out on my birthday (well, sort of–it's 14 hours ahead of New York here near Tokyo).  It's kind of like having 2 days of birthday!
Thank you again for stopping by, Ms. Day! If you're interested in Alyssa Day's work, please visit her website here for updates on her books!

Ms. Day is graciously giving away TWO copies of VAMPIRE IN ATLANTIS. Open internationally.
(Warriors of Poseidon # 7)
The most unexpected of all allies to Poseidon's warriors has proven to be the fiercest-Daniel, a vampire and Night Guild mage. But even the strongest alliance can be destroyed when a vampire's oath crosses paths with a maiden's quest, and an eleven-thousand-year-old desire is reborn.
To enter, please:
1. Be a follower of this blog
2. Fill out the form below
Latest posts by Under the Covers Book Blog
(see all)