Interview and Giveaway with Abigail Roux

Welcome to the Stars & Stripes virtual book tour! Thank you for helping me celebrate the release of the 6th book in the Cut & Run series.  I'll be giving away tons of prizes. For every stop I have a digital copy of the first book, Cut & Run, a personalized autograph, and either a Team Ty/Team Zane T-shirts or an autographed trinket! To enter to win one of the prizes, just leave a comment here at Under the Covers, and make sure you include your e-mail address! To win the grand prize, one complete electronic set of the first 5 books, you'll need to finish a treasure hunt, which you'll find on my blog on the last day of the tour! Many thanks to Under the Covers for hosting me on my very first Riptide Publishing virtual book tour!
Hi Abigail! We're so excited to have you at Under the Covers today!
Hi! Thank you for having me!
Many of my friends (including myself) who have read your Cut & Run series have said that it is their favorite M/M series ever! How does it feel hearing that your characters have a special place in reader's hearts?
It's astounding to me. Very surreal. It's not something I'm always conscious of, and if I let myself think too hard about it, I think I would get overwhelmed by just how far and wide this series has reached. Right now, I'm just happy that I can keep writing these two characters that I love so much.
What do you think makes Ty and Zane so compatible? What is the one characteristic that makes Ty attracted to Zane and vice versa?
I think they're compatible because they've learned to deal with each other's quirks. They're nothing alike, but they both have a sense of humor, and that can make the biggest difference in the world. They tolerate the faults of the other because they're blinded by love. If I have to break it down to one characteristic, I would say that Ty is attracted to Zane's steadfastness. He's a rock in the middle of a choppy sea. Zane is an anchor for Ty, who has been adrift all his life. And for Zane, he looks at Ty's ability to roll with the punches and keep on going, and he thinks it's Ty's greatest strength. Ty is the only thing in his life that's been able to pull him out of that steady, solitary shell, and he's learning to enjoy life because of it. Their strengths complement each other, as do their weaknesses.

What can you tell us about Nick's book? Will it be full length or novella?
Oh, Nick's book! It will be full length, and it will be glorious. There's been a lot of speculation over who he'll be paired with, and all I have to say to that is 'NO COMMENT!' followed by evil laughter. The tentative title is Rogue's Gallery. It will take place in Boston, and revolve around a case he's working. I'm really excited about it, I can't wait to get started on it.
What can readers expect in the latest installment of the series, STARS & STRIPES?
This book is a sort of reckoning. Ty and Zane are both going to face some of the things they've been avoiding for a long time, as a couple and as individuals. We're going to meet Zane's family, as well as revisit with Ty's. We're going to get some hints about Ty's past that might be unsettling for Zane and for readers. And you're going to find a family member that you hate more than Earl!
What are you working on right now? What is its expected release date?
Right now I'm working on Book 7 of the series, with the occasional jaunt into editing and rewriting my next release. It's called Gravedigger's Brawl, and it will come out in October. It is the most evil, cursed, haunted thing I've ever worked on. It killed some laptops, killed some friend's electronics. So I hurried through that! Another one I have in the works is a treasure hunt that should be a lot of fun, but no release dates on those yet.
The Cut & Run series was written by you and Madeleine Urban yourself for years. Now that you are continuing the series yourself, how has your writing process and schedule changed?
The process for me is much the same, only now I'm sitting here talking to myself instead of someone else! I approach the books the same way, but it's actually much easier writing solo. I can plot so much faster without laying it all out for a partner, and the dialogue and inner conflict comes so naturally. The schedule is also easier, because it's just me. The only conflict I have to worry about it when my daughter flies through the room, so I can work at my own pace instead of playing solitaire for hours waiting until schedules align.
How many more books do you have planned for Ty and Zane?
I'm still set at 9 total, which means three more after this release. Ty and Zane's story arc will be done at 9, and the series will have a satisfying conclusion. That's not to say I wouldn't be open to writing more of Ty and Zane, if the right plots and ideas came along, and if it felt right to do more. I'd rather go out with people begging for more than to have people sick of them in the end.
Will their secret relationship ever be revealed to anyone in the bureau?
That's a sneaky plot question, but I think it's fairly obvious to everyone that they can't stay hidden forever. It's not a matter of will they, it's just a matter of when and how, and what will the aftermath be. It's going to happen.

Do you find writing more challenging now that you don't have a partner to bounce ideas off of or get a second opinion?
Not at all. I was always a solo writer as well, so it's nothing new for me. When I get an idea that I'm excited about, I do like to tell my friends about it and get a little bouncy. So nothing's really changed in that aspect.
If Ty were to describe Zane in one word, what would it be? Similarly, if Zane was describing Ty in a word, what would he choose?
Ty: Solid.
Zane: Moving.

If you only had twenty dollars in your purse, what would you buy?
Gas. I am always fighting the urge to get up and go, and if I had nothing to lose, I'd do it. Get up and go and see where you end up, find something new and exciting, start over fresh.
Quick-fire questions!
Coffee or tea? Both are gross!
Print or ebook? Ebook. I love print books, but ebooks are so easy to take with you.  
Sunrise or sunset? Sunset. I only see sunrise if I stayed up all night.  
Boxers or briefs? Briefs!
Special Agents Ty Grady and Zane Garrett have managed the impossible: a few months of peace and quiet. After nearly a year of personal and professional turmoil, they're living together conflict-free, work is going smoothly, and they're both happy, healthy, and home every night before dark. But anyone who knows them knows that can't possibly last.

When an emergency call from home upsets the balance of their carefully arranged world, Ty and Zane must juggle family drama with a perplexing crime to save a helpless victim before time runs out.

From the mountains of West Virginia to a remote Texas horse ranch harboring more than just livestock and childhood memories, Ty and Zane must face their fears—and their families—to overcome an unlikely enemy and bring peace back into their newly shared world.

You can read the first chapter and purchase Stars & Stripes here.
About the Author:
Abigail Roux was born and raised in North Carolina. A past volleyball star who specializes in sarcasm and painful historical accuracy, she currently spends her time coaching high school volleyball and investigating the mysteries of single motherhood. Any spare time is spent living and dying with every Atlanta Braves and Carolina Panthers game of the year. Abigail has a daughter, Little Roux, who is the light of her life, a boxer, four rescued cats who play an ongoing live-action variation of Call of Duty throughout the house, a certifiable extended family down the road, and a cast of thousands in her head. You can stalk Abi in various places, including her website, Tumblr, Twitter, and Facebook.

 The prizes up for grabs at this tour stop are:
A digital copy of the first book, Cut & Run, a personalized autograph, and either a Team Ty/Team Zane T-shirts or an autographed trinket!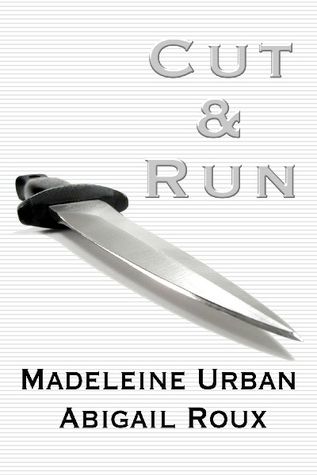 To enter:
Leave a comment here and make sure you include your e-mail address!
Tour Giveaway:
To win the grand prize, one complete electronic set of the first 5 books, you'll need to finish a treasure hunt, which you'll find on my
blog
on the last day of the tour!
Latest posts by Under the Covers Book Blog
(see all)