ARC Review: Eaves of Destruction by Kate Carlisle
I received this book for free from Publisher in exchange for an honest review. This does not affect my opinion of the book or the content of my review.

This post contains affiliate links you can use to purchase the book. If you buy the book using that link, I will receive a small commission from the sale.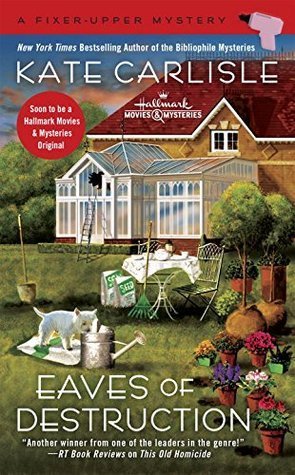 Eaves of Destruction

Book Info
Released:
November 7th 2017
Series:
Fixer-Upper Mystery #5
"I highly recommend Kate Carlisle for anyone who wants to read a good mystery."
~ Under the Covers
EAVES OF DESTRUCTION is the fifth book in the Fixer-Upper series by Kate Carlisle. I'm really enjoying this series. Shannon Hammer is such a wonderful character. I love that although she is technically an amateur sleuth, she isn't one of those who does stupid things in order for the story to work out. All of her actions are very organic and rational.
In this book, there's a lot of tension between homeowners. Shannon gets a job that involves working with a very rude client. She is also looking to expand her team, so she does have a lot happening in her life. When a building inspector is found dead on one of her jobsites, she is looking at some serious problems if she wants to avoid the police. So once again, it's up to her to discover what really happened.
I am a big fan of Carlisle's writing style. It has a bit of a small-town feel and all the details of a great do-it-yourself catalogue, but it doesn't feel overwhelming either. I personally don't have a huge interest in construction yet I can still find enjoyment in reading this series. So even if you think it might not be your cup of tea, I would suggest giving it a shot anyway. You may be surprised by how much you like it.
This book does have a slower pace than some of the other books I've read by this author but I really didn't mind because I enjoy being in Shannon's head. She really is a character that I can stand by. She's never too over the top and I also love her independence. Also, I know this is a strange thing to say, but I like how treats other people. She is just an all-around good girl.
EAVES OF DESTRUCTION is filled with intrigue and mystery. I highly recommend Kate Carlisle for anyone who wants to read a good mystery.
What did you think of our review?
Let us know your thoughts in the comment box below!
 ♡ Don't want to miss any of our posts? ♡ 
Follow Under the Covers: Facebook | Twitter | Tsu | GoodReads | Email