ARC Review: Death of a Lobster Lover by Lee Hollis
I received this book for free from Publisher in exchange for an honest review. This does not affect my opinion of the book or the content of my review.

This post contains affiliate links you can use to purchase the book. If you buy the book using that link, I will receive a small commission from the sale.
Death of a Lobster Lover

Book Info
Released:
June 27th 2017
Series:
Hayley Powell Food and Cocktails Mystery #9
Recommended Read!
"Man, this book hit all the right spots for me. "
~ Under the Covers
DEATH OF A LOBSTER LOVER is the ninth book in the Hayley Powell Food and Cocktails Mystery series but it's the first full-length book that I've read from this author. After reading a holiday anthology featuring a couple of other Cozy Mystery authors, this author was the one that stood out to me the most. What I like about Lee Hollis' writing is the fun banter and quirky characters. There's really no dull moments so I knew after reading that novella, I needed to read more from Lee Hollis.
That being said, I had some pretty high expectations for this book and boy did these authors deliver. Not only is the title hilarious and catchy, but the entire book is as well. From the very beginning until the end, I was totally hooked onto this book. I read this entire book in ONE HOUR. That's how much I loved it; I couldn't even pace myself.
Hayley Powell is a food and cocktail columnist and what's cool about this series is that you get to read a lot of her actual columns throughout the novel. Every few chapters or so there's a snippet of one of her columns, which are usually followed by a cocktail or food recipe. Sometimes there is both so that's a nice bonus. The downside to this is that it can interrupt the pace of the novel, especially if you read as fast as I do and are enjoying it.
In this book, Hayley and her two besties are travelling to Salmon Cove, Maine where they are to spend the weekend together. But when they arrive, things are looking less than spectacular and a couple of them wish to return home. But after meeting a hunky travel writer, they decided to stay. Unfortunately, the guy turns up dead and Hayley begins her little investigation to find out what happens.
Man, this book hit all the right spots for me. I love the small-town vibe and the strong mystery but two things stood out to me the most. The first thing is the friendship between the three girls. Immediately you can tell just how close they are by how they hassle each other. These girls are loyal to the bone and are willing to tell things straight, no matter if it's hurtful or not. To me, that kind of honesty in invaluable in a friendship so one of the girls got on another for something they did or said made me crack up so much. It reminded me a lot of my own friends and our behaviours when we're together.
Secondly, this book is hilarious. I am usually hard to please when it comes to humor because some jokes can come across as forced or juvenile but this book gets it right. There are SO MANY laugh out loud moments. I don't think I've laughed this much reading a Mystery before. It was such a wild ride and I think you'd be missing out if you skip on this book.
After enjoying this book so much, I am definitely going to start at the beginning of the series and catch up.
READING ORDER & BUY LINKS
Click on the covers to buy the books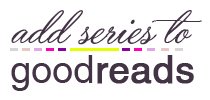 What did you think of our review?
Let us know your thoughts in the comment box below!
 ♡ Don't want to miss any of our posts? ♡ 
Follow Under the Covers: Facebook | Twitter | Tsu | GoodReads | Email