Cover Model Week: Len Gunn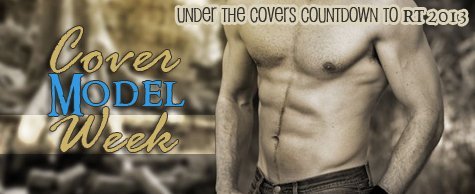 As you all know, we are counting down the days to RT this year and what better way to do this than by bringing you…..the Cover Models!  Yes, they are a fun part of any conference and this week you'll get to know some of them better.  Today we have the wonderful Len Gunn to kick things off.  You might be familiar with his face as he's on the cover of A LOT of romance books in the past year.
~ LEN GUNN ~
How did you get started in the business of being a cover model? 
Through the RT convention in 2011 in LA.  It just took off from there.
You've done a lot of covers, a lot of those are cowboys. Do you have a favorite type of cover you like to shoot? 
I like to shoot the raw gritty down to earth blue collar look.  It just suits me and feels natural.
What was your best experience as Mr. Romance 2011? 
Being picked as the fan favorite!  To be voted the favorite by those that matter the most was an unbelievable honor.
How do you feel about stereotypes that usually fall on cover models? 
It's necessary and for some guys well deserved, but also unfortunate for the bulk of us that are just genuine nice guys that really just enjoy the fact that we are thought so highly of that we would be able to grace a cover.
Tell us one fun photo shoot blooper or funny moment. 
I've not had any bloopers yet (crossing my fingers); every shoot has gone like clockwork.
What makes you nervous? 
Meeting new people believe it or not.
Have you ever had a disastrous interview? 
Yes, my first interview after winning Mr. Romance in 2011.  I unknowingly had my answers twisted to make me sound very chauvinist.  It was very unsettling and upset several of my fans as well as myself.
Is there anything about the opposite sex you just don't understand or comprehend? 
There is quite a bit that I don't understand about the opposite sex and have come to the conclusion that I am not supposed to…. That's why they are different.
What do you like to read?
Dean Koontz; I like my reads to be possibly realistic with a bit of a far reaching possibility
What's the most romantic thing you've ever done for a woman? 
Took her to NYC (she had never been) and made sure to go on a carriage ride through Central Park.
How do you handle your fans? 
With the utmost respect!  I have always felt that the way you treat someone is how you will be treated.  That being said, I have never encountered a bad interaction with a fan.
Quick Fire Questions
Any pets – Yes! A 10lb Boston Terrier named Butterscotch (female)
Favorite Movie – Fast and Furious
Favorite TV Show – CSI
Favorite Food – Reuben!
Coffee or tea? – Tea
Morning person or night owl? – Morning Person
Favorite sport – Baseball
Librarian or Sporty? – Sporty
Where to find Len:
Website
Facebook
Twitter
Pinterest
And of course….he will be at RT this year!

Here's what we're going to do during Cover Model Week.  We will pick a winner next week and lucky maiden will get to choose a book they want with one of the cover models we've featured on the cover 🙂  This is open internationally!
Latest posts by Under the Covers Book Blog
(see all)