Contemporary Romance Review: Bright Like Wildfire by Juliette Cross
Find out our thoughts about Bright Like Wildfire by Juliette Cross, a cute and steamy small town romance about a grumpy high school teacher with a grudge and a high-end grocery store owner playing the lead roles in a local theater production of Barefoot in the Park.
Disclosure: I received this book for free from the author in exchange for an honest review. This does not affect my opinion of the book or the content of my review. This post contains affiliate links. That means we receive a small commission at no cost to you from any purchases you make through these links.
read this book if you're in the mood for
synopsis
Welcome to the small town of Beauville, Louisiana. Here we meet Betty, a bit of a grumpy 26 year old high school teacher. You may remember her character from Parks and Provocation. She had moved away from her small town but is now back to be closer to her mom, sister and best friend. Bennett is her childhood nemesis. There was an incident many years back involving glitter bombs. He had also moved away from town and is now back to make his dreams come true by opening a grocery store. Even overworked as he is, he immediately knows Betty is the one for him. But he just has to wait her out until she's at the same place he is.
review
Bright Like Wildfire delivers everything I could want in a small town romance. There's a great sense of community, plenty of humor and a sweet story about falling in love. And who doesn't love a hero falls first romance? Something about that dynamic, especially with a swoony hero like Bennett, is the best kind of romance to read. Bright Like Wildfire is guaranteed to give you butterflies.
Lets not forget about the amazing characters. Individually, I couldn't help but love both Betty and Bennett. There's plenty to admire in both of their stories.
And last, what's a good small town romance without some amazing side characters. Betty's gay best friend was amazing and who can forget Gilbert the Goat!
Lastly, I can't end this without acknowledging this was such a hot read and Bennett was quite the dirty talker! I think we often think about small town romances in a more sweet way but Juliette Cross shows us that they can be both sweet and steamy!
in conclusion
Once I started Bright Like Wildfire by Juliette Cross I couldn't put the book down. It undoubtedly packs Juliette Cross's trademark humor and steam and makes it a perfect fun one-sitting read.
add the book to
Purchase the book
Read more
Pin it for Later!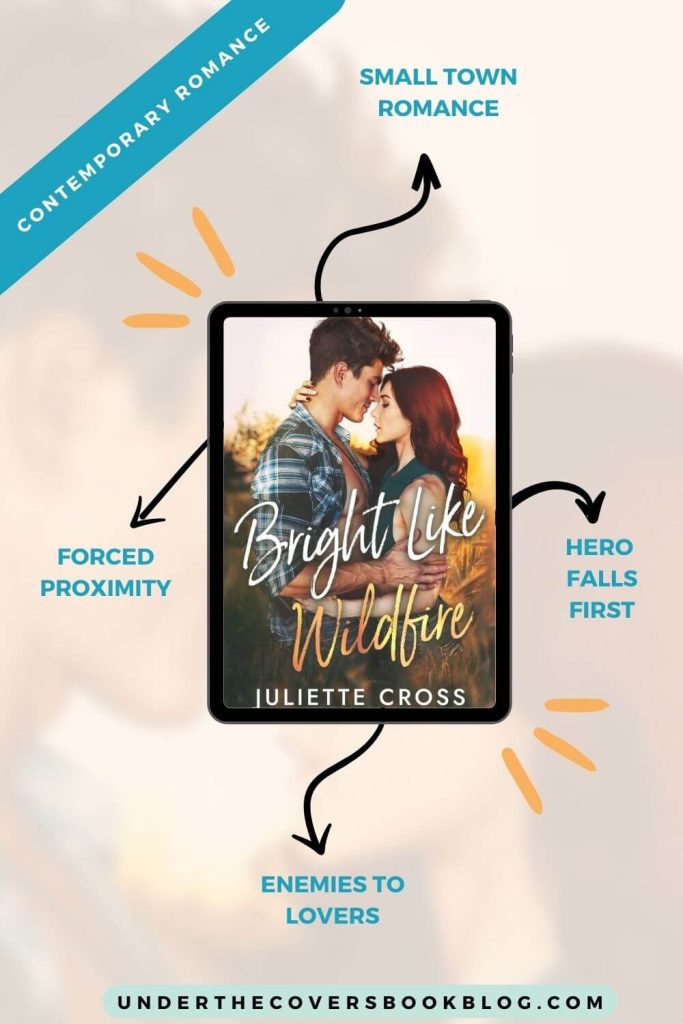 Latest posts by Francesca
(see all)