Author Override: Virna DePaul
Author Override is the place where authors take the reins and take you on a journey into their world. Some may allow you into their private writing dens. Others may take you along with them on research trips or interviews. Whatever the case may be, sit back, relax and enjoy the ride because here you'll get an in-depth look into an author's musings.

The Hero You WON'T See In Shades Of Desire


My brand tagline is "Brave the darkness, discover the light." I adore redeemed characters and a satisfying HEA, but I especially love making my characters work for these things. However, sometimes I go a little overboard on the "dark" aspects of my stories. Such was the case with my manuscript, Lights Out, which ultimately became Shades Of Desire, my recent release with HQN.
Several years ago, I came up with the idea of a famous photographer who loses her vision and must help solve a murder investigation. I wrote and rewrote the first few chapters several times, but the story always seemed a bit off. Once I sold the story to my editor, she told me why—I'd created a heroine dealing with a dark tragedy but I'd also created a hero with arguably even darker issues (he'd lost his only son to leukemia, been abandoned by his wife, and then had to face a serial killer while on the edge of burn out). Perfectly good backstory, but combined with other dark elements in the story, it was just too much, especially for a romance. It took someone else pointing this out to me and giving me some guidance, but toning down is what this particular story needed.
Do you like outtakes? Just for fun, I thought I'd attach an old scene from Lights Out that didn't make it into Shades Of Desire. This shows my hero on the edge and taking out his emotional torment on the job. I concluded that even with his internal suffering, some readers might just find his behavior too un-hero-like to take.
DELETED SCENE FROM LIGHTS OUT:
It was hard to forget about death when the damn thing refused to leave you alone.
Even as Jack Talbert's meaty fist slammed his head back and split his lip, Detective Liam "Mac" McKenzie barely felt any pain. Certainly not enough to stifle the echo of words in his head.
My place is with the dead.
My place is with you.
In defiance of those words, Mac swiped his hand across his lip, then shook his head.
He was barely bleeding. Smiling, he motioned Talbert on. "You're disappointing me, Talbert. I know you can do better than that."
Talbert, breath heaving from their struggles, backed up, eyes wide with disbelief. He didn't have far to go. They'd chased him into a dead-end alley, but Talbert hadn't given up. Mac would be damned if he let him now. 
Reading his mind, Talbert shook his head. "You're crazy, McKenzie. I surrender. Take me in."
"Yeah, Mac. Enough of this—"
 Mac glared at his temporary partner, Jason Tyler, who stood a few feet away, muscles tensed, one hand on the butt of his gun and the other raised with his radio at the ready. Calmly, Mac explained, "The bastard resisted arrest."
"He's giving up."
"Not yet," Mac insisted.
Jason fell silent, but the disgust in his eyes spoke for him.
Mac didn't give a shit. He wanted to release the tight rein he normally kept on his emotions. The ruthless control he used to dull the grief and regret that was nevertheless always there. He was going to take advantage of the opportunity. 
My place is with the dead.
Turning back to Talbert, Mac smiled once more. "Now hit me again. And this time, put some power behind it."
****
I hope you enjoyed the deleted scene. I'll probably always write darker stories. As such, I can't censor myself during the writing process. I push the envelope and go where the story takes me. Sometimes it works and sometimes it doesn't. The key is being flexible and, after the story is written, being open minded enough to view things another way.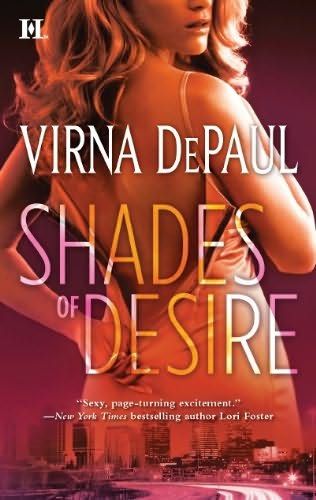 SHADES OF DESIRE:
Book 1 in the Special Investigations Group Series, available at Amazon, B&N, Powell's and Indie Bound

Natalie Jones is the lucky survivor of an elusive killer who preys on young women and then disappears from view. And since her harrowing ordeal, the once gutsy photojournalist has remained isolated in her home, paralyzed by fear and her failing vision.

Special Agent Liam "Mac" McKenzie has scars of his own. But despite his efforts to ignore the attraction that simmers between him and Natalie, he needs her help to catch a predator. Soon, they will forge a tentative alliance—charged with desire.

Through a soft-focus lens, Natalie dares to envision a future with Mac beyond the investigation…never guessing that the clues hidden within her photographs are drawing them into an explosive confrontation with a madman.
LOVE BITES, a charitable pet anthology, releases June 1, 2012.  This anthology includes a novella by Virna, as well as novellas by Lori Foster, Brenda Jackson, Catherine Mann, and Jules Bennett.  Don't miss these never-before-published "tails" of couples whose pets give them a new leash on love…
*Note: This anthology is published by HQN and is available as an e-book only. [Limited print copies will be available at Lori Foster's Annual Reader and Author Get Together (June 1-2, 2012; registration now closed)]


UTC Francesca and Angela's pets were featured in the Love Bites tour, if you missed them check them out here: Francesca and Angela.

Bio:
Virna DePaul is a former criminal prosecutor and now national bestselling author of the Para-Ops Novels (Chosen By Sin, Book 3 now available; see www.chosenbysin.com.) Virna also writes contemporary romantic suspense for Harlequin Romantic Suspense (It Started That Night, May 2012) and HQN (Shades Of Desire, June 2012). Finally, Virna is a national bestselling author of numerous indie published novels. Sign up for her mailing list for access to her monthly writing cheat sheets and reader contests.
www.virnadepaul.com
Stalk her:
Twitter | Facebook | Website | Newsletter | Blog

Ms. DePaul is giving away any book of hers, winners choice!
To enter, please:
1. Be a follower
2. Fill in the form below
Latest posts by Under the Covers Book Blog
(see all)