Author Override: Steve Bein
Author Override is the place where authors take the reins and take you on a journey into their world. Some may allow you into their private writing dens. Others may take you along with them on research trips or interviews. Whatever the case may be, sit back, relax and enjoy the ride because here you'll get an in-depth look into an author's musings.

How to be a thoughtful author who still geeks out about fight scenes
(Or, How to geek out about fight scenes and still be a thoughtful author)
I love Spiritual Kung Fu and I'm not ashamed to admit it.
It's one of Jackie Chan's earliest films, from back in the 70s when he would make a movie in a matter of days, with a budget that wouldn't be enough today to even buy a pizza. I have dozens of these on VHS. In Spiritual Kung Fu, Jackie learns the arts of badassitude from animal spirits. You can tell which actors are spirits because of their tutus, and you can tell which animals they represent from the little rubber animals taped to their foreheads. I swear to you I am not making this up.
The people I went to grad school with didn't understand my love for Jackie Chan, or for Bruce Lee, Jet Li, or Sonny Chiba. The Matrix was different. It was an easy sell for a bunch of philosophy grad students: it's not a philosophical kung fu movie so much as a philosophy movie with kung fu and cool sunglasses. (Truth to tell, the Wachowski brothers should have given Plato a co-writer credit; read book seven of the Republic and you'll see what I mean.)
I guess I was expected to write a ponderous novel on the nature of the human condition. I do spend a fair amount of time thinking about the human condition, after all; it comes with the territory when you teach philosophy for a living. But here's the thing: I think cool fight scenes are cool.
That sounds like a truism, but we can't take that for granted—or at least I can't, given the fact that I hang out with lots of people who think that cool fight scenes are lowbrow, adolescent, brainless entertainment.
But I can't think of any reason why intellectualism and ass kicking should be mutually exclusive. The Matrix proved it. There the metaphysical questions were the big ones; for me the moral questions have always been more interesting. In Daughter of the Sword my primary point-of-view characters are a cop, a yakuza enforcer, a soldier, and a couple of samurai. All of these characters get their fair share of action scenes, but they're also entangled by the bonds of duty. Duty to the family, the clan, the profession, the law, the Emperor, the code of bushidō—each character has strong moral obligations along these lines, and as an author who's interested in the thoughtful thriller, I make sure these obligations pull in opposite directions wherever I can.
Questions of moral conflict are legitimately tough, tougher even than Jackie Chan. I like weighing my characters down with this kind of question, confounding them, forcing them to evaluate their own sense of self. I think moral crisis is more than an interesting plot device: it's real. It's something we have no choice but to deal with. It's an internal fight scene, really, this motivation squaring off against that one.
I think it makes for good storytelling. We've all felt that kind of internal struggle, so it's easy as a reader to sympathize with a morally perplexed character. Make the moral questions tough enough and they're worth fighting for—and if the ensuing fight scene is cool, so much the better.
I think Plato himself would probably have liked Jackie's fight scenes too; he was a martial artist, after all. And I take great comfort in the fact that Bruce Lee was a philosophy major. If you're not already familiar with these guys, I'll recommend that you start with the Apology and Enter the Dragon, both classics in their field. Trust me, you can enjoy them both.
About the Author
Steve Bein (pronounced "Bine") is an author, philosopher, professor, climber, photographer, translator, and world traveler. His short fiction has appeared in Asimov's, Interzone, Writers of the Future, and in international translation. Daughter of the Sword, his first novel, is already being met with critical acclaim and is due out this October.

Steve was born in Oak Park, Illinois, a near west suburb of Chicago. His first career as a perpetual student took him to universities in Illinois, Germany, Japan, and Hawai'i. That all culminated in a PhD in philosophy from the University of Hawai'i at Mānoa. Today Steve is a visiting professor of Asian philosophy and Asian history at the State University of New York at Geneseo, where he also teaches courses in philosophy and science fiction.

His other academic interests include bioethics, which led him to a short stint as a visiting researcher at the Mayo Medical School, and environmental philosophy, which led him to see polar bears in Canada and penguins and whales in Antarctica. His more recent travels have taken him to historical sites and art museums around the Mediterranean and to wildlife preserves all across southern Africa.

Steve is a rock climber, mountaineer, SCUBA diver, skier, and avid traveler, and he enjoys just about anything he can do outdoors. He has dabbled in a wide range of martial arts (twenty-five at last count) and he holds black belts in two American forms of combative martial arts. These days he has returned to studying Brazilian Jiujitsu.

Today Steve splits his time between Rochester, Minnesota and Rochester, New York. He lives with Michele, his partner of seventeen years, and their Labs, Kane and Buster.
Steve Bein's Daughter of the Sword Blog Tour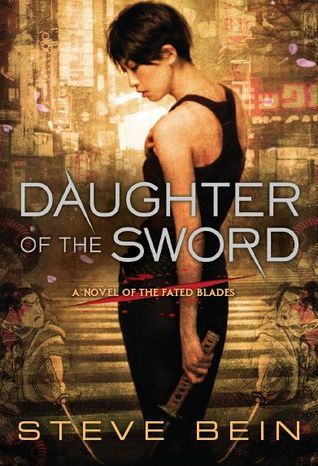 Mariko Oshiro is not your average Tokyo cop. As the only female detective in the city's most elite police unit, she has to fight for every ounce of respect, especially from her new boss. While she wants to track down a rumored cocaine shipment, he gives her the least promising case possible. But the case—the attempted theft of an old samurai sword—proves more dangerous than anyone on the force could have imagined.

The owner of the sword, Professor Yasuo Yamada, says it was crafted by the legendary Master Inazuma, a sword smith whose blades are rumored to have magical qualities. The man trying to steal it already owns another Inazuma—one whose deadly power eventually comes to control all who wield it. Or so says Yamada, and though he has studied swords and swordsmanship all his life, Mariko isn't convinced.

But Mariko's skepticism hardly matters. Her investigation has put her on a collision course with a curse centuries old and as bloodthirsty as ever. She is only the latest in a long line of warriors and soldiers to confront this power, and even the sword she learns to wield could turn against her.
COME BACK TOMORROW FOR OUR REVIEW OF THE BOOK!
We have a copy of DAUGHTER OF THE SWORD up for grabs, US ONLY!
a Rafflecopter giveaway
Latest posts by Under the Covers Book Blog
(see all)