Author Override: Marie Sexton and Heidi Cullinan
Author Override is the place where authors take the reins and take you on a journey into their world. Some may allow you into their private writing dens. Others may take you along with them on research trips or interviews. Whatever the case may be, sit back, relax and enjoy the ride because here you'll get an in-depth look into an author's musings.

Welcome to the Second Hand virtual book tour! All week long, authors Heidi Cullinan and Marie Sexton will be stopping by some of our favorite sites to celebrate their new release. Be sure to comment at all the stops along the way—one lucky reader who follows the tour will win a $10 gift certificate to Riptide Publishing! To enter, simply leave a comment below, making sure to include an email address where we can contact you if you are the winner. Deadline for entry is 11:59 pm EST on 9/16, and the complete tour schedule can be found here. Thank you to all of our terrific hosts this week for helping us deliver another exciting book tour from Riptide Publishing!
How to Survive When Your Best Friend Leaves You for Italy (During Your Joint Release, No Less)
As you're reading this, I'm somewhere wandering around Ames, Iowa, being wife and mother and writing diligently at my computer, composing more LGBT romance for you all to enjoy. I'm doing laundry and dishes and filling out cover art sheets and finishing edits.
Guess what Marie's doing? Marie is doing none of those things in Colorado. Marie isn't in Colorado. She isn't even in the United States. Marie is in Italy.
For almost a year she's been talking about first maybe going, then actually booking and preparing to go. It's with a local group of women, and the leader has gone so many times she has the trip down to a science. As Marie says, she's the baby of the tour, which she likes. She's going to see tourist things and wine things and all sorts of things that are in Italy. Every day up to her departure I heard about what shoes she was buying to wear, how she was packing, what cute Polaroid camera she had bought to take instant pictures with and put them in her journal. She frequently gets so giddy you can hear the happiness in her voice through the Internet.
It's that last bit that keeps me from hating her even a little for taking such a trip when I am not. She truly is joyous over going, and after the struggles she's had lately, they seem nothing but deserved. I've also been not just to Italy but all over Europe, and once you've done that, it's hard not to be anything but happy for someone when they get their turn.
Every time Marie fusses over writing lately, I keep telling her, worry about it after Italy. "Is that all you're going to say to me? Shut up and go to Italy?" she asked the other day. Minus the "shut up" part, yes. I told her travel like that will change her in ways she can't even begin to predict. I remember our choir director telling us before our European tour that we would never come home, because we'd never be the same. I thought at the time he was being overly dramatic and silly–then I went and found out just how right he was.
There's nothing quite like traveling away from home, so far that everything, even the language, is not your own. You discover the similarities and the differences of your usual life and wherever you are–and they're never quite what you expect. You find out weird things like Europeans do not understand toilet paper, not like we do in the US. You find out humbling things, like how our country is such a tiny baby compared to pretty much everywhere else, that our culture is so young and untried it almost isn't there at all, at least compared to those that founded it. You see too where other cultures have leaked into ours and we into theirs. You also learn that McDonalds truly is not the same in other countries (in my experience, it's the Bizarro Superman of McDonalds, if the regular Superman were sub-par and horrible to start with).
Mostly though I've found when traveling abroad one finds out about oneself, things one can never learn anywhere but away from the ordinariness of our regular lives. So no, I can't hate Marie for being gone to Italy without me, even if it is during our release week. I know she's about to discover amazing, wonderful things. I know she's going to do a lot more than get a simple vacation. And I love Marie and can think of nothing I wish for her more.
Tucker Springs is in Colorado, not Italy. I hope, though, visiting our fictional town is also a lovely escape away from your daily life, a place you can explore and discover and leave feeling a little bit happier, a little bit thoughtful, but more than anything, full of hope. In Tucker Springs everyone gets their happy ending, eventually. This time it's Paul and El's turn.
I hope you stop by and watch them take their turn on the ride.
Find out more about Second Hand and the rest of the Tucker Springs universe at www.tuckersprings.com.
Second Hand
by Heidi Cullinan and Marie Sexton
Paul Hannon moved to Tucker Springs for his girlfriend, but she's left him with a house he can't afford and a pantry full of useless gadgets. All Paul wants is to get back to normal, even if he's not sure what that is anymore. When he wanders into Tucker Pawn for a gift to win her back, he meets El Rozal, pawn shop owner and all-around cynic.
El Rozal doesn't do relationships, especially not with clueless straight boys still pining for their ex. El may make his living dealing in castoffs, but that doesn't apply to men. Still, when Paul starts clearing out his old life, pawning kitchen equipment he never wanted in the first place, El is drawn to Paul in spite of himself.
Paul and El have nothing in common except a past full of disappointments. There's no reason to believe the two of them could fit, but in El's line of work, one man's junk is another man's treasure. When it comes to love, El and Paul may learn that secondhand doesn't mean second best.
READ OUR REVIEW
This title is part of the
Tucker Springs
universe.
Read an excerpt and buy the book here

**
About the Authors
Heidi Cullinan has always loved a good love story, provided it has a happy ending. She enjoys writing across many genres but loves above all to write happy, romantic endings for LGBT characters because there just aren't enough of those stories out there. When Heidi isn't writing, she enjoys cooking, reading, knitting, listening to music, and watching television with her husband and ten-year-old daughter. Heidi also volunteers frequently for her state's LGBT rights group, One Iowa, and is proud to be from the first midwestern state to legalize same-sex marriage. Find out more about Heidi, including her social networks, at www.heidicullinan.com.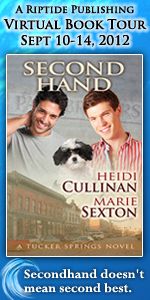 Marie Sexton lives in Colorado. She's a fan of just about anything that involves muscular young men piling on top of each other. In particular, she loves the Denver Broncos and enjoys going to the games with her husband. Her imaginary friends often tag along. Marie has one daughter, two cats, and one dog, all of whom seem bent on destroying what remains of her sanity. She loves them anyway. You can find her at www.MarieSexton.net.
Follow the Tour
Latest posts by Under the Covers Book Blog
(see all)