Author Override: Katie Lane and Hope Ramsay
Author Override is the place where authors take the reins and take you on a journey into their world. Some may allow you into their private writing dens. Others may take you along with them on research trips or interviews. Whatever the case may be, sit back, relax and enjoy the ride because here you'll get an in-depth look into an author's musings.


The holidays just wouldn't be the holidays without the Lane Family Sugar Cookies. And while the frosted confections are very similar to Lays Potato Chips—you can't eat just one—it's not the cookies themselves that have become the tradition as much as "sugar cookie baking day." I don't remember my very first baking day, but my mother often told the story of me biting my Granny T on the leg when she refused to let me eat the raw dough. (Okay, so I was a wee bit spoiled, but I was only two.)
My mom would always make the cookie dough the night before and put it in the refrigerator where the quadrupled recipe took up one entire shelf. The three mixing bowls of dough would make enough for our large family of six and half the neighborhood, which was why it took an entire day to bake and decorate the cookies. It was such a tedious process that my older siblings took shifts. I, on the other hand, remained right next to my mother's side, waiting for that chance to sneak some dough.
Over the years, I've become the host for "sugar cookie baking day." Like my mother, I make the dough the night before. Unlike her, I only double the recipe. The following morning, my daughters arrive bright and early with excited grandbabes in tow. While Christmas carols blast from the iPod player, we roll, cut, bake, and frost until my kitchen is filled with the scent of almond extract (family secret) and my counters are filled with bright red and green frosted cookies. My oldest granddaughter likes to choose the cookie cutters, my youngest likes to break the eggs—usually by squeezing them in between her chubby, little fingers. And when their mommy isn't looking, they both love to sneak the dough.
This Granny doesn't say a word:o)
Lane Family Sugar Cookie Recipe

¾ cup butter
1 cup sugar
2 eggs
1 teaspoon almond extract
2 ½ cups flour
1 teaspoon baking powder
1 teaspoon salt

Cream butter and sugar with a mixer. Mix in almond extract and eggs one at a time. Sift together the flour, baking powder, and salt and gradually add to the butter and egg mixture until incorporated. Refrigerate dough for 3 hours or overnight. Roll out dough and cut into shapes, place on ungreased cookie sheets, and bake at 375 degrees until set. (7 to 8 minutes) Cool and frost with your favorite vanilla cream frosting.
Hi, everyone! I would love to hear about your holiday traditions. And be sure to stop by www.katielanebooks.com and say "hi" anytime.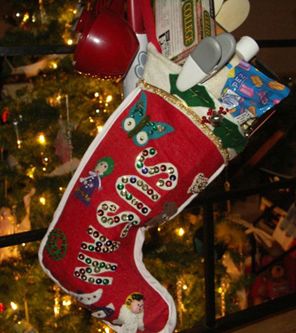 Before I was born, my parents lived in a small, two-bedroom apartment in Elmhurst, NY in the borough of Queens. My father was Jewish and Brooklyn-born, while Mom was an Episcopalian farm girl from South Carolina. So holidays were problematic from both a faith and space viewpoint. There wasn't much room for a Christmas tree in the tiny apartment, there was no hearth to hang stockings on, and Pop was ambivalent about both Christmas and Hanukah. (Much like my heroine's father in Last Chance Christmas.)
So Mom tried to keep holidays low key. But Mom's older sister, my Aunt Annie, who had also emigrated to New York from the South, was definitely not down with Mom's program. She felt that every child should have at least a secular Christmas. And she was not about to let her two, young nephews go without stockings big enough for Santa to fill with lots and lots of loot.
Annie was quite a seamstress, in addition to being a nurse at St. Luke's Episcopal hospital in Manhattan. She pulled out her Singer Featherweight sewing machine and made red felt stockings for everyone in the family – not just my brothers – but for Mom and Pop and even for herself. The first year my family used these stockings, they were hung on the brand new television set in the tiny living room of the Elmhurst apartment. And Aunt Annie had a pipeline to Santa, because those stockings were filled on Christmas morning.
The next year – the year I was born – the family moved into a new house with bedrooms galore out in the suburbs of Nassau County. A new, matching sock was created for yours-truly, and an angel applique was added to every stocking to celebrate my arrival. The applique began a very long tradition.
Aunt Annie added appliques every year. And when my brothers got married, new socks were made for them and their wives and then their children and the applique collection would start from scratch. When I was twenty-five and a young wife, Aunt Annie turned the stocking tradition over to me. I made appliques for years until I the family got so big I had to turn over part of the job to my niece. The original felt stockings are long gone, worn out with much use and covered over with appliques. But many new stockings have been made over the years.
Last year was my granddaughter's first Christmas. So I had to make a new sock for her. Her name is Isabella, but we call her Ella. So I put the short name on her sock, and dressed up a lower case "I" for her applique. I patterned the sock it after her father's, whose first name just happens to be Ramsay. Here are some photos of the sock as it was put together.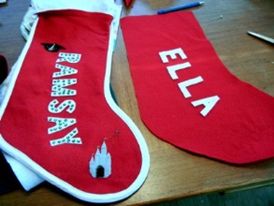 Follow the tour
10/5: www.cocktailsandbooks.com
10/6: http://happilyeverafter-reads.blogspot.com

Always putting business before pleasure, Cassie McPherson works hard for her family's construction business. That might explain why she doesn't have a date for the company Christmas party. But it doesn't quite explain why she's crazy enough to hire an escort for the event or – crazier still – why she's dying to unwrap him like a present . . .

With whiskey-colored eyes and a killer smile, James is one gorgeous hunk who really knows how to fill out a tuxedo. He charms everyone, including Cassie. And when the night ends, the party doesn't stop. As Cassie falls, literally, into his bed, James falls head over heels in love. Now he has to figure out a way to tell her the truth: he's not an escort. He's her family's fiercest business rival. But all he wants for Christmas is her . . .
Dear Reader,
I've been wishing for a miracle for my oldest boy, Stone, and this Christmas my prayers might just be answered!
Her name is Lark, and she's here in Last Chance, looking into her father's past-and stirring up a whole mess of trouble without meaning to. As the chief of police, Stone sure has his hands full trying to keep up with her. Ever since his wife died, Stone's put everything into raising his daughters and dodging the Christ Church Ladies' Auxiliary matchmakers. And it's clear Lark has been through some trouble and could use a place to finally call home. I only hope Stone can let go of the past soon enough to keep her . . . Goodness, I need to stop talking and finish up Jane's highlights so we can make the town tree-lighting. You come back by because the Cut 'n' Curl's got hot rollers, free coffee, fresh-baked Christmas cookies-and the best gossip in town.
See you real soon,
Ruby Rhodes
Forever Romance is hosting a wonderful giveaway!  One lucky maiden will get these two books (finished copies), plus an ARC to Katie's next book TROUBLE IN TEXAS which comes out in December and a free read of Hope's e-only novella LAST CHANCE BRIDE with a link through netgalley!
US ONLY!
a Rafflecopter giveaway
Latest posts by Under the Covers Book Blog
(see all)