Author Override: J.D. Tyler
Author Override is the place where authors take the reins and take you on a journey into their world. Some may allow you into their private writing dens. Others may take you along with them on research trips or interviews. Whatever the case may be, sit back, relax and enjoy the ride because here you'll get an in-depth look into an author's musings.


The Top Ten Things J.D. Loves About Kalen Black
By J.D. Tyler
When Under The Covers asked me to share the top ten things I love about my hero from BLACK MOON, Sorcerer/Necromancer/panther shifter Kalen Black, I thought, "Only ten?" Seriously, I was thrilled! I love his character, and whittling the list down to ten items was tough, but I managed.
Without further ado, here are some reasons why I adore Kalen, Letterman-style:
10. I'm a sucker for a man wearing a long, black leather duster. Especially if that man has messy black rock-star hair and kohl-rimmed green eyes.
9. Kalen's really cool sorcerer's pendant that protects the wearer from all evil. If only he hadn't given it to the woman he loves…
8. Kalen is a vulnerable hero with a terrible, abusive past, and those types tug on my heartstrings.
7. Kalen can command the elements, channeling their energy to do his sorcery. That's way cool.
6. Kalen can shift into a sleek black panther. That's even MORE cool!
5. Kalen is struggling with being swayed to the side of terrible evil, and he's determined to go down fighting. He's determined not to let the dark side win, and to protect those he loves.
4. Kalen is a man who will be faithful to his mate, and he loves Mackenzie with all his soul. And that is super-sexy.
3. Have I mentioned that I heart bad boys?
2. The man loved his late grandmother, Ida, with all his heart. You can't help but love a man who adores his grandmother.
And the Number One thing J.D. loves about Kalen is…
1.  Smoking. Hot. Sorcerer. Panther Shifter. Perhaps that's all you really needed to know?
PRIMAL LAW, Alpha Pack #1
Founded by a group of former Navy SEALS, the Alpha Pack is a top-secret team of wolf shifters with Psy powers tasked with eliminating the most dangerous predators in the world. But the gift of their abilities comes at a price…

After a massacre decimates half his team and leaves him crippled, Jaxon Law must relearn how to fight—and battle the anger and guilt threatening to overwhelm him. But when he rescues a beautiful woman who reawakens his primal instincts, Jax is unprepared for the dangers that lie ahead.

On the run from her employer, brilliant lab assistant Kira Locke has evidence that leads the Alpha Pack on a hunt for someone targeting human civilians with Psy abilities. And as Jax and Kira circle both the killer and each other, Jax will have to decide if the deep connection he feels with Kira is worth breaking the ultimate shifter rule—because bonding with Kira means putting his abilities at risk, and they might be the only tools he has to keep his mate alive…
BLACK MAGIC, An ALPHA PACK novella #1.5
An original Alpha Pack novella featuring the sexy sorcerer and panther shifter Kalen Black…

Recruited by the Alpha Pack, Kalen Black is still very much a lone wolf. But when a paranormal creature threatens the life of Dr. Mackenzie Grant, Kalen must use all of his abilities to rescue her. This brush with death excites a passion between them, and after a night of intense pleasure, Kalen leaves Mac with a mysterious gift that just might save her life again.…
SAVAGE AWAKENING, Alpha Pack #2

A group of former Navy SEALS, the Alpha Pack is a top-secret team of wolf shifters with Psy powers combating the greatest dangers in the world. But sometime those dangers are more intimate than they bargained for…
 
After a mission goes wrong, Aric Savage is taken prisoner. Half-dead and despairing, he makes a stunning discovery: his Pack mate Micah Chase, who was reported dead, is a fellow captive. When the Alpha team goes into full-rescue mode, accompanying them is an absolute stunner with sable hair–and a spine of solid steel.

LAPD officer and Psy Dreamwalker Rowan Chase has one priority: her brother Micah's recovery. Still, she can't help but be drawn to Aric, the ruggedly handsome wolf shifter who pleasures her as no man ever has–however fleeting their affair is destined to be. But when Aric's life is endangered, Rowan must ask herself what she's willing to sacrifice in the name of love, for the man fated to be her Bondmate.
BLACK MOON, Alpha Pack #3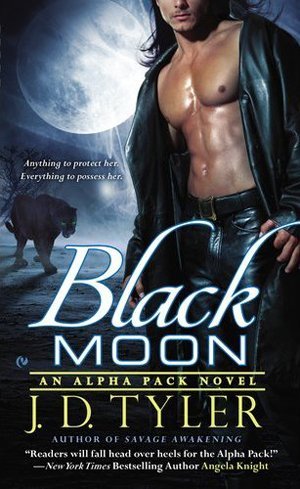 A group of former Navy SEALS, the Alpha Pack is a top-secret team of wolf shifters with Psy powers combating the greatest dangers in the world. But sometimes those dangers are more intimate than they bargained for…

Ever since he saved Dr. Mackenzie Grant's life, panther shifter and sorcerer Kalen Black has had trouble keeping the beautiful doctor out of his thoughts, and his heart. The brush with death awakened an intense passion between them—one that for the first time had the notorious loner letting down his guard.With the Alpha Pack battling an evil Fae who is slowly gaining control over Kalen's mind, Kalen can no longer trust his own actions, and he breaks off his affair with Mackenzie in order to keep her safe. But when Mackenzie learns that she is carrying Kalen's child, no amount of danger will keep her away from the man she loves. To protect his mate and unborn child, Kalen will have to battle a terrible evil, unleash the full fury of his power, and risk destroying them all…
Follow the Tour
11/25 – Ramblings From This Chick
11/26 – Reading Between the Wines
11/27 – Riverina Romantics
11/28 – United by Books
11/29 – Books-n-Kisses
11/30 – RR@H Novel Thoughts
12/01 – The Reading Café
12/02 – Book Lovin' Mamas
12/03 – Book Monster Reviews / Literal Addiction
            LIVE CHAT – 8-9pm EST (7-8pm CT, 6-7pm MDT, 5-6pm PDT)
12/04 – Book Reader Addict
12/05 – Under the Covers
12/06 – Close Encounters with the Night Kind
12/07 – My Keeper Shelf
12/08 – Bengal Reads
12/10 – Cocktails and Books
12/11 – Paranormal Haven
12/12 – Romancing the Book
12/13 – I Smell Sheep & Vampires, Werewolves & Fairies…Oh My!
12/14 – Grave Tells & Paranormal Cravings
About the Author
J.D. Tyler is an award-winning, multi-published author who writes for New American Library under three pseudonyms. Whether this is due to an overdose of ambition or a multiple personality affliction, she'll never tell.
J.D. writes dark, sexy paranormal romance and has a huge thing for shifters, vampires, the Fae, and just about everything else that goes bump and grind in the night. She can't get enough of those dangerous supernatural heroes, and the fun of creating her own was just too much temptation to resist… so she didn't. J.D. doesn't do self-denial.
When she isn't writing, J.D.'s idea of a good time certainly isn't cleaning house (sniff), bungee jumping (not in this lifetime, or the next), or camping (her idea of "roughing it" is a slow bellboy). She enjoys reading, being pampered like the diva she is, and spending time with her awesome family. She lives in Texas with her two teenagers.
Connect with J.D. Tyler:

Ms. Tyler is giving away a paperback of winner's choice of book from ALPHA PACK series (Primal Law, Savage Awakening or Black Moon).  No shipping restrictions.
Latest posts by Under the Covers Book Blog
(see all)