Author Override: Cathryn Fox
Author Override is the place where authors take the reins and take you on a journey into their world. Some may allow you into their private writing dens. Others may take you along with them on research trips or interviews. Whatever the case may be, sit back, relax and enjoy the ride because here you'll get an in-depth look into an author's musings.
Boys of Beachville series, by Cathryn Fox.
Every Christmas the firefighters in our town put together a calendar to raise money for the hospital's
burn unit. During their promotional push they always have the cutest (and youngest!) guys selling the
calendars at the market. Of course I have to pick one up. Or two. Or three. Okay, sigh, those guys can
really sucker me in. But, hey, it's for a good cause and a person can never have enough calendars, right?
So one day while I was drooling..er…I mean watching these guys work a crowd of smitten women into a frenzy I wondered what they were really like when out of uniform. Sure they might be fantasy guys, but at the end of the day, when they're in their regular street clothes who were they really? What did they do to unplug? What did they do for fun? Were they single? Married? What kind of girl could tame a hot guy like that? And what kind of girl had enough confidence in herself and their relationship to stand back while her man charmed a group of lascivious ladies.
It was all those questions that led to my new, Boys of Beachville Series. In the town of Beachville,
Allison Cooper, Public Relations Specialist is putting together a calendar of local heroes to help raise
money for the hospital. Naturally she's picking hot guys to represent each month. But I didn't just want hot guys who were all brawn and no brains. I wanted guys with depth, guys who've loved and lost, guys who've never loved and guys, who, when the right woman came along, would go against their own best interest to win her over. With all this in mind, Police Officer Carter James, Firefighter Sean Adams and Soccer Star Cole Landon were born!
The calendar campaign is broken down into Boys of Summer, Boys of Fall, Boys of Winter and Boys of Spring.
The first in the series is The Boys of Summer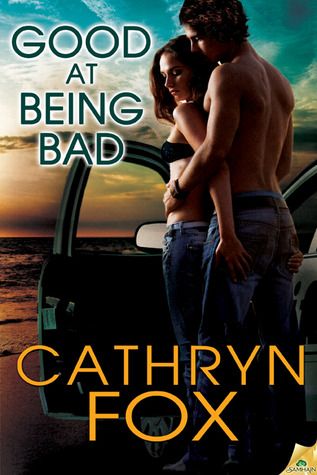 Book 1: Good at Being Bad. 
April 10, 2012
Sometimes a good girl just needs a little naughty.
Public relations specialist Allison Cooper is more than ready to handle a career make-or-break assignment: to develop and market a charity calendar featuring hot men. Her only problem is Mr. July, a sexy cop who happens to be her ex-lover.
Trying to keep his image squeaky clean a must for her promotion raises all sorts of challenges, especially when this bad boy is throwing a little kink into her plan.
Image is the last thing on Carter James's mind. He agreed to be Mr. July on one condition that during his promo month, Allison never leaves his side. He wants her back, and to make that happen he needs her undivided attention to teach him good from bad. Unless bad is what the lady wants…
READ OUR REVIEW
Book 2: A lick of Flame (Okay, okay, I HAD to have a firefighter in there!)
Coming September 18, 2012
(Unofficial Blurb)
Even though Sean Adams might be the star of Madison Kelly's fantasies she's not about to act on her
desires. The dry spell after an injury that left her scarred proves just how undesirable she is. But when Sean looks at her with heat in his eyes, and sets her body on fire, she wonders if he sees the one man who can see the girl beneath the injury.
Sean Adams is a firefighter who's burning hot for one girl and one girl only. Too bad she has no interest in him. Except when he sees a spark of awareness in her eyes, one that says she wants him every bit as much as he wants her, he decides a blatant seduction in order. After all, how else can he prove how good they can be together?
Soon the two are burning up the sheets, but come morning will old fears and insecurities snuff the heat
between them, or will Madison realize she started a fire that not even this firefighter can extinguish?
Book 3: Bad Girl Therapy
Coming December 18, 2012
(Unofficial Blurb)
Unlike Cole Landon, Haley Jones—who is completely out of his league—has been gifted with every
privilege life has to offer, but that doesn't mean this bad boy still doesn't want her. When she insists she must occupancy him to his ocean side cottage to overseeing his training, Cole has a sneaking suspicion that his therapy is simply an excuse. She wants to play. And play he will. Except when hot days turn to scintillating nights, he begins to wonder if there could be more between them.
Bored with all the men in town, men who pay more attention to their blackberry's than her, Haley decides a summer fling with the town's sports hero, a man who is known for his reputation, is just the thing for her. And his ocean side cottage is the perfect place for her to begin her…therapy. Except Haley soon realizes there is a lot more to this playboy than meets the eye, and what started out as a fling has become so much more.
But after the weekend of fun, Cole receives news that could end his career. Will this put them on opposite sides of the playing field, or will Haley accept that inside Cole is, and always will be the poor boy from the side of the tracks.

Cathryn is giving away any backlist release from her Samhain books. Readers choice. International.
To enter:
1. Be a follower
2. Fill out the form below

<p><p>Loading…</p></p>
<p><p>Loading…</p></p>
Latest posts by Under the Covers Book Blog
(see all)